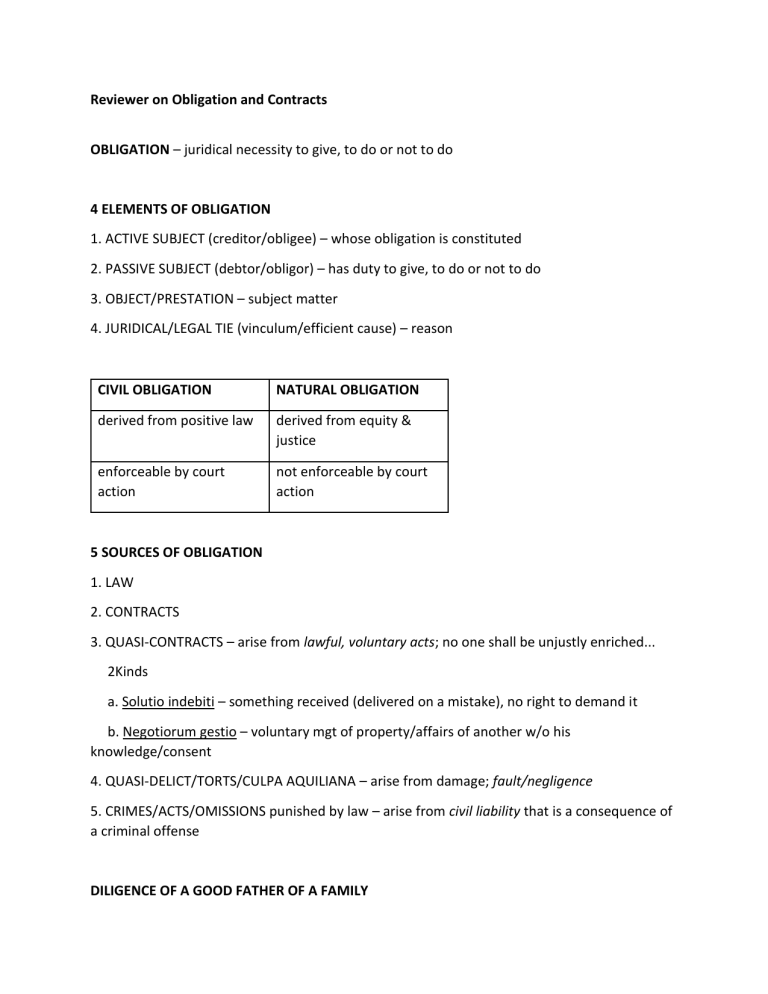 Reviewer on Obligation and Contracts
OBLIGATION – juridical necessity to give, to do or not to do
4 ELEMENTS OF OBLIGATION
1. ACTIVE SUBJECT (creditor/obligee) – whose obligation is constituted
2. PASSIVE SUBJECT (debtor/obligor) – has duty to give, to do or not to do
3. OBJECT/PRESTATION – subject matter
4. JURIDICAL/LEGAL TIE (vinculum/efficient cause) – reason
CIVIL OBLIGATION
NATURAL OBLIGATION
derived from positive law
derived from equity &
justice
enforceable by court
action
not enforceable by court
action
5 SOURCES OF OBLIGATION
1. LAW
2. CONTRACTS
3. QUASI-CONTRACTS – arise from lawful, voluntary acts; no one shall be unjustly enriched...
2Kinds
a. Solutio indebiti – something received (delivered on a mistake), no right to demand it
b. Negotiorum gestio – voluntary mgt of property/affairs of another w/o his
knowledge/consent
4. QUASI-DELICT/TORTS/CULPA AQUILIANA – arise from damage; fault/negligence
5. CRIMES/ACTS/OMISSIONS punished by law – arise from civil liability that is a consequence of
a criminal offense
DILIGENCE OF A GOOD FATHER OF A FAMILY
- care need to be exercised by a debtor to deliver/give determinate thing
Exception: When law/stipulation of parties requires a differnt standard of care
(slight/extraordinary diligence).
When creditor is entitled to the fruits
Rule: The creditor has personal right (right to ask for delivery) from the time the obligation to
deliver arises.
But NO real right (right enforceable against the whole world) until it is delivered.
3 KINDS OF FRUITS
1. NATURAL – w/o human intervention
2. INDUSTRIAL – w/ human intervention
3. CIVIL – derived by virtue of juridical relation
Creditor's rights if debtor fails to comply w/ the obligation
1. Determinate
a. Performance
b. Damages
2. Generic
a. Performance
b. Damages
c. Obligation be complied at debtor's expense
Creditor's rights if debtor does in contravention
1. Damages
2. Ask it be UNDONE at debtor's expense
FORTUITOUS EVENT – cannot be foreseen, if foreseen, inevitable
General Rule: No person liable to fortuitous event.
Exceptions:
1. Law states
2. Stipulation/contract states
3. Assumption of risk
4. Delay
5. Debtor promises deliver to 2/more persons who do not have same interest (bad faith)
EFFECTS OF FORTUITOUS EVENT to thing to be delivered
- extinguish the obligation if determinate; generic does not extinguish the obligation
3 MISCELLANEOUS RULES ON PERFORMANCE OF OBLIGA-TION
1. When to deliver determinate, accessions (additions/ improvements)
and accessories (joined/included with the principal) are INCLUDED even not mentioned.
2. If debtor fails to do, it shall be DONE AT HIS EXPENSE, same with doing the contravention;
poorly done be undone.
3. In obligation not to do, and obligor does what is forbidden, shall be UNDONE AT HIS
EXPENSE.
4 GROUNDS; debtor liable for damages
1. Default/mora
2. Fraud/dolo
3. Negligence/culpa
4. Contrary to terms of obligation
1. DEFAULT/MORA – delay
3kinds
a. Mora solvendi – debtor's delay to give (real ob.), to do (personal ob.)
b. Mora accipiende – creditor's delay to accept
c. Compensatio Morae – delay of both in reciprocal obligation
CONCEPT OF DELAY
General Rule: No demand, No delay
Exceptions:
1. Law states
2. Obligation states
3. Time is the essence
4. Demand be useless if delay
5. Debtor guilty of delay
EFFECTS OF DELAY
1. Damages
2. When to deliver determinate thing, STILL LIABLE in fortuitous event.
2. FRAUD/DOLO – conscious, deliberate, intentional evasion of fulfillment
2Kinds
a. Dolo causante/Causal fraud – fraud in obtaining consent; consent is defective, contract is
voidable. Remedy: annulment
b. Dolo incidente/Incidental fraud – fraud w/c vitiates consent. Remedy: damages
3. NEGLIGENCE/CULPA – voluntary act/omission; no bad faith intended
3Kinds
a. Culpa aquiliana/Civil negligence – quasi-delict/torts
b. Culpa contractual/Contractual negligence – breach
c. Culpa criminal/Criminal negligence – crime/delict
4. Contrary to the terms of obligation
2 RULES OF PRINCIPAL & INSTALLMENT
1. Receipt of principal w/o mention of interest, presumed interest is paid also.
2. Receipt of latter installment w/o mention of prior installment, presumed prior installment is
paid also.
4 SUCCESSIVE RIGHTS OF CREDITOR to satisfy claim against DEBTOR
1. Exact payment
2. Attach debtor's properties
3. Accion subrogatoria – exercise rights & actions except inherent in person
4. Accion pauliana – cancel acts/contracts by debtor to defraud creditor
TRANSMISSIBILITY OF RIGHTS
General Rule: ALL RIGHTS are transmissible.
Exceptions:
1. Law states
2. Contract states
3. Obligation is purely personal
10 Kinds of Obligation
1. Pure
2. Conditional
3. Alternative
4. Facultative
5. Joint
6. Solidary
7. Divisible
8. Indivisible
9. Obligation w/ a period
10. Obligation w/ a penal clause
1. PURE OBLIGATION
- w/o condition, demandable at once (pure has resolutory condition/period)
2. CONDITIONAL OBLIGATION
- there is condition in performance; future & uncertain
2Kinds
a. Suspensive condition – happening of condition gives RISE to obligation
b. Resolutory condition – happening of condition EXTINGUISHES obligation
6 MISCELLANEOUS RULES ON CONDITIONAL OBLIGATION
1. Impossible conditions, contrary to law, shall ANNUL obligation.
2. The condition not to do an impossible thing is considered not agreed upon.
3. The condition that happens in determinate time, EXTINGUISHES obligation.
4. The condition that happens in INDETERMINATE time, obligation only effective at arrival.
5. The condition is fulfilled if DEBTOR prevents fulfillment.
6. The effect of conditional obligation, once fulfilled:
- to give: retroact to the day of constitution of obligation
- has reciprocal prestations: fruits & interests be mutually compensated
- has unilateral obligation: debtor shall give fruits & interests
RULES in case of Loss, Improvement, or Deterioration of thing during the pendency of
condition
1. LOST
a. w/ debtor's fault – damages
b. w/o debtor's fault – extinguishes obligation
2. DETERIORATION
a. w/ debtor's fault - (1) cancel obligation & damages; or (2) fulfill obligation w/ damages
b. w/o debtor's fault – creditor suffer impairment
3. IMPROVEMENT
a. By nature/time – benefit to creditor
b. at expense of debtor – debtor no right than that granted to usufructuary (debtor no right to
compensate amount for improvement)
EFFECTS OF FULFILLMENT OF SUSPENSIVE CONDITION
General Rule: The obligation becomes effective retroactively to the day obligation was
constituted.
Exceptions:
1. In reciprocal obligation, fruits & interests during pendency of condition shall compensate
each other.
2. In unilateral obligation, debtor gets fruits & interests unless there is a contrary intent.
3 EFFECTS OF FULFILLMENT OF RESOLUTORY CONDITION
1. Extinguish obligation.
2. Both parties restore what they received plus fruits & interests.
3. The rule on L, D, or I will apply to person who has to return the thing.
When one of debtors in reciprocal obligation does not comply w/ his obligation
1. The right of injured party is (1) cancel contract & damages; or (2) fulfill obligation & damages
3 Kinds of Obligation (Accdng to PERSON OBLIGED)
1. UNILATERAL – only 1 party obliged to comply
2. BILATERAL – both parties; performance not same time
3. RECIPROCAL – both parties; performance same time
3. OBLIGATION W/ A PERIOD
- demandability/extinguishment subject to the expiration of period
PERIOD – interval of time; either suspends demandability or produces extinguishment
DAY CERTAIN – must come, not known when
7 CASES CONSIDERED TO BE "OBLIGATION W/ A PERIOD"
1. Little by little
2. In partial payment
3. Payable ASAP
4. When I can afford it
5. When I have the money
6. When I am able to
7. When my means permit me to do so
PERIOD
CONDITION
certain
uncertain
future only
future/past but unknown
(*influence upon
obligation) only upon its
demandability
(*) on the very existence
of obligation itself
FOR WHOSE BENEFIT IS THE PERIOD?
General Rule: Both the debtor & creditor.
Therefore, NEITHER of them can demand performance of obligation.
Exception: If the term of obligation has to favor one of them.
5 INSTANCES WHEN DEBTOR LOSES RIGHT TO USE "PERIOD"
1. Debtor is insolvent.
2. Debtor attempts to abscond.
3. Impairment of guarantees/securities.
4. Failure to furnish guarantees/securities promised.
5. Violation of undertaking.
4. ALTERNATIVE OBLIGATION
- w/ 2 or more prestations, only 1 is due.
5. FACULTATIVE OBLIGATION
- w/ ONLY 1 prestation but can be substituted.
ALTERNATIVE prestations LOST w/ debtor's fault
Creditor entitled to damages but needs ff requisites:
1. Debtor can choose.
2. All prestations lost/become impossible due to debtor's fault.
ALTERNATIVE
OBLIGATION
FACULTATIVE
OBLIGATION
several prestations due,
giving one is sufficient
one prestation due, but
can be subtituted
right to choose (debtor)
unless granted to creditor
right to choose DEBTOR
ONLY
If 1 of the prestation is
illegal, others may be
valid, obligation remains
nullity of principal carries
w/ it nullity of accessory/
loss/impossibility of ALL
prestations due, w/o
debtor's fault,
extinguishes obligation
loss/impossibility of
presta-tion due, w/o
debtor's fault,
extinguishes obligation
substitute
(3) SUMMARY OF RULES, OBLIGATIONS, & RIGHTS OF DEBTOR IN ALTERNATIVE OBLIGATION
1. If 1 of prestations lost through fortuitous event, shall still be perform by choosing (creditor)
from the remainder.
2. If 1 of prestations lost through debtor's fault, creditor may claim any of remainders w/
damages.
3. If ALL prestations lost through debtor's fault, creditor choose price w/ damages.
RULES on LOSS/DETERIORATION of the thing intended as SUBSTITUTE in FACULTATIVE
OBLIGATION
1. If there is a loss/deterioration of thing intended as substitute, debtor is NOT liable if NOT HIS
FAULT.
But if substitution is already made, debtor is liable for loss of substitute when in DELAY,
NEGLIGENCE, or FRAUD.
6. JOINT OBLIGATION
- obligation is to be paid proportionately by debtors or to be demanded proportionately by
creditors
7. SOLIDARY OBLIGATION
- each one of debtors has right to render or each one of creditors has right to demand
the entire compliance w/ prestation
MAXIMS & SYNONYMS
MAXIMS
SYNONYMS
JOINT Obligation
"To each his
own"
proportionate
SOLIDARY
Obligation
"One for all, all
for one"
individually &
collectively
(3) SOLIDARY OBLIGATION EXIST ONLY IF: *RULES
1. Law states
2. Stipulation states
3. Nature of obligation requires
2 PRESUMPTIONS THAT OBLIGATION IS JOINT
1. The debts be divided as many shares as there are debtors/creditors.
2. The debtors/creditors are distinct from one another.
8. DIVISIBLE OBLIGATION
- prestation is capable of partial performance
9. INDIVISIBLE OBLIGATION
- prestation incapable of partial performance
10. OBLIGATION W/ A PENAL CLAUSE
- one w/ accessory undertaking attached to obligation to assume greater liablity in case of
breach/non-fulfillment of obligation
3 PURPOSES OF PENAL CLAUSE
1. Ensure performance of obligation
2. Substitute for damages & interest in case of noncompli-ance
3. Penalize debtor in case of breach
In case obligation has a PENAL CLAUSE
General Rule: Penalty takes the place of damages & interest in case of non-compliance.
Exceptions:
1. Stipulation states.
2. Debtor refuse to pay penalty.
3. Debtor guilty of fraud in performance of obligation.
NULLITY OF PRINCIPAL OBLIGATION OR THE PENAL CLAUSE
Nullity of principal obligation = nullity of penal clause
Nullity of penal clause = NOT nullity of principal obligation
10 MODES OF EXTINGUISHMENT OF OBLIGATIONS
1. Payment or performance
2. Prescription
3. Compensation
4. Confusion/merger
5. Condonation/remission
6. Fulfillment of resolutory condition
7. Annulment
8. Rescission
9. Novation
10. Loss of thing due
1. PAYMENT/PERFORMANCE
- Payment means delivery of money & performance of obligation
2 PLACE OF PAYMENT
1. At place agreed upon
2. If w/o agreement
a. Object is indeterminate – paid at domicile of DEBTOR
b. Object is determinate – place of thing at the time of constitution of obligation
4 SPECIAL MODES OF PAYMENT
a. Application of payment
b. Cession
c. Tender of payment & consignation
d. Dacion in payment
a. APPLICATION OF PAYMENT
- designation of debt to w/c payment must be applied when debtor has several obligations of
same kind in favor of same creditor.
3 REQUISITES OF APPLICATION OF PAYMENT
1. Only 1 debtor & 1 creditor
2. 2 or more debts, same kind
3. All debts are due
4. Insufficient payment to exinguish ALL debts
3 RIGHTS TO MAKE APPLICATION OF PAYMENT
1. Right belongs to CREDITOR.
2. If debtor does not avail, creditor can give him receipt designating the debt from which
payment will be applied.
3. If debtor accepts the receipt, he cannot complain unless THERE IS just cause to invalidate the
contract.
b. CESSION
- debtor abandons ALL his property for creditor's benefit to obtain payment from proceeds of
his property
5 REQUISITES OF VALID CESSION
1. 1 debtor & 2 or more creditors
2. Debtor is in partial/total insolvency.
3. Debtor to deliver ALL his property to creditors
4. Debt is due & demandable.
5. Creditors must sell the properties & apply the proceeds to their respective credits
proportionately.
c. DACION IN PAYMENT (dacion en pago)
- alienation of property to the creditor in satisfaction of debt
3 REQUISITES OF DACION IN PAYMENT
1. Consent of creditor
2. NOT prejudicial to another creditor
3. Debtor not insolvent declared by a judicial decree
CESSION
DACION IN PAYMENT
all properties
NOT all properties
require more than 1
creditor
NOT require all creditors
NOT act of novation
act of novation
NOT transfer ownership
transfer ownership
requires partial/total insol- may happen
vency
during solvency of debtor
d. TENDER OF PAYMENT & CONSIGNATION
TENDER OF PAYMENT – act of offering the creditor what is due to him w/ a demand that the
creditor accept it
CONSIGNATION – act of depositing thing due w/ the court when creditor cannot/refuses
acceptance of payment
5 REQUISITES OF CONSIGNATION
1. Debt due.
2. Creditor refused the tender of payment w/o just cause
3. Notice of consignation already given to persons interested in fulfillment of obligation
4. Consignation of thing/amount due
5. Subsequent notice of consignation to interested persons
5 VALID CONSIGNATION W/O PREVIOUS TENDER OF PAYMENT
1. Creditor is absent/unknown.
2. Creditor is incapacitate to receive at time it is due.
3. Creditor refused give a receipt, w/o just cause.
4. 2 or more persons claim the right to collect.
5. Title of obligation lost.
2. LOSS OF THING DUE
- perishes, disappears, or goes out of commerce; existence is unknown; cannot be recovered
3 REQUISITES TO EXTINGUISH OBLIGATION DUE TO LOSS
1. Determinate thing.
2. W/o debtor's fault.
3. No delay.
3. CONDONATION/REMISSION
- gratuitous abandonment of right by the creditor
3 REQUISITES OF A VALID CONDONATION/REMISSION
1. It must be gratuitous.
2. Accepted by obligor.
3. Obligation is demandable.
4. CONFUSION/MERGER
- meeting in 1 person of qualities of debtor & creditor w/ same obligation
3 REQUISITES OF VALID CONFUSION/MERGER
1. The merger of characters of debtor & creditor must be in same person.
2. Take place between principal debtor & creditor.
3. Clear & definite.
5. COMPENSATION
- 2 persons are debtors & creditors of each other
6 ESSENTIAL REQUISITES OF COMPENSATION
1. Parties both principal debtors & creditors of each other.
2. Compensation is not prohibited by law.
3. No retention/controversy by 3rd person.
4. 2 debts are due & demandable.
5. 2 debts are liquidated.
6. 2 debts both in money/consumable things.
(2) CLASSES OF COMPENSATION
1. As to effect
a. TOTAL – obligations completely extinguished.
b. PARTIAL – a balance remains
2. As to origin or cause
a. LEGAL – by law
b. VOLUNTARY/CONVENTIONAL – agreement of parties
c. JUDICIAL – order from the court
d. FACULTATIVE – 1 of parties can choose/oppose claiming compensation
6. NOVATION
- substitution/change of obligation
- substitution of debtor
- subrogation of creditor
(3) OBLIGATIONS MAY BE MODIFIED BY:
1. Changing object/principal conditions. (REAL NOVATION)
2. Changing the person of debtor/creditor. (PERSONAL NOVATION)
a. Substitution – change of debtor
b. Subrogation – change of creditor
3. Changing person of the parties & the objects of principal condition. (MIXED NOVATION)
4 REQUISITES OF NOVATION
1. Old valid obligation.
2. Agreement of parties to new obligation.
3. Extinguishment of old obligation.
4. Validity of new obligation.
2 FORMS OF NOVATION BY SUBSTITUTION OF DEBTOR
1. EXPROMISION – w/ consent of creditor, NO consent of old debtor
2REQUISITES
a. Initiative of 3rd person.
b. Consent of creditor.
2. DELEGACION – all must agree (creditor, old debtor, new debtor)
3REQUISITES
a. Initiative from old debtor.
b. Consent of debtor.
c. Acceptance by creditor.
7. SUBROGATION
- change of creditor
2 KINDS OF SUBROGATION
1. CONVENTIONAL – consent of original parties & 3rd person
2. LEGAL – by law
a. creditor pays another preferred creditor even w/o debtor's knowledge
b. 3rd person pays the express approval of debtor
c. 3rd person pays even w/o knowledge of debtor
CONTRACT – meeting of minds between 2 persons to give something or to render service.
3 ELEMENTS OF CONTRACT
1. ESSENTIAL – w/o them, contract cannot exist
a. CONSENT of contracting parties
b. OBJECT CERTAIN – subject matter
c. CAUSE/CONSIDERATION
In some contracts, ff are also essential:
d. FORM
e. DELIVERY
2. NATURAL – found in certain contract, presumed to exist unless stipulated
3. ACCIDENTAL – various particular stipulations that may be agreed upon by contracting parties
(7) CLASSIFICATION OF CONTRACTS
According to:
1. PERFECTION/FORMATION
a. CONSENSUAL – perfected by mere consent
b. REAL – perfected by delivery
c. FORMAL/SOLEMN – special formalities are essential before perfection of contract
2. PARTIES OBLIGATED
a. UNILATERAL – only 1 has obligation
b. BILATERAL – both parties require to render reciprocal prestations
3. CAUSE
a. ONEROUS – exchange of considerations
b. GRATUITOUS – no consideration received in exchange of what is given
c. REMUNERATORY – something is given for benefit/service that had been rendered
previously
4. RISK OF FULFILLMENT
a. COMMUTATIVE – equivalent values are given by both parties
b. ALEATORY – fulfillment of contract depends on chance (eg. insurance)
5. IMPORTANCE
a. PRINCIPAL – contract may stand alone (eg. sale, partnership)
b. ACCESSORY – existence depends on another contract (pledge, guarantee)
c. PREPARATORY – contract not an end by itself but a means thru w/c other contracts may be
made (eg. agency)
6. NAME
a. NOMINATE – contract given a particular/special name (eg. partnership)
b. INNOMINATE – not given special name (eg. I give that you may give)
7. SUBJECT MATTER
a. Contracts involving things
b. Contracts involving rights/credits
c. Contracts involving services
3 STAGES OF CONTRACT
1. PREPARATION/CONCEPTION – preparatory steps to perfect contract
2. PERFECTION/BIRTH – meeting of minds between 2 contracting parties
3. CONSUMMATION/TERMINATION – terms of contract are performed, & contract is fully
executed
5 BASIC PRINCIPLES/CHARACTERISTICS OF A CONTRACT
1. PRINCIPLE OF AUTONOMY (liberty to contract)
Provided they are not contrary to:
a. Law
b. Morals
c. Good customs
d. Public order
e. Public policy
2. MUTUALITY OF CONTRACTS
- the contract must bind both parties; its validity/compliance cannot be left to the will of one of
them
3. RELATIVITY OF CONTRACTS
- Contracts take effect only between the parties, their assigns & heirs except when there are
rights & obligations not transmissible:
a. by their nature
b. by stipulation (stipulation por autri)
c. by provision of law
4. CONSENSUALITY OF CONTRACTS
- Contracts are perfected by mere consent
Exceptions:
a. REAL CONTRACTS – perfected by delivery
b. FORMAL/SOLEMN CONTRACTS – special form required for its perfection
5. OBLIGATORINESS OF CONTRACTS
- The contract, once perfected, has the force of law between parties which bound to comply in
good faith
4 KINDS OF INNOMINATE CONTRACTS
1. I give that you may give
2. I do that you may do
3. I give that you may do
4. I do that you may give
4 RULES FOR INNOMINATE CONTRACTS
1. Agreement of parties
2. Law on Obligations & Contracts
3. Rules on most analogous nominate contract
4. Customs of place
STIPULATION POR AUTRI
- stipulation in favor of 3rd person
5 REQUISITES OF STIPULATION POR AUTRI
1. Stipulation in favor of 3rd person
2. Stipulation is only PART, not the whole of the contract.
3. Both parties must conferred upon a favor of 3rd person
4. 3rd person must accept & say it to debtor before its revocation/cancellation
5. Neither of both parties be the legal representation/autho-rization of 3rd person
CONSENT
- meeting of offer (certain) & acceptance (absolute) upon a thing
5 REQUISITES OF CONSENT
1. Must be given by 2 or more parties
2. Parties are capacitate to enter in contract
3. No vitiation of consent
4. No conflict between declared & intended
5. Legal formalities must be complied
7 RULES ON OFFER/ACEPTANCE
1. An offer must be certain.
2. Business advertisements for sale are NOT offers but ONLY invitations to make an offer.
3. Advertisements for bidders are ONLY invitations.
4. An acceptance made by letter/telegram does NOT bind offeror EXCEPT from the TIME it came
to his knowledge.
5. An offer made through an agent is accepted from the TIME the acceptance is done through
an agent.
6. An offer is ineffective upon death, insanity, insolvency, of EITHER party BEFORE acceptance is
made.
7. When offeror allowed offeree a certain period to accept, offer MAY be withdrawn AT
ANYTIME unless there is something PAID/PROMISED.
3 persons who CANNOT GIVE CONSENT to a contract (if entered into, contract is voidable)
1. UNEMANCIPATED MINORS
2. INSANE/DEMENTED PERSONS (unless they acted DURING LUCID INTERVAL)
3. DEAF-MUTES who DO NOT know how to write
DEMENTED PERSON – NOT exactly insane; difficult to distin-guish right from wrong
LUCID INTERVAL – period when an INSANE has acquired SANITY temporarily, therefore,
capacitated to enter into a valid contract
2 RULES on persons WHO CANNOT GIVE CONSENT to a contract
1. Age of majority is 18 yrs old
2. A contract entered into by UNEMANCIPATED MINOR w/o parents/guardian's consent
is voidable, except:
a. Minor MISREPRESENTS his age (estoppel)
b. Contract involves sale & delivery of necessities to minor
5 VICES OF CONSENT
- NOTE: When there is a DEFECTIVE CONSENT of EITHER of parties, contract is voidable;
Remedy: annulment of contract.
1. MISTAKE/ERROR
2. FRAUD/DECEIT
3. VIOLENECE
4. INTIMIDATION
5. UNDUE INFLUENCE
1. MISTAKE/ERROR
- wrong conception & lack of knowledge upon a thing
(2) MISTAKES W/C VITIATES CONSENT
It should refer to:
1. substance of thing that is the OBJECT of contract
2. conditions w/c MOVED either/both parties to enter into contract
4 RULES ON MISTAKE
1. Mistake to identity/qualifications of either of parties will vitiate consent ONLY when IT is
the principal cause of contract.
2. Simple mistake of account must be corrected.
3. No mistake if parties knew the risk/doubt affecting OBJECT of contract.
4. When one of parties is unable to read or the contract is in language not understood by him,
& mistake/fraud is alleged, the person enforcing the contract must FULLY explained the terms
to him.
2. FRAUD/DOLO
- when through insidious words/machinations of one of the parties, INDUCED the other to enter
into a contract, & w/o them, he will not agree.
DOLO CAUSANTE
DOLO INCIDENTE
Serious
Not serious
cause induces party to
ENTER into contract
NOT the cause to enter
into contract
make contract voidable
contract is valid; liable
for damages
7 RULES OF FRAUD
1. Failure to disclose facts when these needs to be revealed, is a fraud.
2. Fraud should be SERIOUS (dolo causante) & SHOULD NOT be done by BOTH parties to make
contract voidable.
3. Incidental fraud (dolo incidente) ONLY obliges person to PAY DAMAGES.
4. Usual exaggerations in trade, when other party know the "real" facts, is NOT FRAUD.
5. A mere expression of opinion is NOT FRAUD UNLESS made by an expert & the other party
relies on his special knowledge.
6. Misrepresentation made in good faith is NOT FRAUD but may constitute an error.
7. Misrepresentation by 3rd person DOES NOT vitiate consent UNLESS it created substantial
mistake.
3. VIOLENCE
- serious/irresistible force is employed.
2 RULES ON VIOLENCE
1. Serious/irresistible force is employed w/c constitutes the reason why one entered into a
contract.
2. Violence ANNULS obligation although it is DONE by 3rd person not part of contract.
4. INTIMIDATION
- 1 of the parties is compelled by a reasonable & well-grounded fear of an imminent & grave
evil upon his person/property to give his consent.
3 RULES ON INTIMIDATION
1. Age, sex, & condition of person must used to determine the degree of intimidation.
2. Intimidation ANNULS obligation although it is DONE by 3rd person not part of contract.
3. A threat to enforce one's claim (claim must be just & legal), DOES NOT vitiate consent.
VIOLENCE
INTIMIDATION
External
Internal
Physical contact/coercion
NO physical coercion;
ONLY MENTAL/MORAL
coercion
5. UNDUE INFLUENCE
- a person takes improper advantage of his power over other's will, depriving the other to
his reasonable freedom of choice.
3 RULES ON UNDUE INFLUENCE
1. There is a person who takes improper advantage of his power over other's will, depriving the
other to his reasonable freedom of choice.
2. Undue influence ANNULS obligation although it is DONE by 3rd person not part of contract.
3. To constitute undue influence, ff circumstances must be considered: (1) confidential, family,
spiritual, & other relations of parties; or (2) the aggrieved party is suffering from mental
weakness; or (3) ignorant; or (4) in financial distress.
SIMULATION OF CONTRACT
- process of INTENTIONALLY deceiving others by producing a contract not really exist (absolute
simulation), or w/c is different from true agreement (relative simulation).
2 KINDS OF SIMULATED CONTRACT
1. ABSOLUTE SIMULATION (the parties DO NOT intend to be bound at all)
- completely fictitious/make-believe; VOID
2. RELATIVE SIMULATION (parties conceal their true/real agreement)
- parties are bound to real/true agreement, EXCEPT:
a. contract prejudice 3rd person
b. purpose is contrary to law, morals, good customs, public order, public policy
7 REQUISITES OF OBJECT OF CONTRACT
1. Specific & certain
2. Services not contrary to law, morals, good customs, public order, public policy
3. Services/things must NOT be legally/physically impossible
4. Services/things are w/in commerce of man including future things
5. Rights are NOT TRANSMISSIBLE.
6. Determinate (kind) or determinable ( w/o the need of new contract/agreement)
7. NO contract be entered for future inheritance UNLESS law states
4 REQUISITES OF CAUSE
1. It is just & equitable.
2. It exists.
3. It is lawful.
4. It is true.
LESION
- inadequacy of cause (eg. insufficient price for thing sold)
RULES ON LESION
- Lesion DOES NOT invalidate contract, except there is:
a. Fraud
b. Mistake
c. Undue influence
2 FORM OF CONTRACTS
1. Contracts in writing
2. Contracts in a public instrument
1. Contracts w/c must be IN WRITING to be valid:
a. Donation of personal property exceeds P5000.
b. Agent's authority in sale of land/any interest.
c. Contract of antichresis.
d Stipulation to pay interest on loans.
e. Stipulation to reduce common carrier's extraordinary diligence & to limit its liability.
2. Contracts w/c must be IN A PUBLIC INSTRUMENT to be valid:
a. Donation of real property (both the donation & accep-tance).
b. Sale of real property.
c. Partnership where real property/rights is contributed; or when capital contribution
exceeds P3000.
REFORMATION OF INSTRUMENTS
- REMEDY in equity in w/c a written instrument is made/construed to the REAL intention of
parties when there is an error/mistake.
(5) CASES REFORMATION OF INSTRUMENT IS AVAILABLE
1. Mutual mistake of parties.
2. One party was mistaken & the other acted fraud.
3. One party was mistaken & the other knew/believed that the instrument did not state their
REAL agreement.
4. Ignorance, lack of skill, negligence, or bad faith of person drafting the instrument DOES NOT
state the TRUE INTENTION of parties
5. Two parties agree on mortgage/pledge of personal/real property BUT the instrument states
the property is sold ABSOLUTELY, or w/ the right to repurchase.
(3) NO REFORMATION OF INSTRUMENT WHEN:
1. Simple donation inter vivos where NO CONDITION is imposed.
2. Will.
3. Real agreement is VOID.
4 KINDS OF DEFECTIVE CONTRACTS
1. RESCISSIBLE – valid until rescinded; has ALL essential requisites but because
of injury/damage to one of the parties, the contract may be rescinded.
2. VOIDABLE – valid until annulled; has ALL essential requisites but because of defect in
consent, contract may be annulled.
3. UNENFORCEABLE – cannot be sued/enforced unless ratified; no effect NOW but may take
effect upon ratification.
4. VOID – NO effect at all; cannot be ratified/validated.
5 RESCISSIBLE CONTRACTS
1. Those entered by guardians & suffered LESION by more than ¼ of value of the value that is
the OBJECT.
2. Those agreed upon in representation of absentees, if the absentees suffered LESION.
3. Those undertaken in FRAUD of creditors when the creditors cannot further claim.
4. If entered into contract w/o knowledge/approval of litigants under litigation.
5. Contracts subjected to rescission declared by law.
3 VOIDABLE CONTRACTS
1. One of the parties INCAPABLE of giving consent to a contract.
2. Those where consent vitiates by vices of consent. (MFVIU)
3. Those agreed in the state of drunkenness/hypnotic spell.
3 UNENFORCEABLE CONTRACTS
1. Those entered in name of other person, or who acted BEYOND his powers.
2. Those who do not comply w/ the Statute of Frauds.
3. Both parties are incapable of giving consent to a contract.
7 VOID/INEXISTENT CONTRACTS
1. Those w/c are ABSOLUTELY simulated/fictitious.
2. Those w/c contemplate an impossible service.
3. Those whose OBJECT is outside the commerce of man.
4. Those whose CAUSE/OBJECT did not exist at time of tran-saction.
5. Those whose CAUSE/OBJECT/PURPOSE is contrary to law, morals, good customs, public
order, or public policy.
6. Those where INTENTION of parties to principal object CANNOT be ascertained.
7. Those expressly prohibited/declared VOID by law.