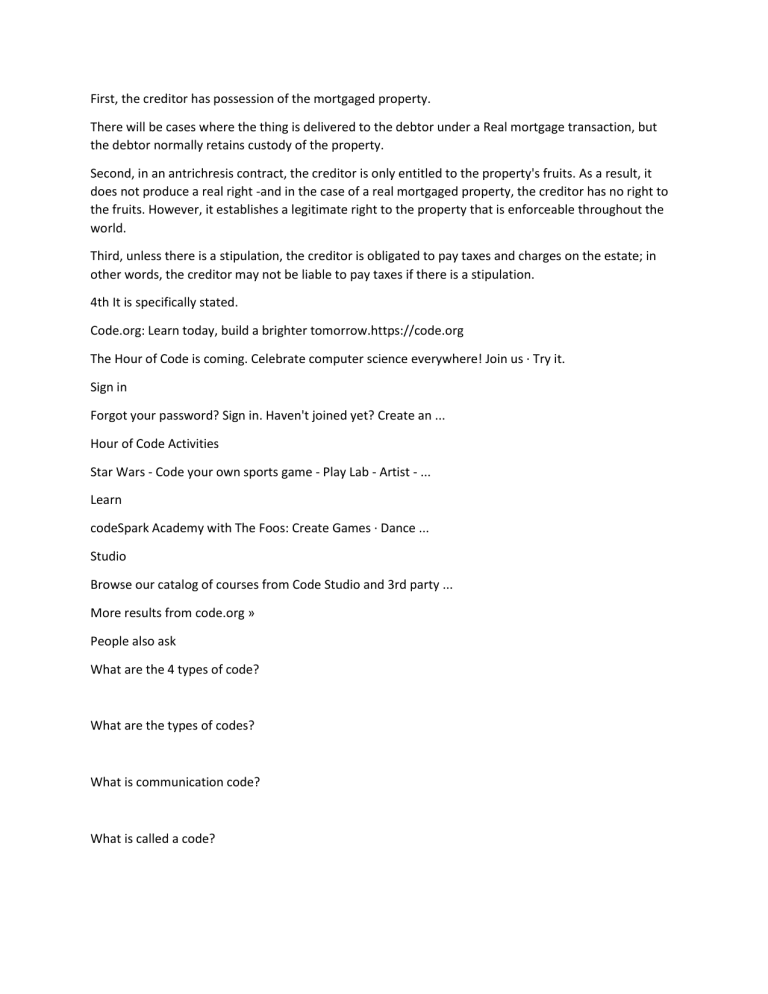 First, the creditor has possession of the mortgaged property.
There will be cases where the thing is delivered to the debtor under a Real mortgage transaction, but
the debtor normally retains custody of the property.
Second, in an antrichresis contract, the creditor is only entitled to the property's fruits. As a result, it
does not produce a real right -and in the case of a real mortgaged property, the creditor has no right to
the fruits. However, it establishes a legitimate right to the property that is enforceable throughout the
world.
Third, unless there is a stipulation, the creditor is obligated to pay taxes and charges on the estate; in
other words, the creditor may not be liable to pay taxes if there is a stipulation.
4th It is specifically stated.
Code.org: Learn today, build a brighter tomorrow.https://code.org
The Hour of Code is coming. Celebrate computer science everywhere! Join us · Try it.
Sign in
Forgot your password? Sign in. Haven't joined yet? Create an ...
Hour of Code Activities
Star Wars - Code your own sports game - Play Lab - Artist - ...
Learn
codeSpark Academy with The Foos: Create Games · Dance ...
Studio
Browse our catalog of courses from Code Studio and 3rd party ...
More results from code.org »
People also ask
What are the 4 types of code?
What are the types of codes?
What is communication code?
What is called a code?
Feedback
Hour of Codehttps://hourofcode.com
Celebrate computer science everywhere! Anyone, anywhere can organize an Hour of Code event. Onehour tutorials in over 45 languages. No experience needed.
Learn - Hour of Codehttps://hourofcode.com › learn
Hour of Code Activities. Try a one-hour tutorial designed for all ages in over 45 languages. Join millions
of students and teachers in over 180 countries ...