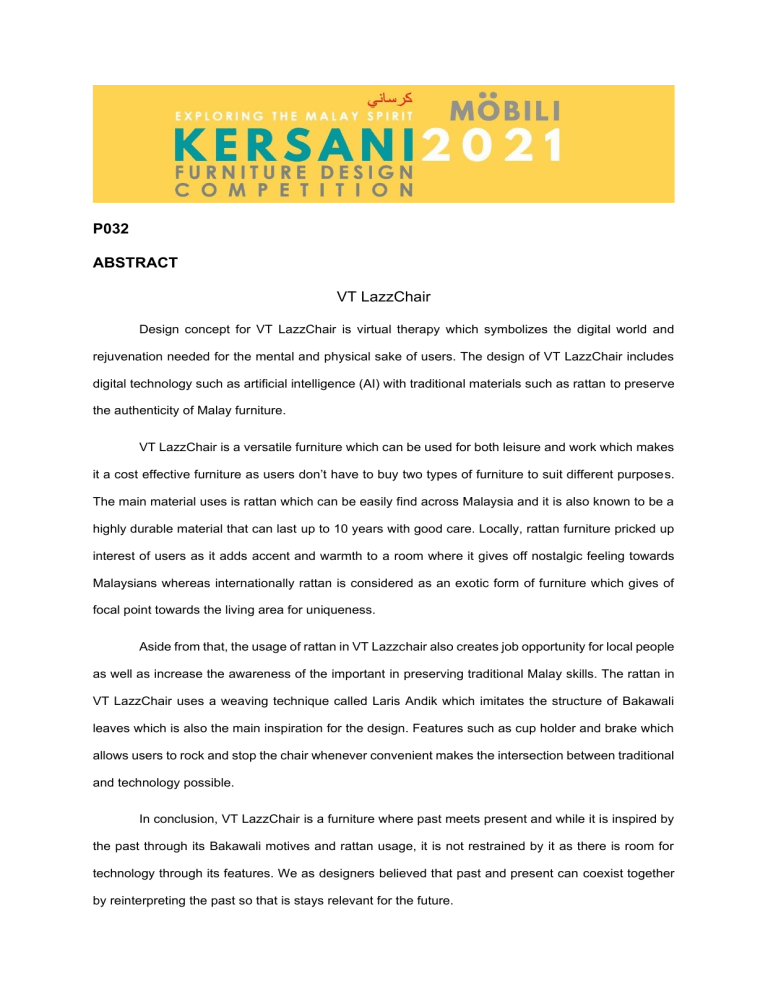 P032
ABSTRACT
VT LazzChair
Design concept for VT LazzChair is virtual therapy which symbolizes the digital world and
rejuvenation needed for the mental and physical sake of users. The design of VT LazzChair includes
digital technology such as artificial intelligence (AI) with traditional materials such as rattan to preserve
the authenticity of Malay furniture.
VT LazzChair is a versatile furniture which can be used for both leisure and work which makes
it a cost effective furniture as users don't have to buy two types of furniture to suit different purposes.
The main material uses is rattan which can be easily find across Malaysia and it is also known to be a
highly durable material that can last up to 10 years with good care. Locally, rattan furniture pricked up
interest of users as it adds accent and warmth to a room where it gives off nostalgic feeling towards
Malaysians whereas internationally rattan is considered as an exotic form of furniture which gives of
focal point towards the living area for uniqueness.
Aside from that, the usage of rattan in VT Lazzchair also creates job opportunity for local people
as well as increase the awareness of the important in preserving traditional Malay skills. The rattan in
VT LazzChair uses a weaving technique called Laris Andik which imitates the structure of Bakawali
leaves which is also the main inspiration for the design. Features such as cup holder and brake which
allows users to rock and stop the chair whenever convenient makes the intersection between traditional
and technology possible.
In conclusion, VT LazzChair is a furniture where past meets present and while it is inspired by
the past through its Bakawali motives and rattan usage, it is not restrained by it as there is room for
technology through its features. We as designers believed that past and present can coexist together
by reinterpreting the past so that is stays relevant for the future.