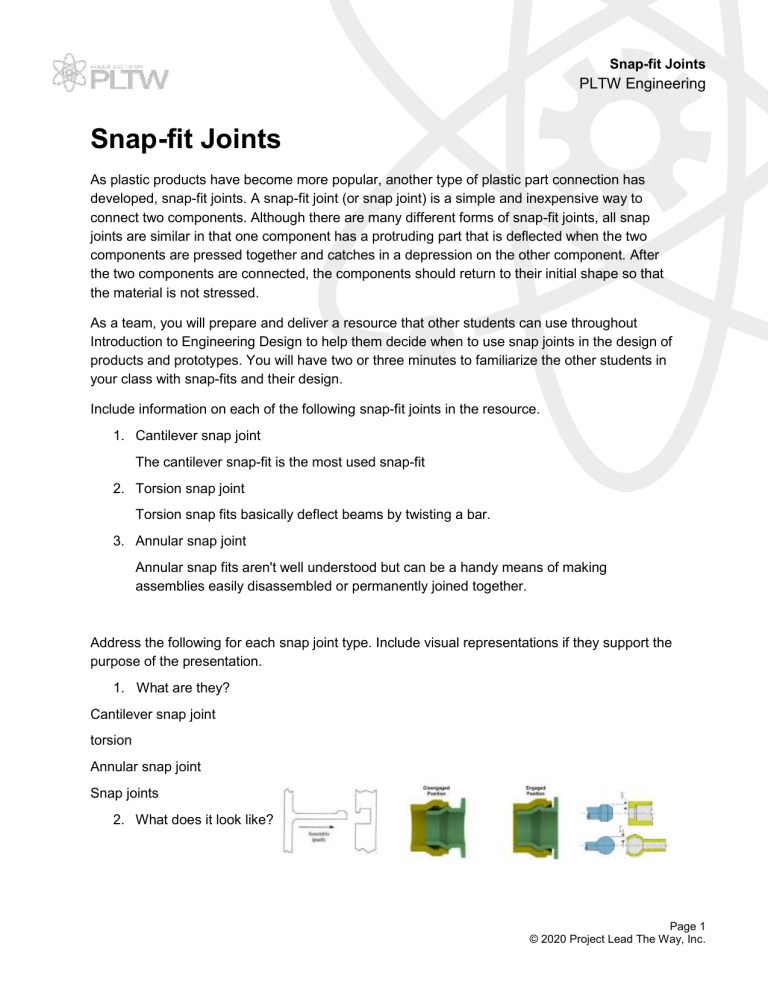 Snap-fit Joints
PLTW Engineering
Snap-fit Joints
As plastic products have become more popular, another type of plastic part connection has
developed, snap-fit joints. A snap-fit joint (or snap joint) is a simple and inexpensive way to
connect two components. Although there are many different forms of snap-fit joints, all snap
joints are similar in that one component has a protruding part that is deflected when the two
components are pressed together and catches in a depression on the other component. After
the two components are connected, the components should return to their initial shape so that
the material is not stressed.
As a team, you will prepare and deliver a resource that other students can use throughout
Introduction to Engineering Design to help them decide when to use snap joints in the design of
products and prototypes. You will have two or three minutes to familiarize the other students in
your class with snap-fits and their design.
Include information on each of the following snap-fit joints in the resource.
1. Cantilever snap joint
The cantilever snap-fit is the most used snap-fit
2. Torsion snap joint
Torsion snap fits basically deflect beams by twisting a bar.
3. Annular snap joint
Annular snap fits aren't well understood but can be a handy means of making
assemblies easily disassembled or permanently joined together.
Address the following for each snap joint type. Include visual representations if they support the
purpose of the presentation.
1. What are they?
Cantilever snap joint
torsion
Annular snap joint
Snap joints
2. What does it look like?
Page 1
© 2020 Project Lead The Way, Inc.
He
3. How does it work?
In its simplest form, a snap fit is a small protrusion (hook, stud, or bead) which is
deflected during assembly to catch in a depression on the mating part.
4. What materials are best used to manufacture this type of snap joint?
Thermoplastics
5. Other important information
Page 2
© 2020 Project Lead The Way, Inc.