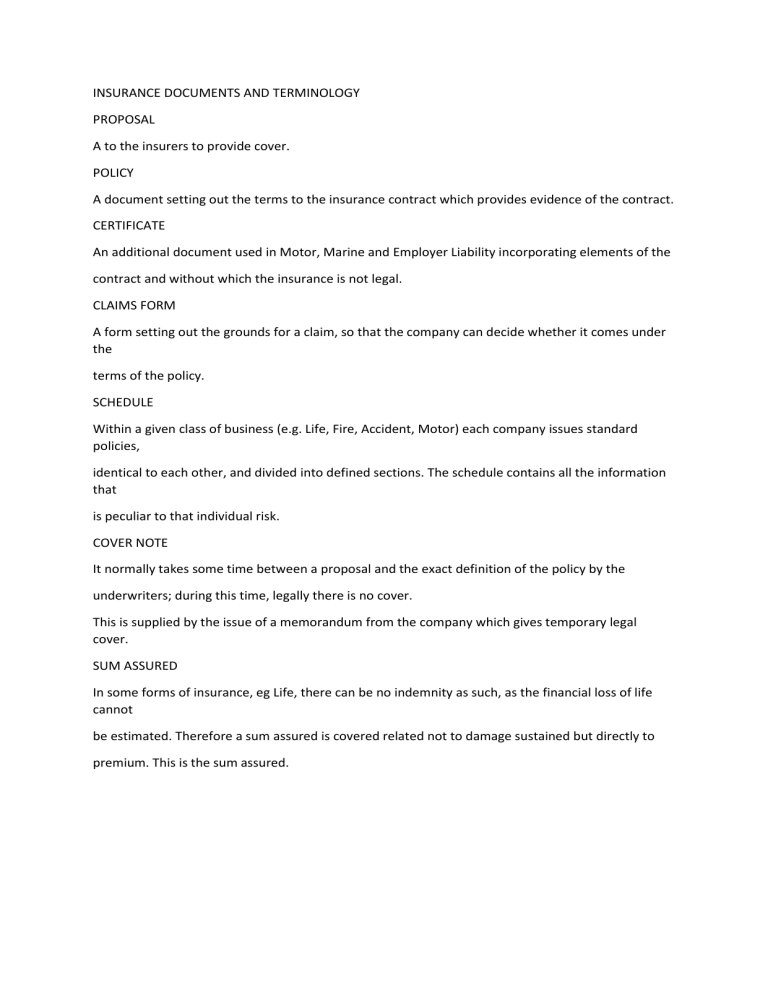 INSURANCE DOCUMENTS AND TERMINOLOGY
PROPOSAL
A to the insurers to provide cover.
POLICY
A document setting out the terms to the insurance contract which provides evidence of the contract.
CERTIFICATE
An additional document used in Motor, Marine and Employer Liability incorporating elements of the
contract and without which the insurance is not legal.
CLAIMS FORM
A form setting out the grounds for a claim, so that the company can decide whether it comes under
the
terms of the policy.
SCHEDULE
Within a given class of business (e.g. Life, Fire, Accident, Motor) each company issues standard
policies,
identical to each other, and divided into defined sections. The schedule contains all the information
that
is peculiar to that individual risk.
COVER NOTE
It normally takes some time between a proposal and the exact definition of the policy by the
underwriters; during this time, legally there is no cover.
This is supplied by the issue of a memorandum from the company which gives temporary legal
cover.
SUM ASSURED
In some forms of insurance, eg Life, there can be no indemnity as such, as the financial loss of life
cannot
be estimated. Therefore a sum assured is covered related not to damage sustained but directly to
premium. This is the sum assured.