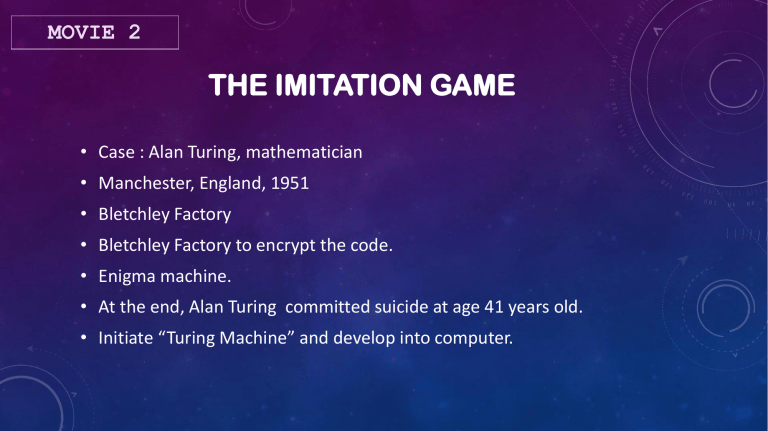 MOVIE 2
THE IMITATION GAME
• Case : Alan Turing, mathematician
• Manchester, England, 1951
• Bletchley Factory
• Bletchley Factory to encrypt the code.
• Enigma machine.
• At the end, Alan Turing committed suicide at age 41 years old.
• Initiate "Turing Machine" and develop into computer.
ARTICLE 4
It is vital to
understand that
failure is an
integral part of
innovation.
The research shows
that the social
stigmatisation of
failure leads to a
negative perception
(Stam et al.
(2008))
Humans are conditioned to regard failing as
negative, starting from an early age, thus
avoiding talking about it. Yet, there is
much to learn from failing, especially when
it comes to innovation.
Killers of Innovation
Part 1
- The Failure
DATA
The Startup Genome Project provides annual
reports on the Startup ecosystem.
This suggests that there might be insufficient
learning from these unsuccessful ventures.
The awareness, diligence, and ultimately
the willingness to evaluate, understand
what went wrong, and then get up again will
make a failure noble and help on the road
to success.
specific factors
that can be
isolated:
• organisational
factors,
• individual
factors,
• team factors,
and
• approach
factors.
We need to understand that the potential of failure is an
integral part of business. The current trend of talking
about failure helps both the failed and the founders.
Because only with the willingness to take risks can
innovations and also successes emerge.
Killers of Innovation
Part 1
- The Failure
VIDEO 2
What is Digital Social Innovation?
1. Computer game to collect cancer data.
2. Transparent world.
3. Open hardware to collect environmental
data
4. The future of digital social innovation.
MONEYBALL
Oakland A's general manager Billy Beane's successful attempt to assemble a
baseball team on a lean budget by employing computer-generated
analysis to acquire new players.