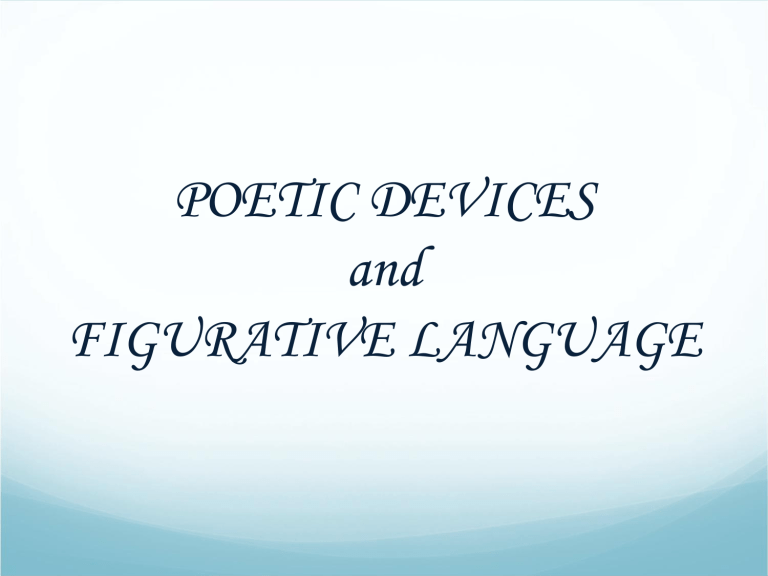 POETIC DEVICES
and
FIGURATIVE LANGUAGE
POETIC DEVICE
A technique or tool used
in poetry
FORM
Form is the way a poem
looks.
LINES
The number of lines in
a poem may vary.
They may or may not
be complete sentences.
STANZAS
Stanzas are lines separated into
groups.
The number of lines in each
stanza may vary.
RHYME
Rhyme is when words
end with the same
sound.
RHYTHM
Rhythm is the beat of
the poem.
REPETITION
Repetition is the
repeating of sounds,
words, phrases, or
lines.
ALLITERATION
Alliteration is the
repetition of similar
beginning sounds and
consonants (like tongue
twisters).
ONOMATOPOEIA
Onomatopoeia is when
a word's sound suggests
its meaning.
Ex: buzz, swish, bang
FIGURATIVE
LANGUAGE
Figurative language
helps us picture
ordinary things in a
new way.
SIMILE
A simile compares two
unlike things using like
or as.
Ex: He was as sly as a
fox.
METAPHOR
A metaphor is an implied
comparison of two unlike
things. It doesn't use like or
as.
Ex: Laughter is the best
medicine.
PERSONIFICATION
Personification is when
animals or objects are given
human characteristics.
Ex: The wind whispered to
the trees.
HYPERBOLE
Extreme exaggeration; usually meant
to be funny.
Ex. It was a million degrees in the
shade.
IDIOM
An idiom is a phrase or expression
that has a different meaning from
what it actually says.
Ex. You're driving me up the wall!
It's raining cats and dogs.