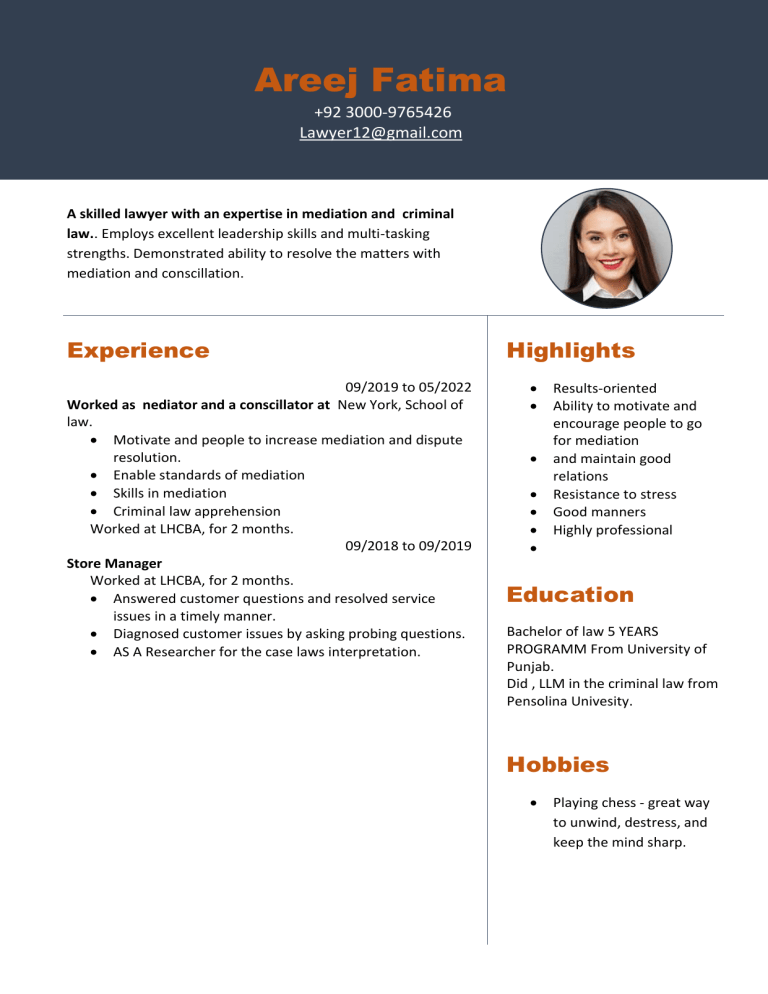 Areej Fatima
+92 3000-9765426
Lawyer12@gmail.com
A skilled lawyer with an expertise in mediation and criminal
law.. Employs excellent leadership skills and multi-tasking
strengths. Demonstrated ability to resolve the matters with
mediation and conscillation.
Experience
09/2019 to 05/2022
Worked as nediator and a conscillator at New York, School of
law.
 Motivate and people to increase mediation and dispute
resolution.
 Enable standards of mediation
 Skills in mediation
 Criminal law apprehension
Worked at LHCBA, for 2 months.
09/2018 to 09/2019
Store Manager
Worked at LHCBA, for 2 months.
 Answered customer questions and resolved service
issues in a timely manner.
 Diagnosed customer issues by asking probing questions.
 AS A Researcher for the case laws interpretation.
Highlights







Results-oriented
Ability to motivate and
encourage people to go
for mediation
and maintain good
relations
Resistance to stress
Good manners
Highly professional
Education
Bachelor of law 5 YEARS
PROGRAMM From University of
Punjab.
Did , LLM in the criminal law from
Pensolina Univesity.
Hobbies

Playing chess - great way
to unwind, destress, and
keep the mind sharp.