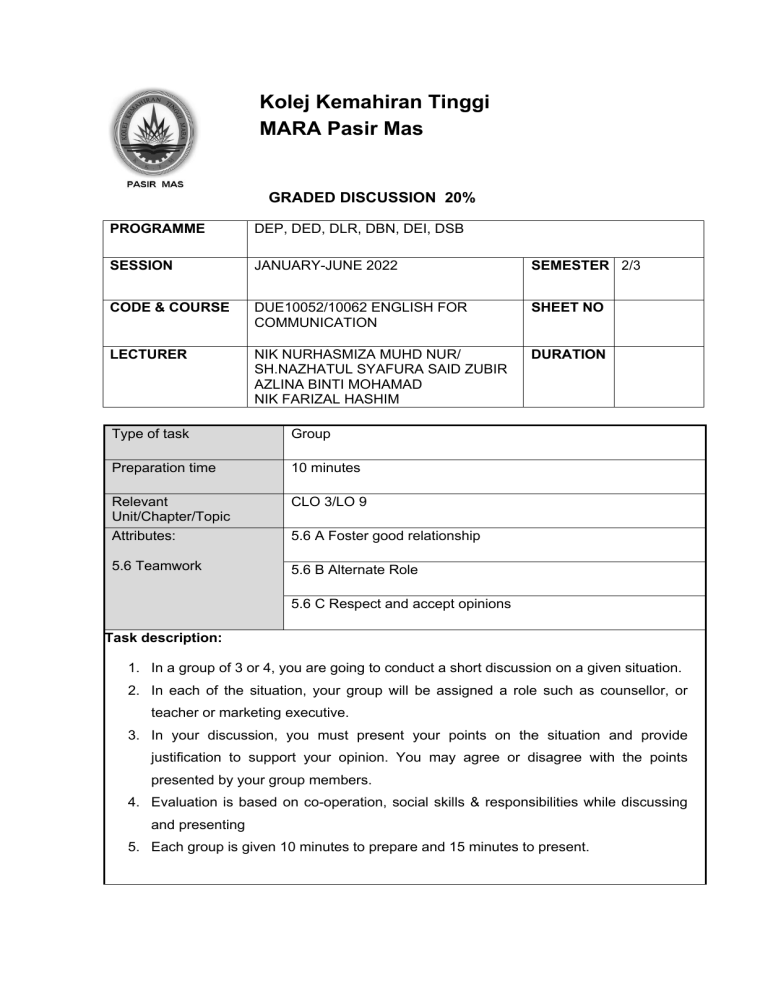 Kolej Kemahiran Tinggi
MARA Pasir Mas
GRADED DISCUSSION 20%
PROGRAMME
DEP, DED, DLR, DBN, DEI, DSB
SESSION
JANUARY-JUNE 2022
SEMESTER 2/3
CODE & COURSE
DUE10052/10062 ENGLISH FOR
COMMUNICATION
SHEET NO
LECTURER
NIK NURHASMIZA MUHD NUR/
SH.NAZHATUL SYAFURA SAID ZUBIR
AZLINA BINTI MOHAMAD
NIK FARIZAL HASHIM
DURATION
Type of task
Group
Preparation time
10 minutes
Relevant
Unit/Chapter/Topic
Attributes:
CLO 3/LO 9
5.6 Teamwork
5.6 B Alternate Role
5.6 A Foster good relationship
5.6 C Respect and accept opinions
Task description:
1. In a group of 3 or 4, you are going to conduct a short discussion on a given situation.
2. In each of the situation, your group will be assigned a role such as counsellor, or
teacher or marketing executive.
3. In your discussion, you must present your points on the situation and provide
justification to support your opinion. You may agree or disagree with the points
presented by your group members.
4. Evaluation is based on co-operation, social skills & responsibilities while discussing
and presenting
5. Each group is given 10 minutes to prepare and 15 minutes to present.
Discussion Topics
Situation 1
Teenagers nowadays feel they are too pressured and therefore need some means of
entertainment to take away their anxiety or stress. As counsellors, what are some of the
good activities that you can recommend to the teenagers to help them overcome their
anxiety and stress.
Situation 2
As English teachers, you noticed a drop or decline in the performance of your students in
their monthly English test. Discuss with your colleagues some of the ways to help your
students to improve their marks in the next test.
Situation 3
Supermarkets must have effective strategies to increase sales. In your team of marketing
executive, discuss some of the strategies to help increase sales for your supermarket.