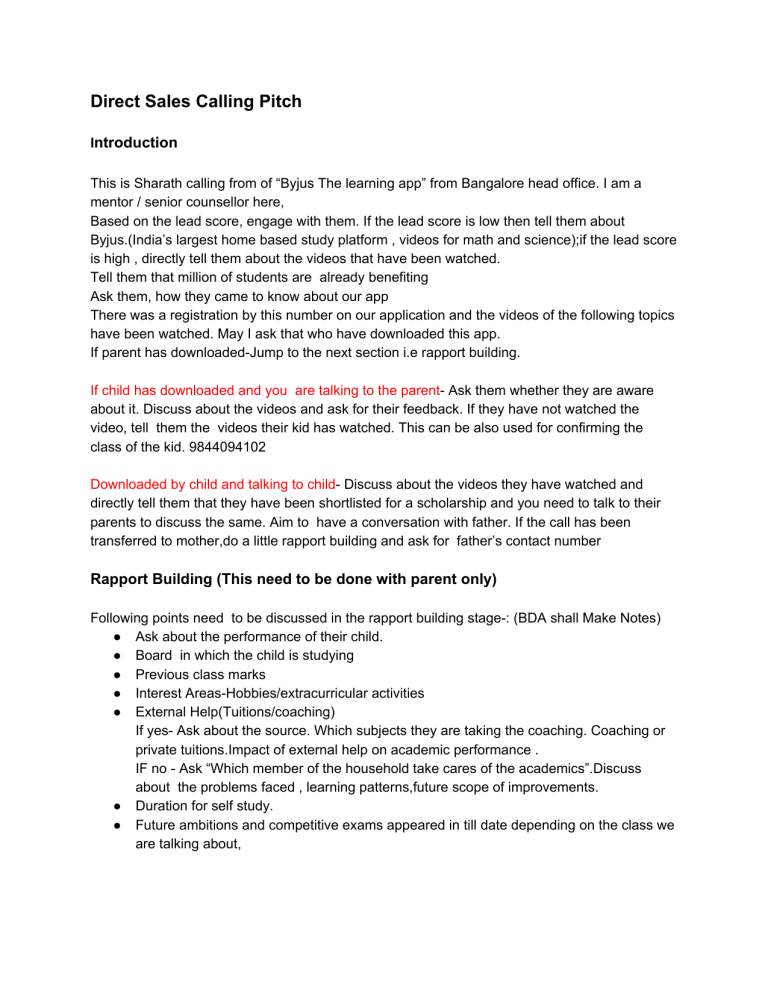 Direct​ ​Sales​ ​Calling​ ​Pitch
I​ntroduction
This​ ​is​ ​Sharath​ ​calling​ ​from​ ​of​ ​"Byjus​ ​The​ ​learning​ ​app"​ ​from​ ​Bangalore​ ​head​ ​office.​ ​I​ ​am​ ​a
mentor​ ​/​ ​senior​ ​counsellor​ ​here,
Based​ ​on​ ​the​ ​lead​ ​score,​ ​engage​ ​with​ ​them.​ ​If​ ​the​ ​lead​ ​score​ ​is​ ​low​ ​then​ ​tell​ ​them​ ​about
Byjus.(India's​ ​largest​ ​home​ ​based​ ​study​ ​platform​ ​,​ ​videos​ ​for​ ​math​ ​and​ ​science);if​ ​the​ ​lead​ ​score
is​ ​high​ ​,​ ​directly​ ​tell​ ​them​ ​about​ ​the​ ​videos​ ​that​ ​have​ ​been​ ​watched.
Tell​ ​them​ ​that​ ​million​ ​of​ ​students​ ​are​ ​ ​already​ ​benefiting
Ask​ ​them,​ ​how​ ​they​ ​came​ ​to​ ​know​ ​about​ ​our​ ​app
There​ ​was​ ​a​ ​registration​ ​by​ ​this​ ​number​ ​on​ ​our​ ​application​ ​and​ ​the​ ​videos​ ​of​ ​the​ ​following​ ​topics
have​ ​been​ ​watched.​ ​May​ ​I​ ​ask​ ​that​ ​who​ ​have​ ​downloaded​ ​this​ ​app.
If​ ​parent​ ​has​ ​downloaded-Jump​ ​to​ ​the​ ​next​ ​section​ ​i.e​ ​rapport​ ​building.
If​ ​child​ ​has​ ​downloaded​ ​and​ ​you​ ​ ​are​ ​talking​ ​to​ ​the​ ​parent​-​ ​Ask​ ​them​ ​whether​ ​they​ ​are​ ​aware
about​ ​it.​ ​Discuss​ ​about​ ​the​ ​videos​ ​and​ ​ask​ ​for​ ​their​ ​feedback.​ ​If​ ​they​ ​have​ ​not​ ​watched​ ​the
video,​ ​tell​ ​ ​them​ ​the​ ​ ​videos​ ​their​ ​kid​ ​has​ ​watched.​ ​This​ ​can​ ​be​ ​also​ ​used​ ​for​ ​confirming​ ​the
class​ ​of​ ​the​ ​kid.​ ​9844094102
Downloaded​ ​by​ ​child​ ​and​ ​talking​ ​to​ ​child​-​ ​Discuss​ ​about​ ​the​ ​videos​ ​they​ ​have​ ​watched​ ​and
directly​ ​tell​ ​them​ ​that​ ​they​ ​have​ ​been​ ​shortlisted​ ​for​ ​a​ ​scholarship​ ​and​ ​you​ ​need​ ​to​ ​talk​ ​to​ ​their
parents​ ​to​ ​discuss​ ​the​ ​same.​ ​Aim​ ​to​ ​ ​have​ ​a​ ​conversation​ ​with​ ​father.​ ​If​ ​the​ ​call​ ​has​ ​been
transferred​ ​to​ ​mother,do​ ​a​ ​little​ ​rapport​ ​building​ ​and​ ​ask​ ​for​ ​ ​father's​ ​contact​ ​number
Rapport​ ​Building​ ​(This​ ​need​ ​to​ ​be​ ​done​ ​with​ ​parent​ ​only)
Following​ ​points​ ​need​ ​ ​to​ ​be​ ​discussed​ ​in​ ​the​ ​rapport​ ​building​ ​stage-:​ ​(BDA​ ​shall​ ​Make​ ​Notes)
● Ask​ ​about​ ​the​ ​performance​ ​of​ ​their​ ​child.
● Board​ ​ ​in​ ​which​ ​the​ ​child​ ​is​ ​studying
● Previous​ ​class​ ​marks
● Interest​ ​Areas-Hobbies/extracurricular​ ​activities
● External​ ​Help(Tuitions/coaching)
If​ ​yes-​ ​Ask​ ​about​ ​the​ ​source.​ ​Which​ ​subjects​ ​they​ ​are​ ​taking​ ​the​ ​coaching.​ ​Coaching​ ​or
private​ ​tuitions.Impact​ ​of​ ​external​ ​help​ ​on​ ​academic​ ​performance​ ​.
IF​ ​no​ ​-​ ​Ask​ ​"Which​ ​member​ ​of​ ​the​ ​household​ ​take​ ​cares​ ​of​ ​the​ ​academics".Discuss
about​ ​ ​the​ ​problems​ ​faced​ ​,​ ​learning​ ​patterns,future​ ​scope​ ​of​ ​improvements.
● Duration​ ​for​ ​self​ ​study.
● Future​ ​ambitions​ ​and​ ​competitive​ ​exams​ ​appeared​ ​in​ ​till​ ​date​ ​depending​ ​on​ ​the​ ​class​ ​we
are​ ​talking​ ​about,
Creating​ ​the​ ​need
●
●
●
●
In​ ​most​ ​of​ ​the​ ​cases​ ​ ​the​ ​duration​ ​of​ ​self​ ​study​ ​will​ ​be​ ​less.
Discuss​ ​the​ ​importance​ ​of​ ​self​ ​study​ ​.​ ​Academic​ ​performance​ ​depends​ ​on​ ​50​ ​%​ ​on
teachers​ ​and​ ​50%​ ​on​ ​self​ ​study.​ ​"For​ ​the​ ​first​ ​50%​ ​we​ ​ ​go​ ​to​ ​school,​ ​take​ ​tuitions​ ​but
what​ ​are​ ​we​ ​doing​ ​for​ ​the​ ​next​ ​50%"
Discuss​ ​the​ ​importance​ ​of​ ​conceptual​ ​learning.​ ​Discuss​ ​how​ ​students​ ​are​ ​only​ ​preparing
for​ ​exams.Blackboard​ ​teaching​ ​sometimes​ ​doesn't​ ​have​ ​the​ ​resources​ ​to​ ​impart​ ​proper
visualization​ ​techniques​ ​and​ ​hence​ ​have​ ​to​ ​rely​ ​on​ ​child's​ ​imagination​ ​to​ ​understand​ ​the
concepts.
As​ ​this​ ​being​ ​the​ ​foundation​ ​stage(​ ​Based​ ​on​ ​the​ ​class),​ ​the​ ​learning​ ​methodologies
he/she​ ​adopts​ ​is​ ​quintessential​ ​for​ ​his​ ​future​ ​academic​ ​performance​ ​and​ ​will​ ​be​ ​difficult
to​ ​change​ ​as​ ​he​ ​grows​ ​up.​ ​(Sub​ ​categorisation​ ​needed​ ​and​ ​not​ ​generalisation​ ​again
depending​ ​upon​ ​the​ ​class).This​ ​need​ ​to​ ​be​ ​class​ ​specific-:
a)​ ​4​ ​and​ ​5th​ ​class​​ ​-​ ​Mention​ ​the​ ​importance​ ​of​ ​proper​ ​understanding​ ​of​ ​concepts​ ​as​ ​this
will​ ​determine​ ​whether​ ​they​ ​will​ ​be​ ​interested​ ​in​ ​that​ ​particular​ ​subject​ ​in​ ​the​ ​coming
years.It​ ​has​ ​been​ ​seen​ ​often​ ​that​ ​a​ ​child​ ​loses​ ​interest​ ​in​ ​a​ ​particular​ ​subject​ ​only
because​ ​he​ ​has​ ​not​ ​understood​ ​the​ ​previous​ ​concepts​ ​well​ ​enough.
b)​​ ​6th​ ​to​ ​8th-​Focus​ ​on​ ​the​ ​need​ ​of​ ​conceptual​ ​learning​ ​and​ ​how​ ​the​ ​small​ ​concepts​ ​ ​of
these​ ​classes​ ​will​ ​translate​ ​into​ ​chapters​ ​in​ ​higher​ ​classes​ ​(Use​ ​Force<Presssure
<Newton​ ​Law's​ ​of​ ​motion​ ​<Kinematics
c)​9th​ ​and​ ​10th​ ​-​ ​In​ ​addition​ ​to​ ​point​ ​b),​ ​also​ ​ ​mention​ ​the​ ​significance​ ​of​ ​the​ ​Board
exams.
d)​11th​ ​and​ ​12th​ ​-​Talk​ ​about​ ​ ​the​ ​importance​ ​of​ ​conceptual​ ​clarity​ ​in​ ​order​ ​to​ ​excel​ ​in
competitive​ ​exams.​ ​Also​ ​mention​ ​the​ ​need​ ​ ​of​ ​self​ ​study​ ​to​ ​build​ ​these​ ​concepts.
Introducing​ ​the​ ​counselling​ ​session​ ​(​Never​ ​use​ ​the​ ​word​ ​"Home​ ​Demo​ ​"​)
●
●
Now​ ​as​ ​he​ ​had​ ​downloaded​ ​our​ ​app​ ​and​ ​ ​based​ ​on​ ​his​ ​activity​ ​on​ ​the​ ​app​ ​he​ ​is​ ​among
the​ ​few​ ​students​ ​who​ ​have​ ​been​ ​shortlisted​ ​for​ ​a​ ​one​ ​to​ ​one​ ​counseling​ ​session​ ​with​ ​our
mentors
What​ ​?
One​ ​of​ ​our​ ​mentors​ ​will​ ​be​ ​visiting​ ​your​ ​home​ ​ ​for​ ​a​ ​one​ ​to​ ​one​ ​interaction​ ​with​ ​your​ ​kid.
Counselling​ ​session​ ​will​ ​consist​ ​of​ ​three​ ​parts​ ​basically-:
1.Counsellor​ ​will​ ​be​ ​analysing​ ​his​ ​learning​ ​pattern:for​ ​this​ ​he​ ​will​ ​also​ ​be​ ​taking​ ​a​ ​short
aptitude​ ​test​ ​ ​for​ ​understanding​ ​ ​his​ ​approach.based​ ​on​ ​his​ ​performance​ ​new​ ​learning
methodologies​ ​will​ ​be​ ​suggested​ ​and​ ​innovative​ ​ways​ ​to​ ​make​ ​learning​ ​fun​ ​will​ ​be
discussed.
2.Discussion​ ​about​ ​his​ ​school​ ​performance,​ ​week​ ​area's,​ ​future​ ​ambitions.​ ​Awareness
about​ ​the​ ​olympiads​ ​which​ ​he​ ​is​ ​eligible​ ​for​ ​will​ ​also​ ​be​ ​imparted.
Future​ ​career​ ​prospects​ ​will​ ​also​ ​be​ ​discussed​ ​based​ ​on​ ​his​ ​interests​ ​and​ ​ambitions.
3.How​ ​to​ ​use​ ​"Byju's​ ​the​ ​learning​ ​app​ ​"​ ​effectively.​ ​Based​ ​on​ ​the​ ​test​ ​taken​ ​a​t​ ​the​ ​end​ ​of
the​ ​session​ ​the​ ​counsellor​ ​will​ ​be​ ​suggesting​ ​a​ ​study​ ​pattern​ ​and​ ​the​ ​courses​ ​that​ ​will​ ​be
beneficial​ ​for​ ​the​ ​child​ ​.If​ ​you​ ​think​ ​that​ ​any​ ​of​ ​the​ ​courses​ ​will​ ​be​ ​beneficial​ ​for​ ​your​ ​child
you​ ​can​ ​get​ ​him/her​ ​enrolled​ ​in​ ​our​ ​classes.For​ ​that​ ​there​ ​will​ ​be​ ​a​ ​standard​ ​fee​ ​structure
we​ ​follow​ ​for​ ​the​ ​curriculums​ ​undertaken​ ​by​ ​us​ ​which​ ​would​ ​be​ ​ ​chargeable.​ ​It​ ​is​ ​not​ ​a
compulsion​ ​though​ ​ ​that​ ​you​ ​enroll​ ​your​ ​child​ ​in​ ​our​ ​classes.
This​ ​will​ ​overall​ ​be​ ​a​ ​45​ ​mins-1​ ​hour​ ​session​ ​to​ ​discuss​ ​the​ ​intracacies​ ​as​ ​discussed​ ​above.
Also​ ​this​ ​time​ ​you​ ​are​ ​spending​ ​for​ ​this​ ​counselling​ ​session​ ​is​ ​of​ ​great​ ​value​ ​as​ ​never​ ​during​ ​a
performance​ ​review​ ​of​ ​your​ ​child​ ​during​ ​parent​ ​teacher​ ​meetings​ ​do​ ​you​ ​get​ ​to​ ​interact​ ​with​ ​the
teacher​ ​for​ ​more​ ​than​ ​10​ ​mins​ ​in​ ​entire​ ​6​ ​months.
This​ ​session​ ​will​ ​also​ ​make​ ​you​ ​aware​ ​ ​of​ ​your​ ​child's​ ​learning​ ​curve​ ​and​ ​measures​ ​to​ ​be​ ​taken
to​ ​enhance​ ​his/her​ ​academic​ ​performance.
Closure
●
●
●
Tell​ ​them​ ​the​ ​counsellors​ ​who​ ​will​ ​be​ ​visiting​ ​them​ ​ ​have​ ​interacted​ ​with​ ​thousands​ ​of
students.​ ​Feedback​ ​of​ ​parents​ ​is​ ​very​ ​important​ ​and​ ​therefore​ ​both​ ​the​ ​parents​ ​shall​ ​be
present​ ​for​ ​this
Create​ ​urgency​ ​by​ ​ ​telling​ ​them​ ​about​ ​the​ ​exclusivity​ ​of​ ​session​ ​,​ ​one​ ​to​ ​one​ ​and​ ​is​ ​being
held​ ​only​ ​in​ ​few​ ​cities.
We​ ​are​ ​having​ ​it​ ​only​ ​for​ ​today​ ​and​ ​tomorrow​ ​.​ ​I​ ​tried​ ​calling​ ​you​ ​yesterday​ ​but​ ​your
number​ ​was​ ​not​ ​reachable,​ ​so​ ​we​ ​have​ ​only​ ​tomorrow's​ ​slot​ ​available.
Details​ ​to​ ​be​ ​taken​ ​:1.​ ​Kindly​ ​provide​ ​me​ ​with​ ​an​ ​alternate​ ​phone​ ​number
2.​ ​Which​ ​school​ ​is​ ​Student​ ​Name​​ ​going​ ​to​ ​.
3.Board
4.​ ​Your​ ​house​ ​address.(Full​ ​postal​ ​address​ ​starting​ ​from​ ​the​ ​House​ ​no.​ ​Or​ ​Door​ ​No.)
5.​ ​Landmark(preferably​ ​a​ ​school​ ​or​ ​a​ ​hospital​ ​or​ ​a​ ​well-​ ​known​ ​place)
6.​ ​Pincode
7.TimeSlots
8.Proper​ ​detailed​ ​comments​ ​regarding​ ​the​ ​talk​ ​you​ ​have​ ​had​ ​with​ ​the​ ​ ​parent​ ​to​ ​help​ ​out​ ​the
counsellor​ ​with​ ​faster​ ​rapport​ ​building​ ​and​ ​mentioning​ ​out​ ​the​ ​concerned​ ​person​ ​spoken​ ​to
avoid​ ​confusion​ ​as​ ​generally​ ​1​ ​parent​ ​would​ ​have​ ​been​ ​spoken​ ​to​ ​in​ ​most​ ​calls​ ​to​ ​fix​ ​the
appointment.
Once​ ​all​ ​this​ ​is​ ​done,ask​ ​for​ ​address​ ​.​ ​Keep​ ​the​ ​following​ ​points​ ​in​ ​mind
● Address​ ​should​ ​not​ ​have​ ​ambiguity,​ ​tell​ ​that​ ​counsellors​ ​will​ ​be​ ​coming​ ​through​ ​cabs​ ​and
hence​ ​the​ ​address​ ​should​ ​be​ ​recognizable
● Ask​ ​for​ ​time​ ​slots,​ ​don't​ ​give​ ​all​ ​the​ ​options.
● Take​ ​alternate​ ​phone​ ​number:ensure​ ​that​ ​the​ ​person​ ​of​ ​whom​ ​the​ ​alternate​ ​number​ ​is
being​ ​provided,​ ​he​ ​/she​ ​is​ ​aware​ ​of​ ​the​ ​counselling​ ​session.
● Tell​ ​them​ ​to​ ​have​ ​the​ ​phone​ ​handy​ ​before​ ​2-3​ ​hours​ ​of​ ​counselling​ ​sessions​ ​as​ ​the
counsellor​ ​will​ ​be​ ​calling​ ​them​ ​before​ ​the​ ​session​ ​to​ ​confirm​ ​the​ ​address
​ ​Thank​ ​You​ ​Sir/Ma'am​ ​.Have​ ​a​ ​great​ ​day.Looking​ ​forward​ ​to​ ​having​ ​ ​this​ ​counselling
session​ ​as​ ​per​ ​the​ ​scheduled​ ​date​ ​and​ ​time!!
General​ ​Objections
●
My​ ​kid​ ​doesn't​ ​need​ ​any​ ​counselling​ ​session.​ ​He​ ​is​ ​scoring​ ​exceedingly​ ​well​ ​in
school​ ​and​ ​is​ ​brilliant.
Sir/ma'am​ ​I​ ​am​ ​glad​ ​to​ ​know​ ​this.​ ​But​ ​this​ ​counselling​ ​session​ ​is​ ​not​ ​about​ ​how​ ​well​ ​is​ ​he
scoring​ ​ ​in​ ​schools​ ​but​ ​the​ ​way​ ​he​ ​learns.​ ​Lakhs​ ​ ​of​ ​student​ ​appear​ ​for​ ​different
competitive​ ​examinations.​ ​No​ ​matter​ ​what​ ​stream​ ​is​ ​being​ ​chosen,he/she​ ​ ​will​ ​have​ ​to
face​ ​cut​ ​throat​ ​competition​ ​in​ ​the​ ​coming​ ​years.​ ​So​ ​it's​ ​necessary​ ​we​ ​start​ ​his
preparation​ ​at​ ​an​ ​early​ ​stage.​ ​The​ ​idea​ ​is​ ​not​ ​to​ ​pressurize​ ​him​ ​into​ ​learning​ ​concepts​ ​of
higher​ ​classes​ ​but​ ​to​ ​improve​ ​his​ ​learning​ ​methodologies​ ​and​ ​visualization​ ​techniques
which​ ​will​ ​come​ ​in​ ​handy​ ​in​ ​higher​ ​classes​ ​no​ ​matter​ ​which​ ​stream​ ​he​ ​chooses.The​ ​ease
of​ ​doing​ ​this​ ​adjustment​ ​will​ ​be​ ​difficult​ ​as​ ​he​ ​moves​ ​to​ ​higher​ ​classes.
●
Both​ ​are​ ​working​ ​professionals​ ​and​ ​ask​ ​for​ ​the​ ​counselling​ ​session​ ​for​ ​the
weekend
Tell​ ​them​ ​that​ ​in​ ​this​ ​campaign​ ​their​ ​ward's​ ​name​ ​ ​is​ ​for​ ​tomorrow​ ​and​ ​you​ ​cannot
guarantee​ ​slots​ ​on​ ​weekends​ ​as​ ​most​ ​of​ ​them​ ​are​ ​already​ ​pre-booked​ ​well​ ​in​ ​advance.
Tell​ ​them​ ​about​ ​the​ ​time​ ​slot​ ​8-10​ ​ ​for​ ​working​ ​professionals.​ ​If​ ​still​ ​they​ ​are​ ​adamant​ ​for
weekend​ ​session,​ ​tell​ ​them​ ​you​ ​will​ ​try​ ​your​ ​best​ ​because​ ​you​ ​don't​ ​want​ ​their​ ​child​ ​to
miss​ ​out​ ​on​ ​this​ ​golden​ ​opportunity​<<Take​ ​a​ ​pause​ ​for​ ​30​ ​secs​ ​saying​ ​you​ ​are
checking​ ​slot​ ​availability​ ​and​ ​then​ ​pitch​ ​in​ ​the​ ​slot​ ​which​ ​is​ ​most​ ​vacant>>​​ ​(This
will​ ​help​ ​establish​ ​a​ ​connect​ ​and​ ​will​ ​easily​ ​fetch​ ​you​ ​ ​a​ ​booking​ ​for​ ​the​ ​weekend​ ​)
●
No​ ​no​ ​,​ ​this​ ​is​ ​just​ ​a​ ​marketing​ ​facade.You​ ​guys​ ​are​ ​coming​ ​to​ ​sell​ ​something.
What​ ​are​ ​your​ ​gain​ ​out​ ​of​ ​it
Ma'am​ ​/Sir​ ​-I​ ​m​ ​really​ ​sorry​ ​you​ ​feel​ ​this​ ​way​ ​,​ ​but​ ​we​ ​are​ ​India's​ ​largest​ ​edu​ ​tech
company.​ ​The​ ​idea​ ​is​ ​to​ ​make​ ​students​ ​fall​ ​in​ ​love​ ​with​ ​learning​ ​and​ ​make​ ​them
understand​ ​the​ ​importance​ ​of​ ​learning​ ​for​ ​life​ ​rather​ ​than​ ​exams.​ ​We​ ​aim​ ​to​ ​customize
our​ ​app​ ​to​ ​the​ ​greatest​ ​extent​ ​possible​ ​which​ ​will​ ​not​ ​be​ ​possible​ ​without​ ​student's
feedback.​ ​So​ ​yeah​ ​ ​that's​ ​our​ ​gain.
Moreover​ ​ma'am​ ​we​ ​are​ ​providing​ ​you​ ​this​ ​ ​counselling​ ​session​ ​free​ ​of​ ​cost​ ​ ​because​ ​he
is​ ​among​ ​the​ ​:​ ​ ​ ​ ​ ​ ​ ​ ​ ​ ​ ​ ​a)If​ ​app​ ​ ​usage​ ​is​ ​more:Top​ ​students​ ​in​ ​<city>​ ​based​ ​on​ ​the​ ​application​ ​usage​ ​and
videos/tests​ ​taken​ ​ ​otherwise​ ​we​ ​ ​wouldn't​ ​have​ ​called​ ​you.
​ ​ ​ ​ ​ ​ ​ ​ ​ ​ ​ ​ ​b)If​ ​app​ ​usage​ ​is​ ​less:To​ ​put​ ​forward​ ​greater​ ​utility​ ​of​ ​this​ ​pattern​ ​of​ ​studies​ ​as​ ​previously
mentioned​ ​to​ ​you(Stick​ ​to​ ​only​ ​study​ ​oriented​ ​pushing​ ​ ​and​ ​nothing​ ​else)and​ ​to​ ​provide​ ​and
make​ ​you​ ​equally​ ​aware​ ​of​ ​the​ ​same​ ​kind​ ​of​ ​benefit​ ​more​ ​than​ ​10​ ​million​ ​students​ ​are​ ​taking
back​ ​everyday.
Definitely​ ​,​ ​we​ ​will​ ​be​ ​telling​ ​you​ ​about​ ​our​ ​courses​ ​but​ ​no​ ​one​ ​is​ ​going​ ​to​ ​force​ ​you​ ​to​ ​take​ ​it.:P
●
Father​ ​is​ ​very​ ​busy​ ​,cannot​ ​be​ ​present​ ​during​ ​the​ ​session.
Ma'am​ ​I​ ​do​ ​understand​ ​that​ ​sir​ ​is​ ​very​ ​busy​ ​,​ ​but​ ​tell​ ​me​ ​something​ ​ma'am,don't​ ​you
think​ ​that​ ​whatever​ ​he​ ​is​ ​doing​ ​is​ ​for​ ​your​ ​son's​ ​bright​ ​future.​ ​I'​ ​m​ ​100​ ​percent​ ​sure​ ​that
he​ ​will​ ​be​ ​able​ ​to​ ​find​ ​time​ ​when​ ​it​ ​comes​ ​to​ ​the​ ​betterment​ ​of​ ​your​ ​child.​ ​If​ ​you​ ​want​ ​you
can​ ​give​ ​me​ ​his​ ​number,​ ​I​ ​will​ ​talk​ ​to​ ​him
●
Going​ ​out​ ​of​ ​station
Tell​ ​them​ ​in​ ​that​ ​case​ ​you​ ​will​ ​transfer​ ​this​ ​counselling​ ​session​ ​to​ ​someone​ ​else.​ ​This
may​ ​make​ ​them​ ​think​ ​to​ ​reschedule​ ​ ​their​ ​plans.
●
Security​ ​Issue(Generally​ ​single​ ​mothers​ ​have​ ​ ​them​ ​)
Ma'am​ ​.I​ ​know​ ​that​ ​as​ ​you​ ​stay​ ​in​ ​<<City​ ​name>>you​ ​will​ ​have​ ​your​ ​apprehensions.The
counsellor​ ​will​ ​be​ ​carrying​ ​an​ ​ID​ ​card​ ​.You​ ​have​ ​downloaded​ ​the​ ​app​ ​of​ ​Byjus​ ​,​ ​you​ ​got​ ​a
call​ ​from​ ​Byjus​ ​,​ ​counsellor​ ​who​ ​will​ ​be​ ​visiting​ ​will​ ​be​ ​from​ ​Byjus​ ​.​ ​I​ ​think​ ​these​ ​three
proofs​ ​are​ ​enough​ ​for​ ​you​ ​to​ ​trust​ ​us​ ​.
What​ ​is​ ​the​ ​qualification​ ​of​ ​your​ ​counsellors​ ​?
Our​ ​counsellors​ ​have​ ​been​ ​trained​ ​by​ ​our​ ​senior​ ​most​ ​ ​teachers​ ​and​ ​have​ ​gone​ ​through
a​ ​training​ ​program​ ​here​ ​in​ ​bangalore
​ ​ ​ ​ ​ ​ ​ ​ ​ ​ ​ ​ ​They​ ​are​ ​all​ ​dynamic​ ​Btech/​ ​MBA​ ​graduates​ ​who​ ​know​ ​about​ ​the​ ​education​ ​field​ ​in​ ​and
out.
●
If​ ​nothing​ ​works​ ​and​ ​they​ ​are​ ​still​ ​adamant​ ​of​ ​not​ ​taking​ ​the​ ​counselling​ ​session​ ​then​ ​tell​ ​them​ ​_:
Sir​ ​/​ ​Ma'am,​ ​only​ ​three​ ​things​ ​can​ ​happen​ ​if​ ​you​ ​go​ ​for​ ​this​ ​counselling​ ​session-:
● You​ ​will​ ​like​ ​it​ ​,​ ​it​ ​well​ ​help​ ​you​ ​understand​ ​your​ ​child's​ ​academic​ ​pattern​ ​and​ ​you​ ​will
thank​ ​ ​me​ ​for​ ​arranging​ ​it.May​ ​be​ ​you​ ​will​ ​enroll​ ​in​ ​one​ ​of​ ​our​ ​courses.
● You​ ​will​ ​think​ ​it​ ​as​ ​a​ ​waste​ ​of​ ​time​ ​and​ ​it​ ​will​ ​not​ ​be​ ​helpful​ ​for​ ​your​ ​kid
● But​ ​the​ ​third​ ​thing​ ​which​ ​I​ ​don't​ ​want​ ​you​ ​to​ ​do​ ​is​ ​to​ ​succumb​ ​to​ ​your​ ​apprehensions​ ​and
miss​ ​out​ ​on​ ​this​ ​golden​ ​opportunity​ ​which​ ​you​ ​may​ ​regret​ ​later.There​ ​are​ ​many​ ​parents
in​ ​<<City​ ​name>>i​ ​only​ ​who​ ​have​ ​paid​ ​for​ ​this.​ ​ ​Ma'am/sir,​ ​once​ ​you​ ​have​ ​attended​ ​our
session​ ​,​ ​the​ ​only​ ​regret​ ​you​ ​will​ ​be​ ​having​ ​is​ ​why​ ​didn't​ ​you​ ​take​ ​it​ ​earlier.