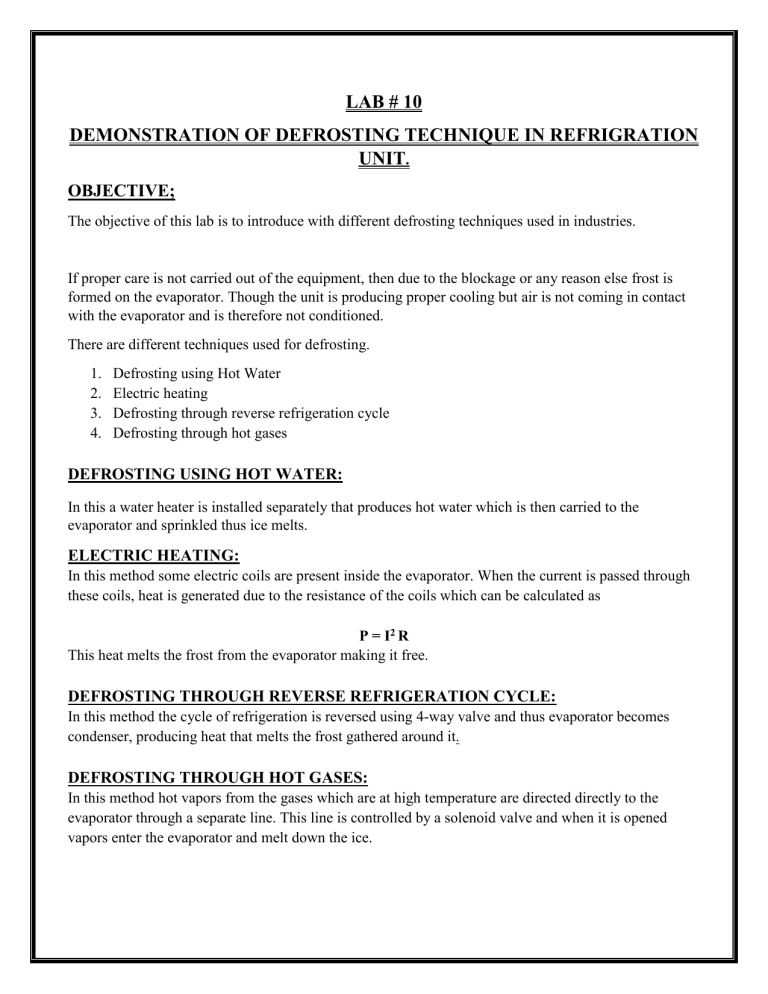 LAB # 10
DEMONSTRATION OF DEFROSTING TECHNIQUE IN REFRIGRATION
UNIT.
OBJECTIVE;
The objective of this lab is to introduce with different defrosting techniques used in industries.
If proper care is not carried out of the equipment, then due to the blockage or any reason else frost is
formed on the evaporator. Though the unit is producing proper cooling but air is not coming in contact
with the evaporator and is therefore not conditioned.
There are different techniques used for defrosting.
1.
2.
3.
4.
Defrosting using Hot Water
Electric heating
Defrosting through reverse refrigeration cycle
Defrosting through hot gases
DEFROSTING USING HOT WATER:
In this a water heater is installed separately that produces hot water which is then carried to the
evaporator and sprinkled thus ice melts.
ELECTRIC HEATING:
In this method some electric coils are present inside the evaporator. When the current is passed through
these coils, heat is generated due to the resistance of the coils which can be calculated as
P = I2 R
This heat melts the frost from the evaporator making it free.
DEFROSTING THROUGH REVERSE REFRIGERATION CYCLE:
In this method the cycle of refrigeration is reversed using 4-way valve and thus evaporator becomes
condenser, producing heat that melts the frost gathered around it.
DEFROSTING THROUGH HOT GASES:
In this method hot vapors from the gases which are at high temperature are directed directly to the
evaporator through a separate line. This line is controlled by a solenoid valve and when it is opened
vapors enter the evaporator and melt down the ice.