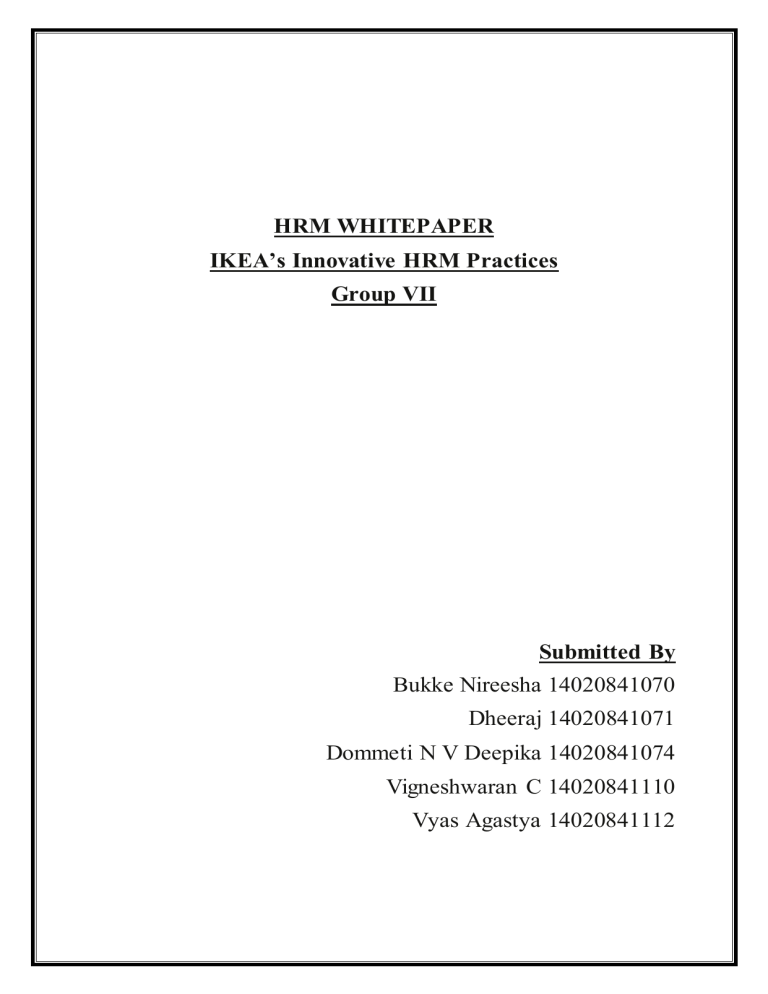 HRM WHITEPAPER
IKEA's Innovative HRM Practices
Group VII
Submitted By
Bukke Nireesha 14020841070
Dheeraj 14020841071
Dommeti N V Deepika 14020841074
Vigneshwaran C 14020841110
Vyas Agastya 14020841112
INTRODUCTION
IKEA is a Swedish company that designs and sells ready to assemble furniture (such as beds,
chairs and desks), appliances and home accessories. IKEA is one of the rare companies which
have innovation at its bedrock philosophy.
As of October 2011, IKEA owns and operates 332 stores in 38 countries. It is one of the
world's largest furniture retailers. The IKEA website consists of about 12000 products and
there are close to 470 million visitors to IKEA's. As of July, IKEA is the world's largest
consumer of wood after a finding that the company uses 1% of the earth's wood supply
BACKGROUND OF IKEA
Founder Ingvar Kamprad, his name is the first two letters of IKEA. In 1943, when he was 17
yrs. he formed IKEA (made of first two letter and rest are Elmtaryd and Agunnaryd). At start
he used to sell stationery items. His business was good and he increased it by selling frames
and wallets.
In 1947, furniture was introduced; furniture sales were so high that he had started selling
furniture discontinuing the other line of products. From then onwards he had started selling
innovative furniture items and never turned back on his career.
BEST EMPLOYER AWARD
In January 2005, Fortune, a prominent international business magazine, published its annual
list of '100 best companies to work for', IKEA was ranked as 62nd on the list.
According Spiers-Lopez, IKEA's president says about company, At IKEA we live by
philosophy that when co-workers have the support and flexibility to make their personal lives
a success, they thrive in workplace too.
According to the surveys conducted it was proven that it is one the best employer for working
mothers, because of their efforts at creating a workplace that accommodated the needs of
mothers, which has taken the stress from them regarding the child care during the work.
COMPANY PROFILE
•
Private company
•
Founder: Ingvar Kampard
•
Peter Agnefjäll-present CEO and chairman
•
Products: Self-assembly furniture
•
Employee strength: 139,000(2013)
•
Operating revenue: 28 billion
TIMELINE
•
1943- started(stationery, jewelry, wallets)
•
1945-increased business(shipping through milk van
•
1947-introduced IKEA'S product line(armchairs)
•
1951-sales increased(focus mainly of low cost furniture)
•
1953-first showroom(customers can feel the furniture)
•
1955-introduced best and innovative furniture
•
1963-overseas expansion
•
1985-first store in US
•
1986-Kamprad retired.
•
1999-big thank you Event
•
Sep 24,2014-Ikea planning to set up a store in Hyderabad and in Karnataka
ORGANIZATION STRUCTURE
INGKA
Foundation
INGKA
HOLDINGS
B.V.
IKEA Group
Support
Functions
Industry
Swedwood
Group
Purchasing
Distribution
and
Wholesale
Inter IKEA
Systems B.V.
Range
IKEA of
Sweden
Retail

The IKEA Group of companies (INGKA Holding B.V. and its controlled entities) has
an ownership structure that ensures independence and a long-term approach.
•
Stitching INGKA Foundation based in the Netherlands is the owner of INGKA
Holding B.V. (and The IKEA group) and its funds can only be used in two ways,
either reinvested in the IKEA Group or, donated for charitable purposes through
the Stitching IKEA Foundation.
•
The Supervisory Board of Ingka Holding B.V. (located in Leiden, the Netherlands
and the parent company of The IKEA Group) consists of Göran Grosskopf
(Chairman), Luisa Delgado, Stina Honkamaa Bergfors, Lars-Johan Jarnheimer, Jonas
Kamprad, Göran Lindahl, Peter Lund and Tore Bertilsson. Ingvar Kamprad is senior
advisor to the Supervisory board.
•
The IKEA Group is led by President and CEO, Peter Agnefjäll together with the
management group. The IKEA Group operates throughout the whole value chain from
range strategy and product development to production, distribution and retail. This
includes manufacturing units, trading offices, customer distribution centers and stores.
•
The IKEA Group franchises the IKEA retail system and methods from Inter IKEA
Systems B.V. in the Netherlands. Inter IKEA Systems B.V. is the owner of the IKEA
Concept and the worldwide IKEA franchisor
IKEA'S VALUES
Throughout the years, IKEA has stood by a set of values that affect the way they work. These
values are as important at an IKEA store in Ireland as they are in a photo studio in Sweden or
a distribution centre in China. An ability to do the job is obviously the starting point. But
beyond that IKEA looks for many other personal qualities such as a strong desire to learn, the
motivation to continually do things better, simplicity and common sense, the ability to lead
by example, efficiency and cost-consciousness. These values are important to IKEA because
their way of working is less structured than that of many other organizations.
The IKEA culture is hard to describe but easy to embrace. It's a culture of enthusiasm,
togetherness and willpower, born from their roots in southern Sweden and inspired by the
IKEA founder, Ingvar Kamprad. The IKEA culture humbly unites the employees in their
work to create a better everyday life for the many people. It's not an easy task – and maybe
that's why all the IKEA workers are so dedicated and so stubborn. They all share the same
conviction that many, not few, shall be able to create the home they want and dream of and
when we put our heart into your work, it's then we really can make a difference.
Over 150,000 people are involved in the creation of a better everyday life for the many
people. Business plans and expansion ideas are great motivators to work hard.
Values cannot be invented, they can only emerge from one place: the heart. IKEA values are
very much a product of their origin. Hard work, tough challenges, common sense, Swedish
roots and limited resources have formed IKEA values. To keep the IKEA Concept successful,
they work to keep their values close to their heart. The IKEA values convey the essence of
the entire IKEA culture. Over the years they have learned that acting according to IKEA
values not only brings them together no matter what age, race or part of the world they live
in ,it helps them to do business successfully.
The IKEA Values include the following:

Humbleness
They respect each other, their customers and their supplier's. They are humble
towards their competitors, respecting their proficiency and realizing that they
constantly have to be better than they are to keep their market share. They respect
their co-workers and their views, and have respect for the task they have set for
themselves.

Willpower
They first agree on mutual objectives and do not let anything stand in the way of
actually achieving them. They know exactly what they want and the desire to get it
should be irrepressible.

Leadership by example
The leaders at IKEA are expected and encouraged to behave the way they expect their
co-workers to behave. It means pitching in when there's more than the unusual work
to be done, respecting co-workers and encouraging the initiative and achievements of
everyone in the group. A leader at the IKEA group can accomplish more by creating a
feeling of well-being and a good working environment than any other means.

Daring to be different
They question old solutions and, if they have a better idea, they are willing to change
.They always encourage new ideas.

Togetherness and enthusiasm
They respect their colleagues and help each other in difficult times. They look for
people who are supportive, work well in teams and are open with each other in the
way they talk, interact and connect. IKEA supports this attitude with open plan offices
and by laying out clear goals that co-workers can stand behind.

Cost-consciousness
This value goes hand in hand with IKEA's business idea. They believe that it is
impossible to have low prices, good quality and good profitability if you don't have
low cost. So cost-consciousness is part of everything they do, from constantly finding
better ways to produce home furnishings, to purchasing wisely and travelling costeffectively.

Accept and delegate responsibility
They promote co-workers with potential and stimulate them to surpass their
expectations. They believe that people make mistakes but they learn from their
mistakes.

Constant desire for renewal
They expect people to look for better ways and new ways of doing things in every
aspect of their work. They like change and encourage people to look for constant
improvement. People in the IKEA group are often more stimulated by finding ways to
achieving their goals, than by goal itself. They take inspiration from discovery and are
constantly on the way to the next challenge.

Simplicity
Behind this values are ideas like efficiency, common sense and avoiding complicated
solutions. Simple habits, simple actions and a healthy aversion to status symbols are a
part of IKEA.

Diversity is part of this
IKEA encourages an environment where people of different views, age, gender and
ethnic background feel welcome. They believe that a diverse workforce will improve
business results, strengthen their competitiveness and make IKEA a better place to
work.
HUMAN RESOURCE MANAGEMENT PRACTICES
•
•
•
•
•
•
•
•
•
•
•
•
IKEA's vision was "To create a better everyday life for the many people". They felt
that if the company took care of the needs of the employees they were more
productive and committed to work. Although the company had a positive HR
philosophy and offered generous benefits, they had standardized policies which
applied uniformly to all employees.
Spiers- Lopez in late 1990's became the HR Head of IKEA North America, she
wanted the employees to derive maximum benefit from IKEA's generous HR policies
and felt that employees could benefit more if there were a greater amount of
flexibility in benefits administration.
She introduced greater flexibility in benefits administration matching individual needs
and requirements. For this she had conducted many employee surveys asking those
detailed questions about the individual needs and requirements.
Spiers-Lopez believed in "Life balance and diversity". She introduced flexible
holiday schedule which allowed employees to choose which six days they choose to
observe holidays every year.
She introduced flexitime which allowed the employees to choose when they would
start and end their workdays depending on the requirements of the store or office in
which they worked. She believed that the employees had a life beyond work.
Condensed work-weeks, job sharing and telecommunicating are introduced which
helped the employees to do justice to both their personal lives as well as careers.
The company adopted videoconferencing in a big way to help employees avoid
business travel and spend more time with their family.
IKEA allowed its employees to coordinate their schedules with their spouses' work
hours in case they have small children.
The company was open to transferring employees between locations provided there is
a matching opening for the employee at the place he or she wanted to move.
It was estimated that by 2004, 65% of IKEA's full time employees and 10% of part
time employees had taken advantage of the company's flexible work policy.
The company wanted to make the stores more comfortable for employees during nonworking times and breaks. It introduced "Quiet rooms" for prayer and meditation for
its employees.
"Lactation rooms" for nursing mothers and child care facilities were introduced.
•
•
•
•
•
•
•
•
•
Entertaining rooms where employees could receive visiting friends and family
members were introduced.
Discounts at IKEA's onsite restaurants were given for themselves and their families.
Resource rooms were introduced where employees could access computers to browse
IKEA approved websites containing health information and self-improvement tips.
They can also get details of forthcoming training and development programs and job
openings within the IKEA system.
The company gave full medical and dental insurance to all employees working 20
hours or more per week. It also gave discounts on weight reduction and smoking
cessation services
Maternity leave for 7 weeks was given with full pay while men and adoptive parents
received 1 week with full pay.
All employees were eligible for 2 to 5 weeks of annual paid vacation. They can carry
forward vacation time for next year.
Employees were eligible for 15% discount on IKEA merchandise.
Annual "Co-worker appreciation Day" was introduced where 40% discount was given
on store purchases for themselves and families depending on the annual performance
of the store.
Employees also received Credit Card with no interest for 90 days and also could join
the company's 401(k) policy (tax saving fund)where employees contribute a certain
percentage of their pre-tax salary with a proportionate contribution by the employer as
well.
Additional benefits included tuition reimbursement for graduate and undergraduate
courses for all employees regardless of how many hours they worked. Employees were
encouraged to pursue courses that had potential application in the retail sector, such as
general management, accounting and interior design. Study of languages was also
encouraged. IKEA paid 75 per cent of the course fee upfront and the remaining 25 per
cent after the course was completed. The company reimbursed up to $2500 per year for
undergraduate and up to $5000 a year for graduate courses. As an added benefit, IKEA
gave a special bonus of $1000 to employees who stayed with the company for one year
after completing the course. Analysts said IKEA's tuition reimbursement policy was the
most generous in the industry and reflected the company's commitment to contributing to
the continuous development of its employees. This policy offered significant benefits to
the company as well as IKEA believed in promoting from within and therefore required
skilled candidates for future promotions. In 2003 about 1500 employees utilized IKEA's
tuition reimbursement program. The distinctive feature of IKEA was that not only fulltime workers but part-time workers were also eligible for the company's benefits
program. Another noteworthy aspect was that the company did not lay minimum service
conditions for employees to become eligible for benefits. Most employees were eligible
for benefits from the day they joined the company. Most retailers also excluded part
timers from their benefits policies. IKEA's commitment to the on-going development was
reflected even in the company's policies on training and development.
IMPACTS OF POSITIVE HR PRACTICES:
The Flexibility policy followed by the IKEA has helped in creating the better work life
balance. It has enhanced the trust of the employees on the organization. Thus the employees
were giving out their best thereby increasing the productivity. The commitment towards the
organisation was high in the employees of IKEA. IKEA cared about employees well-being it
has provided onsite childcare facilities, this has developed the greater perceived
organizational support. The employees were too satisfied with all the practices and didn't
want to leave the organization at any point of time. So, the attrition rate was low.
EMPLOYEE DEVELOPMENT PROGRAMS
•
Training and development programs: The Company put in place an extensive
training and professional development program to promote the advancement of its
employees. Employees could use several resources including books, classroom
sessions, and online instruction to meet their requirements in sharpening their skills or
acquiring advanced knowledge. The company also had specialized training programs
in areas like diversity, health and safety, and environmental consciousness.
•
Mentoring: It formed an important part of the employee development program
because Spiers-Lopez believed in the benefits that can be obtained from the mentoring
program. In light of this a program named "Partners for Growth" was launched. It was
a formal one year mentoring program in which teams were created between junior and
senior managers from different locations of IKEA. The purpose of mentoring
programs was to train and prepare the junior managers for position of greater
responsibility in the future. Another purpose was to meet its future demand of leaders
from within IKEA. Spiers-Lopez believed that mentoring made employees feel
supported and it helped them to grow within the company.
•
Paddle Your Own Course: It was kind of self-assessment tool in which the
employees who were trained were asked to take responsibility of their own careers
and should acquire knowledge which would help them to rise within IKEA to higher
positions. In this method the employees used to sit down with their managers and
discuss the career path within the company and to identify the additional skills and
knowledge required to progress on the chosen career path. The employees first
conducted a self-assessment of their capabilities and then identified their training
requirements in coordination with their managers. IKEA also had a system in which
the employee could visit the website and could see all the development tools that were
available to them. They could choose the tool which best suited them. "There are no
limitations on what you can achieve by working with us," said IKEA store manager,
Max Hedberg. "Your career path is laid out."
•
I Want Your Job: It was a program that was launched in 2003. This program allowed
employees to train actively with the person whose job they would like to hold in the
future. Typically, between 10 and 15 per cent of IKEA's store employees went on to
manage stores of their own.
All the development programs were basically designed to provide a ready pool of qualified
candidates for IKEA's future growth and expansion programs being undertaken by IKEA.
Around 10-15 per cent of the store employees at IKEA went on and became store managers.
IKEA believed in the policy that every employee must be given a chance to advance within
the company and not look for opportunities elsewhere. Therefore all the training development
programs that were initiated were two ways in which both the employee as well as the
manager was involved. The idea behind this was that the manger should not exercise
arbitrariness in deciding which of their subordinates would get praising or be promoted.
INITIATIVES LAUNCHED BY IKEA
•
Open IKEA: It was basically designed to update employees on new job openings in
IKEA. The openings were posted on both employee website and company Intranet.
One very innovative method of advertising jobs was by putting up catchy stickers and
slogans at places where employees would see them every day. For example stickers
that were put on mirrors read "Find a job that reflects your interests." Another posted
on soft drink machine read "Refreshing Opportunities."
•
Enterprise: It was a global application tracking system in late 2003. It was an erecruiting system designed to reduce the delays in the hiring process by facilitating
faster communication with candidates from around the world. By using this software
the employees could track openings in the places in which they wanted to apply and
apply immediately online there and then without any time lag. It was also a system
which was designed to put the responsibility for hiring of candidates in the hands of
the store managers rather in the hands of the IKEA'S HR recruiters.
•
Why Sayers: It was a program launched by IKEA in early 2000's in which the
employees were encouraged to give ideas to improve their stores. These ideas were
then implemented in some stores by their supervisors. If the ideas given by them
worked, they were made standard practices. The company was so passionate about
this thing that they put up advertisements for 'Why Sayers' to join the company.
•
Express Yourself: Spiers-Lopez also started this program through which employees
could share any issues they had or any complaints that they want to make directly
with her. This was done either by e-mail or postcards earmarked for her. This program
improved the morale of the employees at IKEA, as the employees felt important when
the president herself personally sought and responded to their concerns.
IKEA also had a comprehensive communication policy in place for employee
communications. IKEA Radio was a short news program that was aired over public
address systems in the stores. This usually broadcast communications of a general nature.
The company intranet was another effective tool for communications. IKEA also reached
to its employees through printed material like newsletters and brochures. Another thing
that IKEA made sure that it hired the right kind of people. The company in its hiring
focused more on practical skills and how a person got along with others. The employees
were expected to ask questions and give inputs as well. The practice at IKEA was to
communicate effectively, question the decision of the management and to openly express
their ideas and beliefs.
RELATION BETWEEN IKEA CULTURES AND VALUES
The values and culture of the IKEA Group reflect the entrepreneurial spirit of their founder
Ingvar Kamprad. In the practical business world of today this means that IKEA values
encourage a constant desire for renewal and a willingness to make changes, as well as a costconscious mind-set applied in all areas of operations.
They also imply a willingness to try solutions other than the conventional ones and daring to
be different while maintaining practical connections with the day-to-day activities.
Humbleness in approaching their task and simplicity in their way of doing things are also
cornerstones in the IKEA culture. The IKEA culture and values shape everything that IKEA
does.
ALLOWANCES FOR MOTHERS AFTER CHILD BIRTH IN IKEA
Paid parental leave - In addition to the legislative rights, paid parental leave is offered to all
permanent co-workers with a minimum of one year's service. IKEA offers 6 weeks maternity
leave after 12 months service and 8 weeks maternity leave after 24 months service at full pay
and one week paid paternity leave. In addition to this it also has lactation rooms and child
care facilities to help the mothers to take care of their children.
PART TIME AND FULL TIME EMPLOYEE BENEFITS
Working at IKEA is not just about having a 'job' it's about having a great life at the same
time .The benefits for employees include
First day of school leave: All permanent co-workers get one day paid leave for this purpose.
In addition to annual leave and personal leave, they offer other leave options which includes:
• Co-worker Day leave - All permanent co-workers with at least 12 months continuous
service are entitled to 1 paid day off per year.
• Blood donor's leave - Up to 4 hours paid leave every quarter.
• Career break - Up to 6 months extended unpaid leave, linked to personal development
(studies, training etc.), may be taken as an extension of the standard leave days.
• Volunteer leave - You are entitled to be absent from work for the purpose of performing
volunteer service work in times of emergency, crisis or disaster.
• Wellness day - Permanent co-workers are entitled to access 1 of the personal leave days per
year to use as wellness days.
REWARDS
Casual co-worker - $50 to spend in store
Part-time co-worker - $75 to spend in store
Full-time co-worker - $100 to spend in store
Manager - $200 to spend in store
Senior manager - $500 to spend in store
LONG TERM SERVICE AWARD
5 years' service - $500 to spend in store
10 years' service - $1000 to spend in store
15 years' service - $1500 Travel voucher
20 years' service - $3000 Travel voucher
25 years' service - $5000 Contribution into super fund
IKEA IN INDIA
Ikea, the world's largest furniture retailer, moved one step closer to opening its stores in India
after it signed an agreement with the Indian states of Karnataka and Telangana. Ikea, which
has over 350 stores across more than 40 countries, is one of the first foreign companies to get
the Indian government's approval to begin a fully-owned business in the $500 billion retail
market in India.
IKEA WOMEN'S EMPOWERMENT PROGRAM IN INDIA
This cooperation with the UN Development Programme (UNDP) during 2009-2013 will
enhance the social, economic and political empowerment of women in 500 villages in Uttar
Pradesh, India where IKEA Social Initiative and UNICEF have been present since 2000. At
least 50,000 women will be encouraged to become entrepreneurs, contribute substantially to
their household income and strengthen legal awareness and participation in local political
decision making processes. Through this program, UNDP will help women by training them
in good financial practice, help with access to micro credit loans and equip them with
business skills. In addition, women will get more advanced literacy and leadership training in
order to take on a catalytic and decision making role as village leaders in institutions of their
local community.
RECRUITMENT
Ikea's human resources teams are responsible for drawing in and inspiring workers and
creating a bracing environment in order to favour innovation and dynamism. The success of
IKEA depends on the continuing development of IKEA's human resources policies and thus
managers' greatest efforts are indispensable to succeed on that path.



Human Resources are present in all parts of the company and in every country where
the company is established. They look after recruitment and training. They are also
responsible for keeping and strengthening IKEA's culture, which is based on a
specific set of values that help them develop and transform their vision and beliefs
into a fact.
Recruiting and selecting candidates are two key aspects to keep up with the
organization's reputation as it is important for the company to make sure that each
and every one of the candidates will be able to bring an added value into IKEA's
family.
IKEA's reputation is a key point for its recruitment process; as said by their
Recruitment and Competencies Development Manager when we interviewed her:




"Applications are usually spontaneous. They either come through the website or
applicants bring their CVs directly to the store. But sometimes they come in response
to an offer." In most cases, companies need to seek out their prospective employees.
This is linked to the fact that IKEA's turnover is very low can give us an overview of
how successful IKEA's recruitment process is.
The HR Department of IKEA receives about 7 CVs every day, and 200 every month.
IKEA's policy is to build a long-term relationship with its employees and help them
develop themselves both on the professional but also personal level. Therefore, one
of the aspects of recruitment at IKEA is that they tend to privilege internal
recruitment when a position is available. However when there is no potential within
the body of employees, then they search the candidates elsewhere, and this is where
external recruitment comes in.
Selection represents the process of differentiating between applicants with the goal to
identify those with greater probability of success in the job; therefore for an enterprise
such as IKEA it is crucial to keep on with an exceptional and reliable process in order
to succeed.
What makes IKEA's selection methods efficient is the fact that it is not based on the
curricular information of the candidates, but rather on the "motivation, capacities,
skills, values and personality" as said by the Recruitment and Competencies
Development Manager. IKEA does not look for the typical profile, it is interested in
people that share its values, people who can be inspired by the company to do greater
things, and people that bring something more to the company and help it grow.
WORK CULTURE
Culture is defined as the ideas, customs, and social behaviour of a particular group of people
or society. Culture has played a very important role in development of human civilization
over centuries. Work culture has taken a prominent place in organizational setup after the
onset of globalization. Culture is the character and personality of an organization. It is what
makes an organization unique and is the sum of its values, traditions, beliefs, interactions,
behaviours, and attitudes.
"The nub of our argument is that in the closing decades of the 19th century the U.S. economy
had moved into the position of global productivity leadership, which was to hold for a
remarkably long period thereafter, through a fortunate concordance between America's own
exceptional economic and social characteristics"
Work culture is differentiates any successful organization from rest of the crowd. Successful
organizations have a very strong work culture ingrained into their DNA which enables them
to stay on top of their business. Work culture brings many benefits such as attracting the best
talent, improves employee engagement and retention, enhances the satisfaction level of
employees, and enhances performance level compared to competitors.
IKEA'S WORK CULTURE
Culture has many dimensions and can take several different forms. IKEA's progressive
Human development strategies were supported by a strong and nurturing culture that
promotes diversity and creativity. Mentioned below are the cultural values which makes
IKEA unique and best employer to work for.
DIVERSITY
Diversity is the presence of people from a wide range of backgrounds and possessing
different traits. Differences in age, race, ethnic origin, culture, religion and sexual orientation
are just some possible contributors to diversity. IKEA encourages an environment where
people of different views, age, nationality, gender, and ethnic background feel welcome.
A number of important benefits are recognized in a well-managed diverse workplace.
Workplaces in which employees represent the basic makeup of the community population are
typically better received by customers and the public. Additionally, diverse work groups
often have more and better ideas because of broader backgrounds and experiences.
Ethnic and cultural diversity often help companies that operate globally to better understand
global markets. IKEA believes that a diverse workforce will improve business results,
strengthen competitiveness and make IKEA a better place to work for.
CREATIVITY
The demand for creativity from employees is rising in this age of rapid technological
advancement. This is evident when we see multinational companies like Google setting up
something known as a the 20 percent program or policy where Google developers get to
spend 20 percent of their working hours (a day at work) on side projects. It was an attempt to
give employees the time and space to think innovatively.
Some behavioural research suggests that creativity is an inborn trait rather than something
that can be learned and developed. This may be so, but without a conducive environment for
creativity to be expressed, how can a creative employee express his/her opinion?
IKEA's work culture encourages employees to seek innovation in their work. IKEA believes
in a creative work environment where people can make mistakes and come out with a
transformational idea that makes it a great company and leaves competitors trying to catch
up. IKEA encourages people to make mistakes, its founder once remarked, "Only while
sleeping one makes no mistakes, mistakes are privilege of the active person who can start
over and put things straight" which shows a positive environment conductive to think out of
box to nurture creativity and innovation.
WORK ENVIRONMENT
By work environment, I mean everything that forms part of employees' involvement with the
work itself, such as the relationship with co-workers and supervisors, organizational culture,
room for personal development, etc. A positive work environment makes employees feel
good about coming to work, and this provides the motivation to sustain them throughout the
day.
A positive work environment makes employees feel good about coming to work, and this
provides the motivation to sustain them throughout the day. Spiers-Lopez remarked, "IKEA's
culture was characterized by a family like quality that made relationships between employees
strong and open" At IKEA, we think of ourselves as a family. Just as one would look after
their parents, siblings or children, our co-worker family is encouraged to and excels at
supporting and taking care of each other.
EMPOWERMENT AND RESPONSIBILITY
Another feature that made employees feel rewarded was the highest level of empowerment at
IKEA. Empowerment is where employees are given the responsibility for making decisions
about their own work. These decisions can be small or large depending on the level of
empowerment a manager wants to give, and may include:
• What work they do (e.g. employees are free to manage their own workload/diary)
• Where they work (e.g. working from home instead of at the office)
• When they work (e.g. the ability to work flexible hours)
• How they complete their work (e.g. how they structure information in a presentation)
It's always worth remembering the 80:20 principle: 80% of the benefit is created from 20%
of the work. As a manager, your job is to identify the 20% of decisions that will really make
the difference, and focus efforts on that, rather than constantly trying to change the 80% of
things that aren't worth it and demoralising your staff in the process.
IKEA never gave its employees detailed instructions about their job activities and behaviours.
It gave general instructions on what they were expected to achieve, and allowed them to
choose their own methods of achieving that, within reasonable limits of cost and ethical
behaviour. "The main part is freedom of responsibility," said Spiers-Lopez. "In every job,
there's always some freedom you can take. You don't have people watching you every
minute."
EQUALITY AND OPENNESS
Equality forms the foundation of inclusion and it's important to any employer. Equality in the
workplace is about more than simply giving equal treatment to all of your employees and
complying with the Equality Act. Inclusive Employers work to remove the barriers which
affect recruitment and progression. These barriers can include age, gender, race, sexual
orientation, religion or belief, social background, physical or mental disabilities, marital or
parental status, gender identity, and transgender issues.
All policies and practices within the organisation should create equal opportunities for
personal and professional growth – from establishing fair and transparent pay structures
offering equal access to benefits such as paid holiday and other entitlements, to ensuring that
promotion and progression is fair.
At the very minimum, employers are required to eliminate discrimination from the whole
employment cycle – starting from the application stage and throughout an employee's career.
Openness and equality were important values at IKEA, to emphasize equality, IKEA called
all its employees, regardless of rank, 'co-workers.' "We're all co-workers because we all
make a difference. It doesn't matter what we do, whether in an office or on the sales floor.
We all affect the customer in very different ways, and all of our efforts are appreciated the
same way," said Hope Bear, a deputy HR manager at IKEA. Equality was important because
it created an informal atmosphere at the workplace and promoted open communication
between employees.
OPENNESS TO CHANGE AND ADAPTABILITY
Organizations today are facing more change than ever before. As they strive to retain their
competitive edge, they are reorganizing, downsizing, and implementing new technology. The
traditional notion of a "job" is becoming antiquated as work becomes more project based and
employees are required to work beyond fixed job descriptions. Employees today are facing
greater changes, at a more rapid pace, than ever before.
Unfortunately, coping with change can be very difficult for individuals. Employees
experiencing change often feel a loss of territory, are uncertain about what the future holds,
and may fear failure as they are faced with new tasks. Whereas some employees may not be
bothered by organizational change and may look at change as a chance to grow and learn,
other employees may react negatively to even the smallest of changes.
IKEA understood that change is the key to continuous success and therefore encouraged
employees to come up with newer ideas and methods to do things. IKEA's commitment to
change was probably rooted in the fact that many of its successful innovations were a result
of innovation. The natural consequence of being open to change enhanced employee
creativity.
COST CONSCIOUSNESS
Cost consciousness was a value that was deeply embedded in IKEA's culture. This
supposedly stemmed from Kampard, who was notorious for this, his tight-fisted attitude
towards spending money. According to Kampard, IKEA's business goal was to offer a wide
range of well-designed functional home furnishing products priced low so the largest number
of people possible will be able to afford it. Therefore, economy was ingrained in every action
of the company. All the executives flew economy class or on low cost airlines for business
trips. They also stayed in budget hotels and commuted by public transport on their trips.
Kampard himself had a frugal lifestyle for a person rumoured to be the richest man in the
world.
Cost was the basic of all decisions. Product development was done on the basic of the
expected price of the product. Before any new plan was implemented, the costs were
weighted carefully. IKEA sold furniture at prices that were 30 to 50 percent lower than those
of its competitors. Therefore, it was imperative for the company to have a cost structure that
supported its pricing strategies.
OPEN COMMUNICATION
Open communication at work is an important aspect of work at IKEA. With a view to
promoting open communication, IKEA adopted a flat structure with no hierarchical
distinctions. At most of the stores, there was an open plan office structure where managers
and employees sat together and shared the same facilities. They also dressed alike in yellow
shirts and blue trousers and usually addressed each other's by their first names.
IKEA's employees were encouraged to express their opinion and ideas directly to the top
management. There's an open and friendly climate with many nice colleagues, said one
IKEA employee of the culture at the company. You can speak your mind, and there are no
obvious hierarchies. One tell-tale sign is the department managers sit at desks among
everyone else in an open office landscape, she continued. She added that the openness and
flat structure allowed employees to speak out, and out when their suggestion were considered
seriously, to feel rewarded.
BELONGINGNESS
Actually, no one can truly motivate anyone else because motivation is a very personal
process and must come from the individual. However, management can influence employee
motivation by creating an environment that allows employees to feel appreciated; free to
express their ideas and that they are treated fairly.
Sense of "home" or "belonging" has tremendous impact on employees. If this element is
missing from the workplace, negative talk and complaining will fill the void, creating an
atmosphere of fear and resentment. So it's important for management to carefully plan
activities and events that will stimulate employee motivation.
IKEA created a sense of belonging among employees by creating a set of distinct values and
norms they could identify as IKEA standards. The company maintained an obvious Swedish
atmosphere, so that people do not lose touch with culture. It even celebrated culture day and
gave all Scandinavian names which created a strong sense of identity
LEADERSHIP BY EXAMPLE
No method is more effective than the good example. It means leaders at IKEA are expected
and encouraged to behave the way they expect their co-workers to behave. It means pitching
in when there's more than the usual work to be done, respecting those around you, and
encouraging the initiative and achievements of everyone in the group. A leader at IKEA
group can accomplish more by creating a feeling of wellbeing and a good working
environment than any other means.
TOGETHERNESS AND ENTHUSIASM
This means we respect our colleagues and help each other in difficult times. We look for
people who are supportive, work well in teams and are open with each other in the way they
talk, interact, and connect. IKEA supports this attitude with open plan offices and by laying
out clear goals that co-workers can stand behind.
COMPETITIVE AND HUMBLE
IKEA is a highly competitive company and strove to be the best in every region that it had
operations. IKEA believed that competition stimulated improvement and kept everyone at
their toes. Humble towards competitors, respecting their proficiency and realizing we
constantly have to be better than they are to keep market share.
REASONS TO STAY WITH IKEA
IKEA co-workers are known for being down-to-earth, friendly hard-working with a genuine
willingness to work together. While there may be many reasons why people join IKEA, if
you ask any co-workers why they stay, their number one response will be "because of the
people". When a company has a vision and clear values you can believe in, it's not really
difficult to get inspired. More than 90% of IKEA co-workers know what we're here for and
what is expected from them. In a survey it was found that 80% of the IKEA co-workers feel
inspired and motivated and IKEA's management is working on the remaining 20%.
There's a saying at IKEA companies that it's okay to make mistakes - everyone does it. In
fact, they believe that making mistakes is a healthy way to learn and improve. IKEA has
more different types of jobs than any other company in the world. If co-workers get tired of
what they're doing or just want to try something else, they can move to a new role within
IKEA, not outside IKEA. Since IKEA has its stores and offices in more than 44 countries
around the world, with the same values and business idea worldwide, moving from one
country to another is a common practice. And if you do move, there's always another friendly
IKEA person to help you adjust to the new working environment and locality.
IKEA is not big on fancy titles, corner offices or private jets, and so the co-workers are asked
to leave their egos at the door. This is so that you get to work as a team member, have fun
and get on with the job. People like working for a company they can be proud of. So far
IKEA Social Initiative has benefited 100 million children in need. And we are working on the
never-ending job of being kinder to the environment. IKEA is a business, without a doubt,
but it is our policy to put people first. And people have lives outside work that include
families. That means we believe in a parent-friendly environment. The people you work with
are also your friends. You know there's someone to turn to in every major city around the
world. That's a big social network.
COMPLAINTS ON IKEA
 In 2004, there was controversy about an Irish law restricting the maximum size of a
retail outlet to 6,000 m2. IKEA's plan to build a much larger store in Dublin caused
the law to be put up for debate. The law was changed to remove the size limit for
retail outlets selling durable goods in designated areas. The Minister for the
Environment was criticized for allegedly changing the law to suit one company and
other agencies protested the law change as damaging to small businesses while the
government defended their decision stating that the move was a positive one for Irish
consumers. IKEA Dublin has since opened on 27 July 2009.
 June 2007: the designated nationalist Social Democratic and Labor Party complained
about an artist's rendering of IKEA Belfast that included both the Union Flag and the
Ulster Banner flag as two of the three flags in front of the store. After being labeled
"an up market Orange hall" by the party, IKEA assured customers and co-workers
that only the Swedish flag would be seen outside the actual store.
 A researcher from the University of Copenhagen pointed out that for years, IKEA has
named their cheap rugs after Danish places, while the more expensive and luxurious
furniture was named after Swedish places. The researcher, Klaus Kjøller, who is well
known for tongue-in-cheek statements, accused IKEA of imperialism.
 In 2011, IKEA and its Swedwood affiliate came under criticism for its treatment of
workers at a U.S. factory in Danville, Virginia and its decision to hire the law firm
Jackson Lewis, which is often employed by companies to counter labour demands, to
consult with IKEA on attempts to form a union at Danville. A petition on Change.org
has received more than 70,000 signatures urging IKEA to respect workers' rights.




In 2012, IKEA in France was accused by the independent newspaper Le Canard
enchaîné and the investigative website Media part of spying on its employees and
clients by illegally accessing French police records. The head of risk management at
IKEA feared his employees were anti-globalists or potential Eco terrorists.
In October 2012, Glendal Foods – a major supplier to IKEA Store Restaurants in
Australia, was the subject of bullying allegations by about 50% of staff at the
company and the National Union of Workers. Claims included self-harm by a worker,
retention of wages & a significant long-term pattern of staff-abuse and complaints are
under investigation by Work Safe Victoria. IKEA Australia has not yet made a formal
comment.
In October 2012, IKEA was criticized for airbrushing women out of pictures in
catalogues which were used in Saudi Arabia.
In February 2013, IKEA announced it had pulled 17,000 portions of Swedish
meatballs containing beef and pork from stores in Europe after testing in the Czech
Republic found traces of horse in the product. The company actually removed the
Swedish meatballs from stores' shelves 25 February 2013, but only made the
announcement public after Swedish newspaper Svenska Dagbladet uncovered what
happened. In a March 2013 media report, an IKEA representative stated that the
corporation had made Familjen Dafgard, its main meatball supplier, ceases business
with eight of its 15 suppliers and would reduce the number of purchasing countries.
The discovered horsemeat was traced to a Polish abattoir.
PAYOFF AT IKEA
•
IKEA involved substantial costs
•
But payoff outweighed the costs due to low employee turnover
•
IKEA's employee turnover fell drastically, from 76 percent in 2001, to 56 percent in
2002 and 35 percent in 2003
•
The company's turnover was also almost half the average industry rate, which hovered
around 60 percent.
•
So this reduced the cost of repeated hiring and training cost
•
IKEA was indifferent towards the general opinion among the retailing companies that
lower level employees were easily replaceable and so they did not make any special
effort to retain these employees
•
IKEA understood the importance of a committed workforce
•
Payroll Support helps IKEA to achieve the objective by making sure all the coworkers do their work passionately.
For instance, the pay check has to be processed and delivered on time; paperwork
must be maintained in order and etc.
Store Control this co-workers together with the store management responsibility to
attain financial goals and also make sure profitability.
•
•
GLASSDOOR
Glassdoor holds a growing database of 6 million company reviews, CEO approval ratings,
salary reports, interview reviews and questions, benefits reviews, office photos and more.
Unlike other jobs sites, all of this information is entirely shared by those who know a
company best — the employees
COMPARISON IKEA'S WORK ENVIRONMENT WITH OTHER COMPANIES
USING GLASSDOOR
Among the 620 interviews taken with average difficulty level from IKEA's current and exemployees 71% of them showed positive, 14% showed neutral and 13% showed negative
response to IKEA's work environment
IKEA RATINGS AND TRENDS
Employees rated IKEA's work environment in which culture and values are rated highest
(3.8/5.0) and senior management is rated low (3.0/5.0) ,this shows that employees are facing
some issues with the IKEA's senior management. The statistics in Glassdoor shows that 68%
of employees recommending IKEA to their friends
COMPARISON OF IKEA'S WORK ENVIRONMENT RATINGS WITH OTHER
ORGANISATIONS
IKEA
Walmart
Target
Google
3.5
2.8
3.1
4.4
IKEA'S COMPENSATION & BENEFITS
Insurance, Health & Wellness












Health Insurance
Dental Insurance
Flexible Spending Account (FSA)
Vision Insurance
Health Savings Account (HSA)
Life Insurance
Supplemental Life Insurance
Disability Insurance
Occupation Accident Insurance
Mental Health Care
Retiree Health & Medical
Accidental Death & Dismemberment Insurance
Financial & Retirement





Pension Plan
401K Plan
Retirement Plan
Performance Bonus
Equity Incentive Plan
Family & Parenting








Maternity & Paternity Leave
Fertility Assistance
Dependent Care
Adoption Assistance
Reduced or Flexible Hours
Military Leave
Family Medical Leave
Unpaid Extended Leave
Vacation & Time Off




Vacation & Paid Time Off
Sick Days
Paid Holidays
Sabbatical
Perks & Discounts








Employee Discount
Free Lunch or Snacks
Employee Assistance Program
Commuter Checks & Assistance
Mobile Phone Discount
Company Social Events
Travel Concierge
Legal Assistance
Professional Support




Diversity Program
Job Training
Professional Development
Tuition Assistance
IKEA COMPENSATION & BENEFIT'S COMPARISON WITH OTHER
ORGANISATIONS

Employees rate IKEA increased 11.8% above average for compensation and benefits

Employees rate Target decreased 5.6% below average for compensation and benefits

Employees rate Walmart decreased 12.8% above average for compensation and
benefits

Employees rate Google increased 11.8% above average for compensation and benefits
PROS AND CONS AT IKEA
PROS:





"I believe that work-life balance would be good and working environments are all
friendly"
"Great benefits package is the only reason I have stayed with this company for so
long"
"They have good benefits if you are full time or salary"
"Very accommodating of part-time work schedule so I can go to school"
"Excellent benefits, great work/life balance and awesome work environment"
CONS:





"Work life balance is not always at the forefront for co-workers"
"Coming from a part time you will not choose to do a full time job or work more
hours"
"Upper management or "steering" tends to act like they are above everyone"
"Can be hard to get full-time work"
"Very hard to move into management position since there is very little turnover in
those positions"
CONCLUSION
IKEA's innovative human resource management practices have helped build a strong and
nurturing culture that promotes diversity and creativity. In an industry characterized by high
turnover, their employee friendly policy has made IKEA a preferred employer in the retail
sector. Working in line with strategy, its HRM practices has helped in sustaining IKEA's
growth .In many countries, IKEA is the "Employer of Choice" and globally IKEA is listed as
one of the top 50 most attractive employers in 2010. IKEA has the distinction of being in
FORTUNE's "100 Best Companies to Work For" list for three consecutive years.