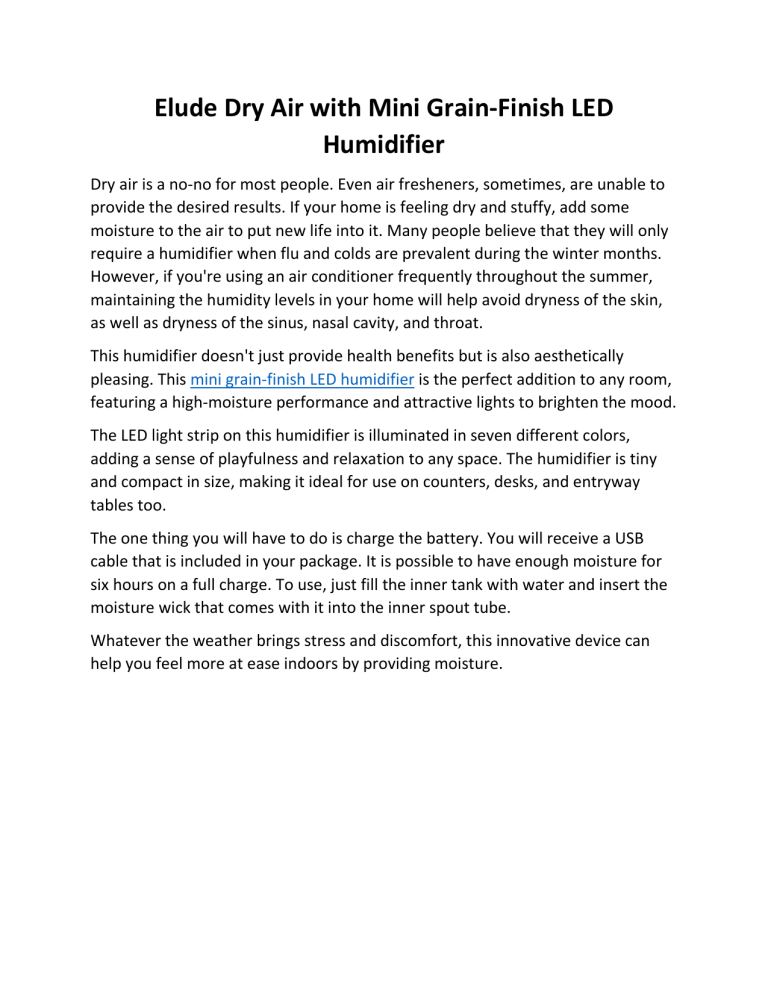 Elude Dry Air with Mini Grain-Finish LED
Humidifier
Dry air is a no-no for most people. Even air fresheners, sometimes, are unable to
provide the desired results. If your home is feeling dry and stuffy, add some
moisture to the air to put new life into it. Many people believe that they will only
require a humidifier when flu and colds are prevalent during the winter months.
However, if you're using an air conditioner frequently throughout the summer,
maintaining the humidity levels in your home will help avoid dryness of the skin,
as well as dryness of the sinus, nasal cavity, and throat.
This humidifier doesn't just provide health benefits but is also aesthetically
pleasing. This mini grain-finish LED humidifier is the perfect addition to any room,
featuring a high-moisture performance and attractive lights to brighten the mood.
The LED light strip on this humidifier is illuminated in seven different colors,
adding a sense of playfulness and relaxation to any space. The humidifier is tiny
and compact in size, making it ideal for use on counters, desks, and entryway
tables too.
The one thing you will have to do is charge the battery. You will receive a USB
cable that is included in your package. It is possible to have enough moisture for
six hours on a full charge. To use, just fill the inner tank with water and insert the
moisture wick that comes with it into the inner spout tube.
Whatever the weather brings stress and discomfort, this innovative device can
help you feel more at ease indoors by providing moisture.