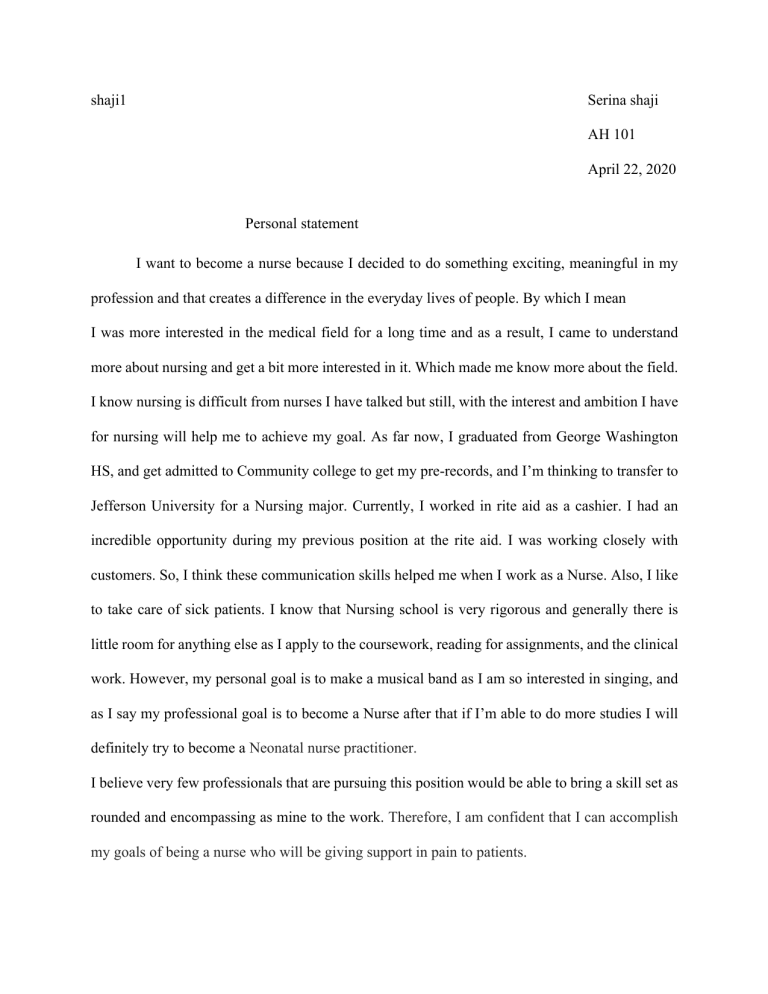 shaji1
Serina shaji
AH 101
April 22, 2020
Personal statement
I want to become a nurse because I decided to do something exciting, meaningful in my
profession and that creates a difference in the everyday lives of people. By which I mean
I was more interested in the medical field for a long time and as a result, I came to understand
more about nursing and get a bit more interested in it. Which made me know more about the field.
I know nursing is difficult from nurses I have talked but still, with the interest and ambition I have
for nursing will help me to achieve my goal. As far now, I graduated from George Washington
HS, and get admitted to Community college to get my pre-records, and I'm thinking to transfer to
Jefferson University for a Nursing major. Currently, I worked in rite aid as a cashier. I had an
incredible opportunity during my previous position at the rite aid. I was working closely with
customers. So, I think these communication skills helped me when I work as a Nurse. Also, I like
to take care of sick patients. I know that Nursing school is very rigorous and generally there is
little room for anything else as I apply to the coursework, reading for assignments, and the clinical
work. However, my personal goal is to make a musical band as I am so interested in singing, and
as I say my professional goal is to become a Nurse after that if I'm able to do more studies I will
definitely try to become a Neonatal nurse practitioner.
I believe very few professionals that are pursuing this position would be able to bring a skill set as
rounded and encompassing as mine to the work. Therefore, I am confident that I can accomplish
my goals of being a nurse who will be giving support in pain to patients.