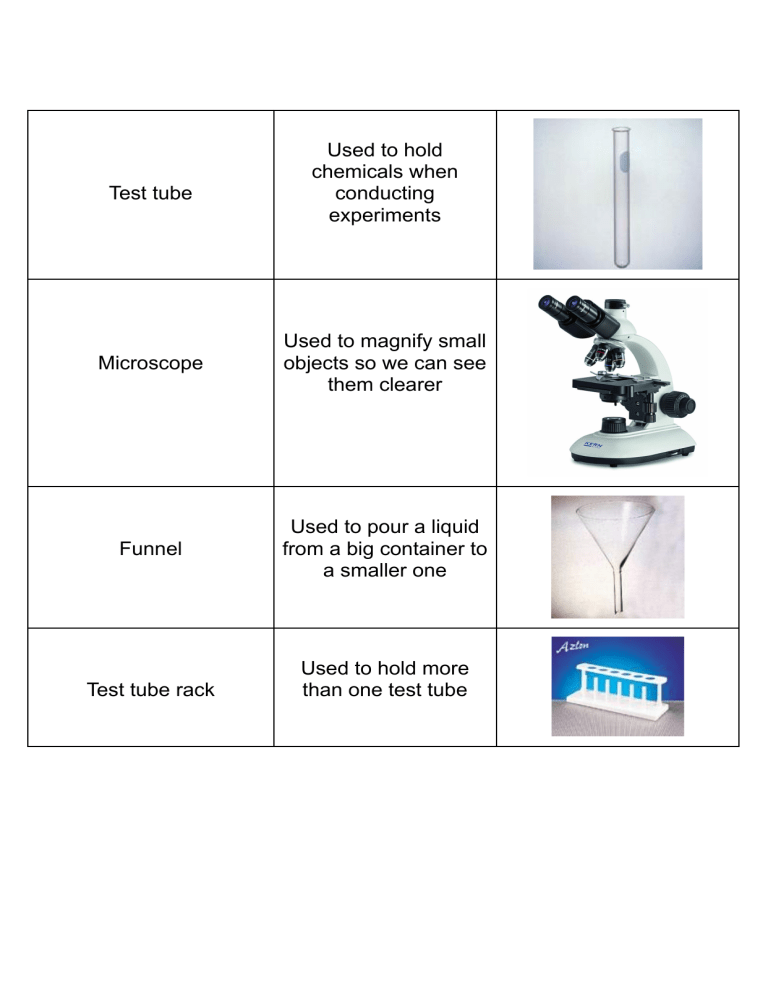 Test tube
Used to hold
chemicals when
conducting
experiments
Microscope
Used to magnify small
objects so we can see
them clearer
Funnel
Used to pour a liquid
from a big container to
a smaller one
Test tube rack
Used to hold more
than one test tube
Measuring cylinder
Used to measure
precise volumes of
liquids
Tripod
Used to support
glassware above the
Bunsen burner
Scissor tongs
Used to hold various
things in the Bunsen
burner flame
Dropper/Plastic pipette
Used to add liquid
drop by drop
Boiling tube holder
Boiling tube
Used to hold a boiling
tube when heating
over a Bunsen burner
Larger than a test tube
and is used to boil
substances over the
Bunsen burner
Beaker
Used to hold and heat
liquids
Bunsen burner
Used for heating and
exposing items to a
flame
Evaporating dish
Used to recover
dissolved solids by
evaporation
Spatula
Used for moving small
amounts of solids from
place to place
Thermometer
Used to take
temperatures of solids,
liquids and gases
Heat proof mat
Used to protect the
bench and placed
under the Bunsen
burner/tripod
Gauze mat
Petre dishes
Used to support the
beaker/glassware
which is above the
Bunsen burner flame.
It is placed on the
tripod.
Shallow round glass
which is usually used
to grow cultures of
cells, bacteria etc.