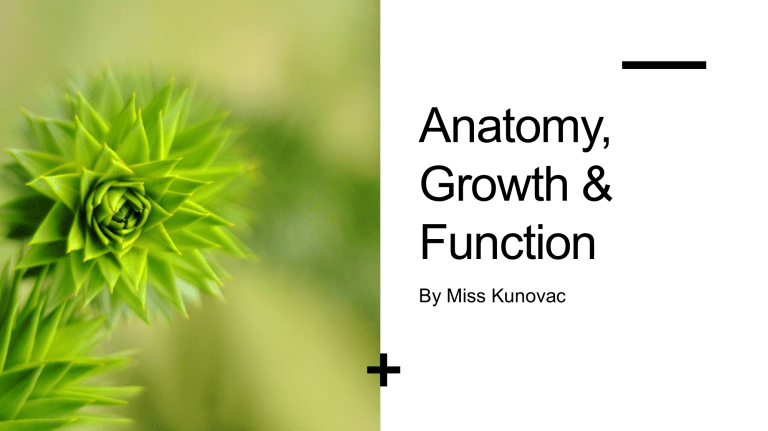 Anatomy,
Growth &
Function
By Miss Kunovac
Objectives
Be able to identify how plants evolved from non-vascular to
seeded
Be able to compare & contrast the following:
non-vascular vs. vascular
seedless vs. seeded
gymnosperm vs. angiosperm
Essential Vocabulary
–alternation of generation
–ovary
–gametophyte
–rhizoid
–germination
–sporophyte
–lignin
–vegetative reproduction
Life Cycle
of Plants
Life Cycle of
Plants
–all plants have life cycle
with alternation of
generation
– they alternate between
haploid & diploid
generation (allows for
asexual & sexual
reproduction)
Life Cycle of
Plants
– gametophyte – makes
haploid individuals from
asexual reproduction
with spores
– sporophyte – makes
diploid individual from
sexual reproduction
[gamete fertilization]
Modern versus
Early Plants
– Early plants used to
reproduce with spores
– most of their life is as
gametophyte
Modern versus
Early Plants
– Modern plants have evolved
and reproduce with gametes
[pollen & seed]
– most of their life is as
sporophyte
– can reproduce asexually
[via root, stem, leaves]
 called vegetative
reproduction
Comic Book Activity
– Read pages 322 - 325
– Create a mini-comic book about the
evolution of plants
– Ideas: create characters or storylines
or battles to explain why the plants
had to evolve the way they did
Comic Book Activity
– Suggestion: use some of the following
words [rhizoid, colonize,
dominate/dominant, liverwort, adapt,
vascular tissue, lignin, cone, flower,
gymnosperm, angiosperm]
– Include: 6-12 panels of the comic book, a
dialogue and, if necessary, a descriptive
sentence for each photo
Watch the following
videos…
– https://www.youtube.com/watch?v=mrk1d2Dg3wo
– https://www.youtube.com/watch?v=sYdq1LOHKxs&t=3
62s
Answer the following questions:
– What is a "wildtype"?
– Why is it difficult to get the genome of the
redwood genome?
– How will they try to get the genome?