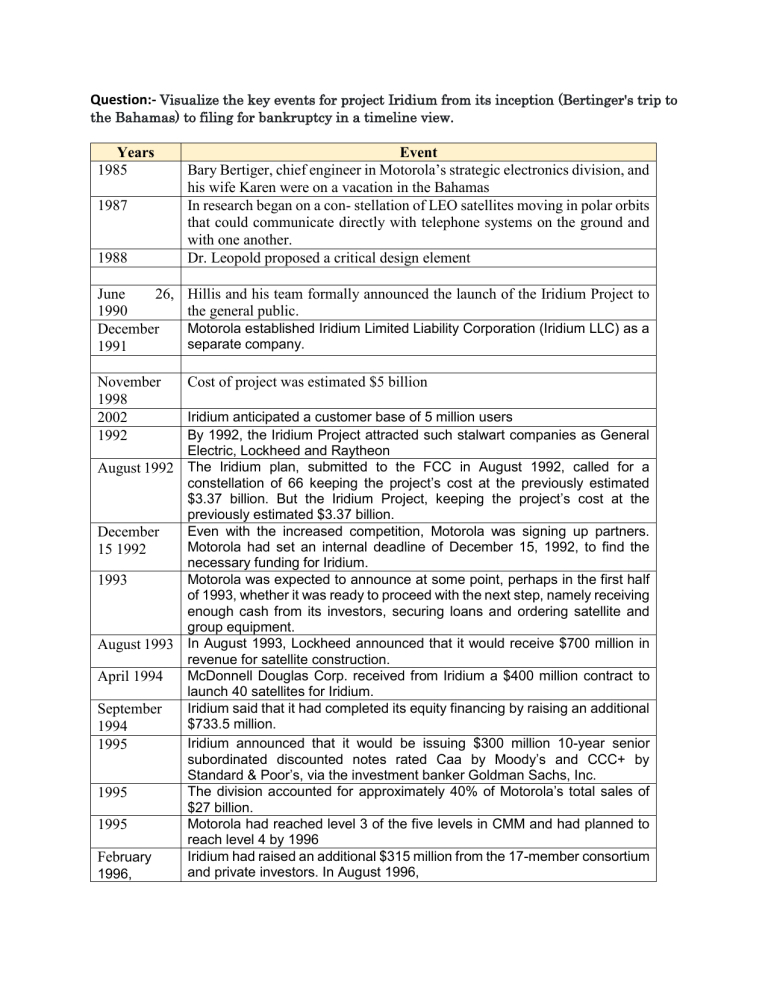 Question:- Visualize the key events for project Iridium from its inception (Bertinger's trip to
the Bahamas) to filing for bankruptcy in a timeline view.
Years
1985
1987
1988
Event
Bary Bertiger, chief engineer in Motorola's strategic electronics division, and
his wife Karen were on a vacation in the Bahamas
In research began on a con- stellation of LEO satellites moving in polar orbits
that could communicate directly with telephone systems on the ground and
with one another.
Dr. Leopold proposed a critical design element
June
26,
1990
December
1991
Hillis and his team formally announced the launch of the Iridium Project to
the general public.
November
1998
2002
1992
Cost of project was estimated $5 billion
Motorola established Iridium Limited Liability Corporation (Iridium LLC) as a
separate company.
Iridium anticipated a customer base of 5 million users
By 1992, the Iridium Project attracted such stalwart companies as General
Electric, Lockheed and Raytheon
August 1992 The Iridium plan, submitted to the FCC in August 1992, called for a
constellation of 66 keeping the project's cost at the previously estimated
$3.37 billion. But the Iridium Project, keeping the project's cost at the
previously estimated $3.37 billion.
Even with the increased competition, Motorola was signing up partners.
December
Motorola had set an internal deadline of December 15, 1992, to find the
15 1992
necessary funding for Iridium.
Motorola was expected to announce at some point, perhaps in the first half
1993
of 1993, whether it was ready to proceed with the next step, namely receiving
enough cash from its investors, securing loans and ordering satellite and
group equipment.
August 1993 In August 1993, Lockheed announced that it would receive $700 million in
revenue for satellite construction.
McDonnell Douglas Corp. received from Iridium a $400 million contract to
April 1994
launch 40 satellites for Iridium.
Iridium said that it had completed its equity financing by raising an additional
September
$733.5 million.
1994
Iridium announced that it would be issuing $300 million 10-year senior
1995
subordinated discounted notes rated Caa by Moody's and CCC+ by
Standard & Poor's, via the investment banker Goldman Sachs, Inc.
The division accounted for approximately 40% of Motorola's total sales of
1995
$27 billion.
Motorola had reached level 3 of the five levels in CMM and had planned to
1995
reach level 4 by 1996
Iridium had raised an additional $315 million from the 17-member consortium
February
and private investors. In August 1996,
1996,
August 1996 Iridium had secured a $750 million credit line with 62 banks co-arranged by
Chase Securities Inc., a unit of Chase Manhattan Corp. and the investment
banking division of Barclays Bank PLC.
Motorola announced that it was working on a new project dubbed M- Star,
October
which would be a $6.1 billion network of 72 low-orbit satellites capable of
1996
worldwide voice, video and high-speed data links targeted at the international
community.
End of 1996 Iridium planned on raising more than $2.65 billion from investors.
Iridium began forming a very strong top management team with the hiring of
1996
Dr. Edward Staiano as CEO and vice chairman. Prior to joining Iridium in
1996, Staiano had worked for Motorola for 23 years, during which time he
developed a reputation for being hard-nosed and unforgiving.
23 out of 47 major milestones were completed on or ahead of schedule and
1996
under budget
A delta 2 rocket carrying a global positioning system (GPS) exploded upon
January
launch scattering debris above its Cape Canaveral launch pad.
1997
In May of 1997, after six failed tries, the first five Iridium satellites were
May 1997
launched.
In June of 1997, after the first five satellites were placed in orbit, Iridium filed
June 1997
for an IPO of 12 million shares priced at $20 per share.
The Iridium system was officially launched. It was truly a remarkable feat that
November
the 11-year project was finally launched, just a little more than a month late.
1998
November 2 Iridium began providing service.
1998
December
1998
In order to make its products and services known to travelers, Iridium agreed
to acquire Claircom Corporation from AT&T and Rogers Cantel Mobile
Communications for about $65 Million.
Some industry observers felt that Motorola had additional incentive to ensure
Late 1990
that Iridium succeeded, irrespective of the costs namely, protecting its
reputation.
Iridium's CEO, Ed Staiano, resigned at the April 22 board meeting. Sources
April 1999
believed that Staiano resigned when the board nixed his plan requesting
additional funds to develop Iridium's own marketing and distribution team
rather than relying on its strategic partners.
Iridium officially announced that it did not expect to meet its targets specified
May 1999
under the $800 million loan agreement.
Iridium received an additional 30-day extension beyond the 2-month
June 1999
extension it had already received.
The banks and investors agreed to give Iridium yet a third extension to
July 1999
August 11 to meets its financial covenants.
August 1999 Iridium filed for bankruptcy protection. This was like having "a dagger stuck
in their heart" for a company that a few years earlier had predicted financial
breakeven in just the first year of operations.
Leo Mondale resigned as Iridium's chief financial officer.
September
1999
(October
1999)
The Iridium network was an engineering marvel. Motorola's never-say- die
attitude created technical miracles and overcame NASA-level technical
problems.
November
2000
A group of investors led by an airline executive won bankruptcy court
approval to form Iridium Satellite Corporation and purchase all remaining
assets of failed Iridium Corporation.
February 6, Iridium satellite declared that 2005 was the best year ever.
2006,
September
After almost 10 months, the Bankruptcy Court in Manhattan ruled in favor or
4, 2007,
Motorola and irritated the burned creditors that had hoped to get a $3.7 billion
judgment against Motorola.
Epilogue
When Iridium went into bankruptcy, it was considered a technical
(2011)
masterpiece but a business failure.
2007
Iridium announced plans for the second- generation Iridium satellites called
Iridium NEXT.
Satellite launches for Iridium NEXT would begin in 2015 and be completed
by 2017.
June
2, Iridium announced the award of a $2.9 billion contract to Thales Alenia
2010
Space for satellite procurement.
2010
Iridium stock had a high of $11.13 and a low of $6.27.