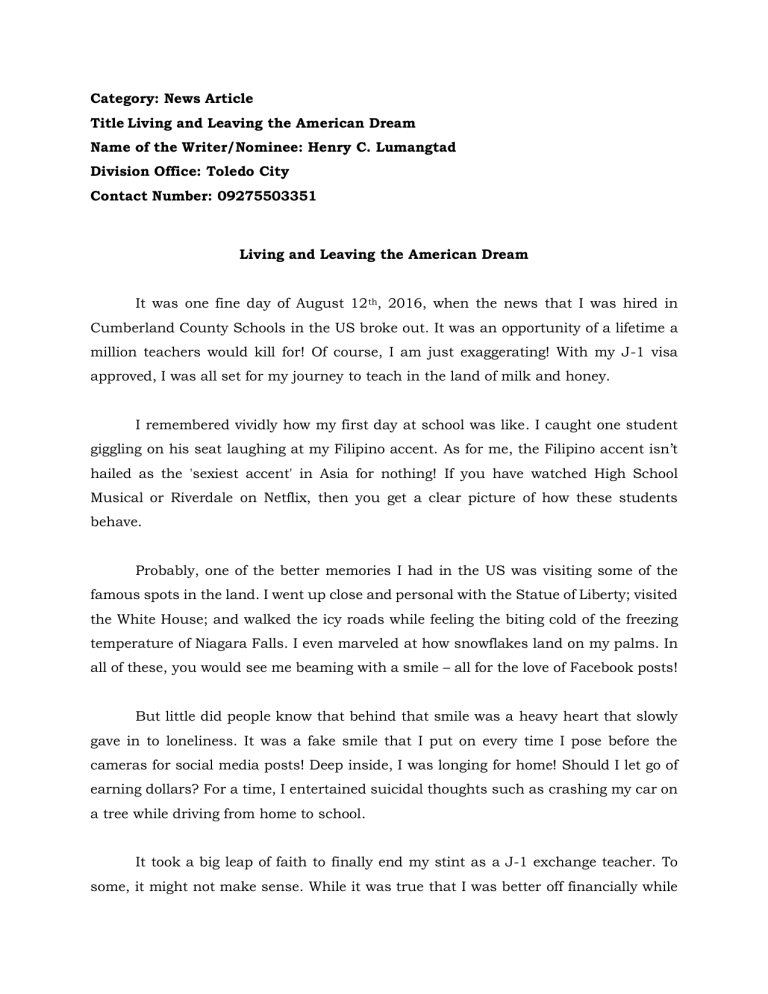 Category: News Article
Title Living and Leaving the American Dream
Name of the Writer/Nominee: Henry C. Lumangtad
Division Office: Toledo City
Contact Number: 09275503351
Living and Leaving the American Dream
It was one fine day of August 12 th, 2016, when the news that I was hired in
Cumberland County Schools in the US broke out. It was an opportunity of a lifetime a
million teachers would kill for! Of course, I am just exaggerating! With my J-1 visa
approved, I was all set for my journey to teach in the land of milk and honey.
I remembered vividly how my first day at school was like. I caught one student
giggling on his seat laughing at my Filipino accent. As for me, the Filipino accent isn't
hailed as the 'sexiest accent' in Asia for nothing! If you have watched High School
Musical or Riverdale on Netflix, then you get a clear picture of how these students
behave.
Probably, one of the better memories I had in the US was visiting some of the
famous spots in the land. I went up close and personal with the Statue of Liberty; visited
the White House; and walked the icy roads while feeling the biting cold of the freezing
temperature of Niagara Falls. I even marveled at how snowflakes land on my palms. In
all of these, you would see me beaming with a smile – all for the love of Facebook posts!
But little did people know that behind that smile was a heavy heart that slowly
gave in to loneliness. It was a fake smile that I put on every time I pose before the
cameras for social media posts! Deep inside, I was longing for home! Should I let go of
earning dollars? For a time, I entertained suicidal thoughts such as crashing my car on
a tree while driving from home to school.
It took a big leap of faith to finally end my stint as a J-1 exchange teacher. To
some, it might not make sense. While it was true that I was better off financially while
teaching in the US, truth is, a huge portion of my earnings were just enough to cover
the bills and insurances.
Presently, I am back happily teaching senior high school students at Matab-ang
National High School. Do I still have plans of going back to the US? Only time will tell.
For a time, I was living the American Dream, but now, I'm leaving it all behind!