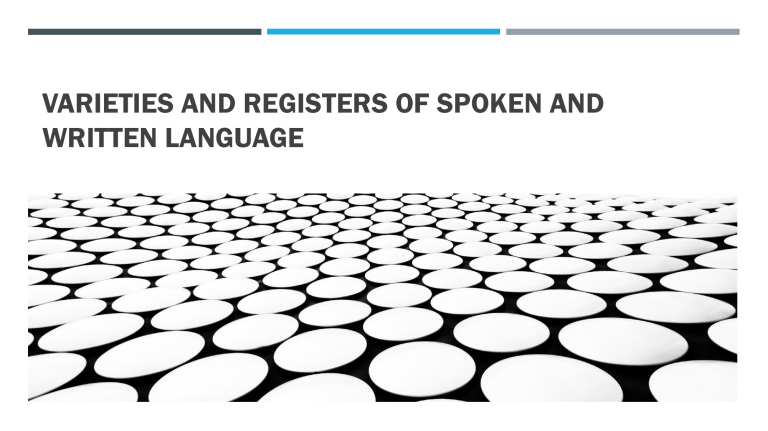 VARIETIES AND REGISTERS OF SPOKEN AND
WRITTEN LANGUAGE
VARIETIES OF ENGLISH
 Inner Circle
English as a native Language
 Outer Circle
English as a second language
 Expanding Circle
English as a Foreign Language
ACCORDING TO BAUTISTA AND GONZALEZ (2006)
 The structural characteristics of these new varieties differ. This is brought about
by the mother tongue or home languages of those who learn or acquire English.
 Acrolect
-comes closest to the standard
 Basilect
-digresses thoroughly and comes closest to the pidgin
 Mesolect
-middle variety is midway between the acrolect and basilect
SINGAPORE ENGLISH
 Actsy –show off
 Missy-nurse
 Chop-rubber stamp
 Marina kids-youngsters spend their time at or around Marina Square
 Graduate mothers-graduate married women, encouraged to have
more children and accorded certain privileges in Singapore
PHILIPPINES ENGLISH
 Deep-puristic or hard to understand
 Stick-cigarette
 High blood-tense or upset
 Blow out-treating someone with a snack or meal
 Motel-a hotel used for pre-marital or extramarital affairs
 Balikbayan box-box where Filipinos returning from abroad put all their
shopping
MALAYSIAN ENGLISH
 Popcorn-a loquacious person
 Day bugs-those who come to attend school but do not live in
residence halls
 Kachang-peanuts, easy
 Open self-girls who are popular and those who are not
LANGUAGE REGISTERS/REGISTERS OF ENGLISH
 Genre
-Used to classify types of spoken or written discourse
 Register
-used for particular purpose or in a particular communicative
situation.
 Style
-choice of words used by a specific group of people when they
speak.
LANGUAGE REGISTER
 Refers to the formality of language which one speaks.
Different registers are used in different situations. It is
through register that you are able to determine the
kind of lexicon or vocabulary to use as well as the kind
of structure to be used.
FORMAL REGISTER
 Used in formal speaking and writing situations. This is
also used in professional writing.
 Examples: project proposals, position papers and
business letters
INFORMAL REGISTER
 This is more casual in tone, I appropriate for
people with whom you have established a more
personal relationship as in the case of friends
and relatives.