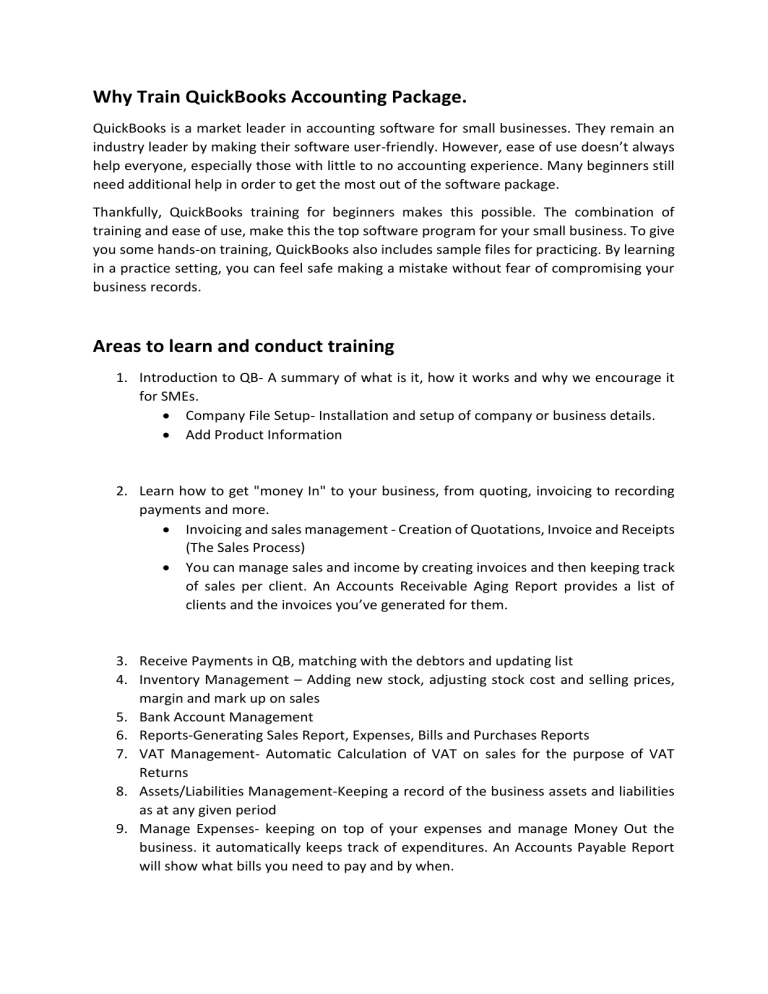 Why Train QuickBooks Accounting Package.
QuickBooks is a market leader in accounting software for small businesses. They remain an
industry leader by making their software user-friendly. However, ease of use doesn't always
help everyone, especially those with little to no accounting experience. Many beginners still
need additional help in order to get the most out of the software package.
Thankfully, QuickBooks training for beginners makes this possible. The combination of
training and ease of use, make this the top software program for your small business. To give
you some hands-on training, QuickBooks also includes sample files for practicing. By learning
in a practice setting, you can feel safe making a mistake without fear of compromising your
business records.
Areas to learn and conduct training
1. Introduction to QB- A summary of what is it, how it works and why we encourage it
for SMEs.
 Company File Setup- Installation and setup of company or business details.
 Add Product Information
2. Learn how to get "money In" to your business, from quoting, invoicing to recording
payments and more.
 Invoicing and sales management - Creation of Quotations, Invoice and Receipts
(The Sales Process)
 You can manage sales and income by creating invoices and then keeping track
of sales per client. An Accounts Receivable Aging Report provides a list of
clients and the invoices you've generated for them.
3. Receive Payments in QB, matching with the debtors and updating list
4. Inventory Management – Adding new stock, adjusting stock cost and selling prices,
margin and mark up on sales
5. Bank Account Management
6. Reports-Generating Sales Report, Expenses, Bills and Purchases Reports
7. VAT Management- Automatic Calculation of VAT on sales for the purpose of VAT
Returns
8. Assets/Liabilities Management-Keeping a record of the business assets and liabilities
as at any given period
9. Manage Expenses- keeping on top of your expenses and manage Money Out the
business. it automatically keeps track of expenditures. An Accounts Payable Report
will show what bills you need to pay and by when.
10. Reporting

Learning how to gauge the organization's productivity and stability through
built-in reports that can generated within minutes, from Financial StatementsIncome Statements, Statement of Financial Position and the Business
Cashflows, Monthly reports and accounts
How the Training can be conducted QuickBooks
There are several accessible, effective ways to learn how to use QuickBooks:
1. QuickBooks Practical Training
2. QuickBooks Video Tutorials and PDF User guides
QuickBooks-related skills

Computer literacy
Since QuickBooks is a software program, having previous knowledge of computers will help
you learn more efficiently. Although you will not be required to troubleshoot software-related
issues, it is helpful to understand your computer's operating system. For example, you may
need to browse your hard drive for important files.

Accounting
The level of proficiency you need in accounting will vary according to the position for which
you apply. An accountant, for instance, will have a more advanced level of expertise in the
field than a general manager or a payroll clerk. However, since QuickBooks is an accounting
package, a basic understanding of accounting is required or should be acquired through
QuickBooks training.
Technical Specification for the QuickBooks System Requirements
System and Browser Requirements for QuickBooks Desktop 2020 for Windows
Windows 8.1 Update 1, or Windows
1.5 GHz processor
4 GB of RAM
5 GB disk space recommended (additional space is required for data files)
Product registration required.