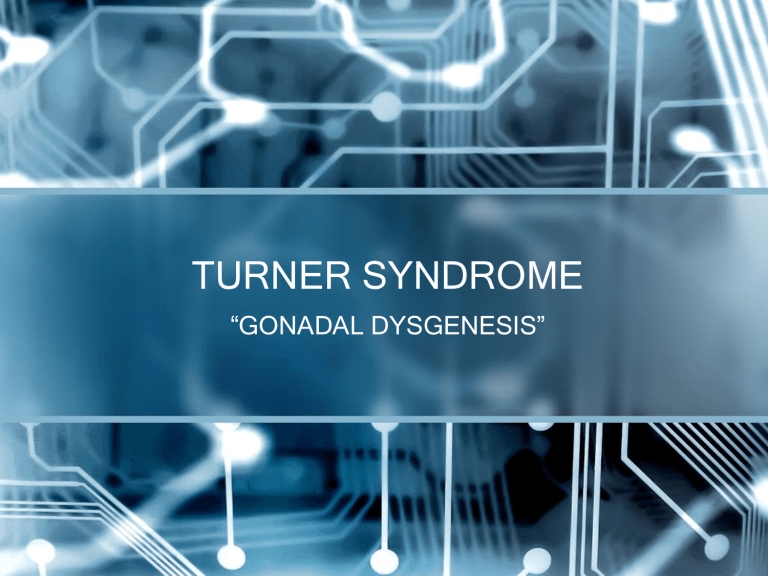 TURNER SYNDROME
"GONADAL DYSGENESIS"
TURNER SYNDROME
• "GONADAL DYSGENESIS"
• ONLY ONE FUNCTIONAL X
CHROMOSOME
Features/Characteristics
1. SHORT STATURE
2. STREAK OVARIES
3. STERILE
4. NO PUBIC HAIR
Features/Characteristic
5. NO SECONDARY SEX
CHARACTERISTICS
7. NECK- WEBBED & SHORT
6. HAIRLINE AT NAPE- LOW SET
8. COGNITIVELY CHALLENGED
Features/Characteristics
IN NEWBORNS:
1. EDEMA (HANDS & FEET)
3. COARCTATION OF AORTA
2. CONGENITAL ANOMALIES
4. KIDNEY DISORDERS
• Home growth
administration
- additional height
TREATMENT
• Estrogen (age of 13)
- secondary characteristics
may appear
- prevent osteoporosis
- if 3 out of 4 weeks; results
in menstrual flow but do not
correct sterility.
FACTS/
ADDITIONAL
INFORMATION
• Incidence- 1 per 10, 000 live
births
• Socioemotional adjustment
problems- may occur
• Gonadal tissue is scant and
inadequate.
• Identified with an
ultrasound.
"No man should ever say
that he does not have any
flaw…
Always
look
beyond
imperfections,
because
beauty can be found in it as
well."
GROUP 6
Flores, Thyrone
Figuerres, Julieta May
Evaristo, Chanelli
Gapasin, Nia Venice
Garcia, Pauline Antonette
REFERENCE:
Silbert-Flagg, J., & Pilliteri, A. (2017). Maternal and Child Health Nursing
(8th edition). LWW. pg 167.