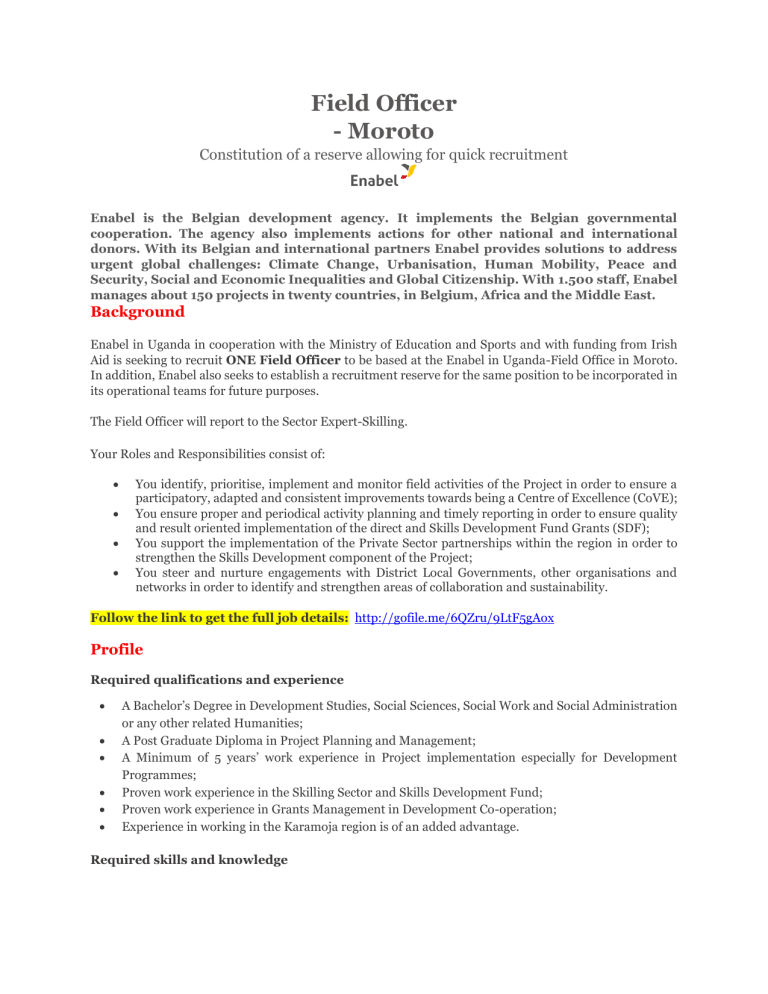 Field Officer
- Moroto
Constitution of a reserve allowing for quick recruitment
Enabel is the Belgian development agency. It implements the Belgian governmental
cooperation. The agency also implements actions for other national and international
donors. With its Belgian and international partners Enabel provides solutions to address
urgent global challenges: Climate Change, Urbanisation, Human Mobility, Peace and
Security, Social and Economic Inequalities and Global Citizenship. With 1.500 staff, Enabel
manages about 150 projects in twenty countries, in Belgium, Africa and the Middle East.
Background
Enabel in Uganda in cooperation with the Ministry of Education and Sports and with funding from Irish
Aid is seeking to recruit ONE Field Officer to be based at the Enabel in Uganda-Field Office in Moroto.
In addition, Enabel also seeks to establish a recruitment reserve for the same position to be incorporated in
its operational teams for future purposes.
The Field Officer will report to the Sector Expert-Skilling.
Your Roles and Responsibilities consist of:
•
•
•
•
You identify, prioritise, implement and monitor field activities of the Project in order to ensure a
participatory, adapted and consistent improvements towards being a Centre of Excellence (CoVE);
You ensure proper and periodical activity planning and timely reporting in order to ensure quality
and result oriented implementation of the direct and Skills Development Fund Grants (SDF);
You support the implementation of the Private Sector partnerships within the region in order to
strengthen the Skills Development component of the Project;
You steer and nurture engagements with District Local Governments, other organisations and
networks in order to identify and strengthen areas of collaboration and sustainability.
Follow the link to get the full job details: http://gofile.me/6QZru/9LtF5gAox
Profile
Required qualifications and experience
•
•
•
•
•
•
A Bachelor's Degree in Development Studies, Social Sciences, Social Work and Social Administration
or any other related Humanities;
A Post Graduate Diploma in Project Planning and Management;
A Minimum of 5 years' work experience in Project implementation especially for Development
Programmes;
Proven work experience in the Skilling Sector and Skills Development Fund;
Proven work experience in Grants Management in Development Co-operation;
Experience in working in the Karamoja region is of an added advantage.
Required skills and knowledge
•
Broad and in-depth understanding of the various aspects of international cooperation (context,
challenges, strengths, partners, functioning, etc.);
You have knowledge and experience in results-based management and Project Management cycles;
You have experience in working with Development Partners also including District Officials;
You show respect and are able to build relations on the basis of credibility and expertise;
You show engagement, sense of responsibility and integrity;
You are flexible and can work in a changing environment;
You have good knowledge of standard ICT applications (Excel, Word, PowerPoint and Other On-line
programs);
•
•
•
•
•
•
You commit to the vision, mission and values of Enabel (https://www.enabel.be/content/enabelvision-mission-values).
We offer
•
A fascinating and varied job.
•
You are included in our reserve of applicants with a view of being contacted once there is a job
opening or a new job is being created. You are included in the recruitment reserve for a period of
3 years. First recruitment is scheduled between three and twelve months. Contracts are for the
term of the project in some of the projects Enabel operates in Uganda.
A salary package that comprises the monthly gross salary between UGX 4,300,000 and UGX
4,800,000 which is commensurate with experience and in accordance with our salary scales
(Class IV), medical insurance and a 13th Month package paid in December.
•
Our job openings are for all who fulfil the conditions in the job advertisement. Enabel is committed to
equal opportunities and diversity in its workforce. Recruitment is solely on the basis of capacity.
Are you interested?
Interested applicants should submit a cover letter, updated CV (curriculum vitae) of 4 pages' maximum
using the on-line application link below:
Follow this link to apply on-line: https://jobs.enabel.be/go/All-vacancies/4648801/
Deadline for receiving applications is Friday 9th July,2021.
Only shortlisted applicants will be contacted.