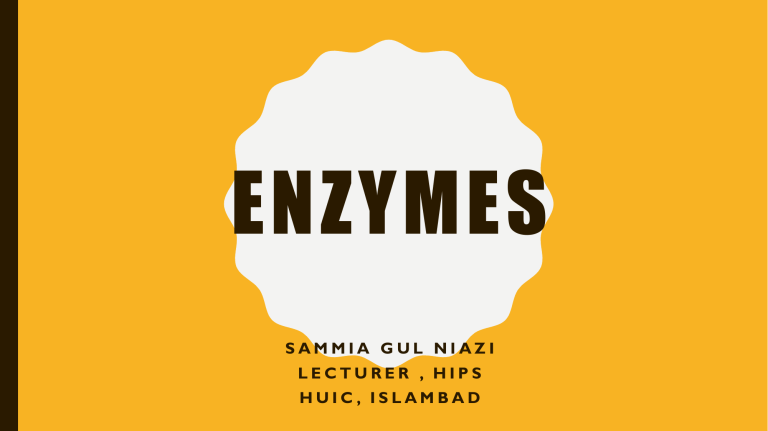 ENZYMES
SAMMIA GUL NIAZI
LECTURER , HIPS
HUIC, ISLAMBAD
ENZYMES
• Enzymes are organic catalysts produced by living
organisms.
• They make possible the many complex chemical
reactions that make up life processes.
• Although produced by living organisms enzymes
are lifeless. When isolated, they still exert their
characteristic catalytic effect.
PROPERTIES OF ENZYMES CAN BE
CLASSIFIED INTO:
Physical properties
Chemical Properties
General properties
PHYSICAL PROPERTIES OF ENZYMES
• Physically enzymes behave as colloids or as substance of high molecular weight.
• Enzymes are destroyed or inactivated at temperature below the boiling point of
water.
• At 60 degrees Celsius most enzymes in liquid medium are inactivated.
• Dried enzymes extract can endure temperature 100 degree Celsius to 120
degrees Celsius or even higher.Thus enzymes are thermos-labile.
• There is always a specific temperature of optimum activity of every enzyme, which
usually ranges from 25 degrees Celsius to 45 degrees Celsius. Enzymatic action is
highest at 37 degrees Celsius and enzymes become inactive when temperature
rises above 60 degrees Celsius.
CHEMICAL PROPERTIES OF ENZYMES
• Catalytic properties:
• Enzymes are biological catalyst.
• The small quantity of enzymes catalyzes the
larger quantities of substances.
• It means, enzymes have high capability to convert
giant quantities of substrate into product.
• Enzymes increase the rate of reaction and remain
unaffected by the reaction which they catalyze.
• Specificity of enzyme:
• Enzymes are highly specific in nature, i.e., a
particular enzyme can catalyze a particular
reaction. For example, Enzyme sucrase can
catalyze only hydrolysis of sucrose.
GENERAL PROPERTIES OF ENZYMES
• Enzymes initiate and accelerate the rate of biochemical reaction.
• The activity of enzymes depends upon the acidity of medium (pH
specific). Each catalyst is most active at a specific pH. For example, pH
2 for pepsin, pH 8.5 for trypsin. Most intracellular enzymes function at
near neutral pH.
• Enzymes can accelerate the reaction in either direction.
• All enzymes possess active sites which participate in the biochemical
reactions.
• Enzymes are very unstable compounds mostly soluble in water, dilute
glycerol, NaCl and dilute alcohol.
• Enzymes act actively at optimum temperature.
• All enzymes are protein in nature but all proteins may not be an
enzyme.
• Enzymes lower the energy of activation of the substance molecule so
the biochemical reaction can take place at normal body temperature
which is 37 degrees Celsius.
PROPERTIES OF ENZYMES
PROPERTIES OF ENZYMES
Certain heavy metals, formaldehyde, and free iodine
retard the enzyme's activity.
• Their activity is markedly affected by the pH of
the medium in which they act or by the presence
of other substances in this medium. They are
usually highly selective in their action.
• The enzymes are proteins that range in molecular
weight from about 13,000 to as much as 840,000
Dalton.
•
CLASSIFICATION OF
ENZYMES
At present they are classified according to their action by a complex
system established by the Commission on Enzymes of the International
Union of Biochemistry. Six major classes are recognized;
• Each has 4 to 13 subclasses, and each enzyme is assigned a systematic code
number (E.C.) composed of 4 digits.The major classes in this system are:
CLASSIFICATION OF
ENZYMES
Oxidoreductases:
•
Catalyzing
substances.
oxidoreductions
between
2
Transferases:
• Catalyzing a transfer of a group, other than
hydrogen, between a pair of substrates.
CLASSIFICATION OF
ENZYMES
Hydrolases:
• Catalyzing hydrolysis of ester, ether,
peptide, glycosyl, acid-anhydride, C-C, Chalide,, or P-N bonds.
Lyases:
• Catalyzing removal of groups from
substrates by mechanisms other than
hydrolysis, leaving double bonds.
CLASSIFICATION OF ENZYMES
Isomerases:
• Catalyzing
interconversion
of
geometric, or positional isomers.
optic,
Ligases:
Catalyzing linkage of 2 compounds coupled
to the breaking of a pyrophosphate bond in
ATP or a similar compound.
CLASSIFICATION ON THE
BASIS OF NATURE OF
SUBSTRATE
Esterases:
• Including, lipase, phospho-lipase,
acetylcholinesterase, and others.
Carbohydrases:
• Including
diastase,
lactase,
maltase, invertase, cellulase,
hyaluronidase,
glucuronidase,
lysozyme, and others.
CLASSIFICATION ON THE BASIS OF
NATURE OF SUBSTRATE
Nucleases:
• Including
ribonuclease,
nucleophosphatase, and others.
desoxyribonuclease,
Nuclein deaminases:
• Including adenase, adenosine deaminase, and others.
CLASSIFICATION ON THE
BASIS OF NATURE OF
SUBSTRATE
Amidases:
• Including arginase, urease, and others.
Proteolytic enzymes:
• Including pepsin, trypsin, chymotrypsin, papain,
fibrinolysin, streptokinase, urokinase, and others.
THE AMYLOLYTIC ENZYMES OR
CARBOHYDRASES
• Diastase and amylase are terms
applied to 2 well-known amylolytic
enzymes.
Salivary diastase or ptyalin and
pancreatic
diastase
or
amylopsin are found in the
digestive tract of animals; they are
sometimes called "animal diastase".
THE AMYLOLYTIC ENZYMES OR
CARBOHYDRASES
• Malt diastase is formed during the germination of
barley grains and converts starch into maltose. It is
most active in solutions that are approximately
neutral; acidity of pH 4 destroys the enzyme.
MALT EXTRACT
• Barley is the dried grain of one or
more varieties of
• Hordeum vulgare Lin.
• (Family: Gramineae).
Cultivation and collection:
Barley is grown throughout the world
wherever, the climate is favorable. Malt
or malted barley is dried, artificially
germinated barley grain.
MALT EXTRACT
• To prepare malt, heaps of
barley grain are kept wet with
water in a warm room and
allowed to germinate until the
caulicle protrudes. The grain is
then quickly dried. The
enzyme diastase in the moist
warm grains converts the
starch to maltose, thereby
stimulating the embryo to
growth. The embryo is killed
when the grain is dried.
MALT EXTRACT
• Malt extract is the product
obtained by extracting malt, the
partially
and
artificially
germinated grain of one or
more varieties of Hordeum
vulgare. The malt is infused with
water at 60 C, and the
expressed
liquid
is
concentrated at a temperature
not exceeding 60 C, preferably
under reduced pressure.
MALT EXTRACT
• Malt extract may be mixed with 10%,
by weight of glycerin. It contains
dextrin, maltose, a small amount of
glucose, and amylolytic enzymes. It can
convert not less than 5 times its weight
of starch into water- soluble sugars.
CHEMICAL CONSTITUENTS
• Malt extract contains dextrin, maltose, traces of glucose
and about 8% of amylolytic enzyme diastase.
MALT EXTRACT
Uses and Dose:
• Malt extract is used as an easily digested
nutritive and as an aid in digesting starch. The
usual dose is 15 g.
• Many commercial extracts of malt do not
contain diastase, which is destroyed by the
heat used for their sterilization. Such extracts
should not be confused with this product.
They are used as bulk-producing laxatives.
THE AMYLOLYTIC ENZYMES OR
CARBOHYDRASES
Invertase or Sucrase:
• It is found in yeast and in the intestinal juices. It brings
about the hydrolysis of sucrose into glucose and fructose.
• Maltase, which causes the conversion of maltose into
glucose, is also found in yeast and the intestinal juices.
THE AMYLOLYTIC ENZYMES OR
CARBOHYDRASES
Zymase:
• It is a fermenting enzyme causing the
conversion of monosaccharides
(glucose, fructose) into alcohol and
carbon dioxide.
Myrosin:
• It is found in white and black mustard;
it hydrolyzes sinalbin, sinigrin, and
other glycosides.s
THE AMYLOLYTIC ENZYMES OR
CARBOHYDRASES
Emulsin:(A
mixture
of enzymes (glycosidase) in bitter almond which
hydrolyse the glucoside amygdalin to benzaldehyde,
glucose, and cyanide)
It is an enzyme found in bitter
almonds. It causes the hydrolysis of
B-glucosides, thus, amygdalin is
hydrolyzed
into
glucose,
benzaldehyde,
and
hydrogen
cyanide.
ESTERASES ENZYMES
(An esterase is a hydrolase enzyme that splits esters into an
acid and an alcohol in a chemical reaction with water called
hydrolysis)
Lipase esterase:
It is a lipolytic enzyme widely distributed
in the animal and vegetable kingdoms. It is
found in the pancreatic juice of animals and
in oily seeds. Lipase causes the hydrolysis of
fats into glycerin and fatty acids.
ESTERASES ENZYMES
Pectinase or pectin esterase:
• Splits pectin into pectic acid and methyl alcohol.
Steapsin:
• It is a lipolytic enzyme capable of digesting dietary
fat.
Urease
• It is obtained from soybeans and is used as a
laboratory reagent for converting urea to ammonia.
PROTEOLYTIC ENZYMES
Animal source Enzymes:
• Pepsin
• Pancreatin
• Pancrelipase
• Trypsin
• Chymotrypsin
• Streptokinase
• Urokinase
• Renin
PROTEOLYTIC ENZYMES
Plant Source Enzymes:
• Papain
• Bromelain
PEPSIN
• Pepsin is a proteolytic enzyme found in the gastric juice.
It is most active at a pH of about 1.8, but in neutral or
alkaline media, pepsin is entirely inactive. It converts
proteins into proteoses and peptones.
• Pepsin is a substance containing a proteolytic enzyme
obtained from the glandular layer of the fresh stomach of
• the hog, Sus scrofa Lin
• variety: domesticus Gray
• Family: Suidae
PEPSIN
Collection and Preparation:
Pepsin is prepared by digesting the minced
stomach linings with hydrochloric acid. This
solution is clarified, partially evaporated, dialyzed,
concentrated, and either poured on glass plates to
dry, thus forming scale pepsin, or carefully
evaporated in a vacuum, forming spongy pepsin.
PEPSIN
Morphological Characteristics:
• Pepsin occurs as lustrous, transparent, or translucent
scales, as granular or spongy masses ranging in color
from light yellow to light brown, or as fine white or
cream- colored amorphous powder. It is free from
offensive odor and has a slightly acid or saline taste.
PEPSIN
Uses:
• Pepsin digests not less than 3000 and not more than
3500 times its weight of coagulated egg albumin.
• Pepsin produced commercially, especially spongy pepsin,
often is 4 to 5 times as active as that used medicinally.
PEPSIN
Uses:
• Pepsin is administered to assist gastric digestion.
It is a proteolytic enzyme and should preferably
be given after meals.
• The usual dose is 500 mg. It is often combined
with pancreatin product formulations.
PANCREATIN
• Pancreatin is a substance containing enzymes,
principally amylase, lipase, and protease.
• It is obtained from the pancreas of the:
• hog, Sus scrofa Linne, (variety: domesticus Gray)
(Family: Suidae),
• or of the ox, Bos taurus Linne (Family: Bovidae).
PANCREATIN
• The pancreas is a gland that lies directly inside
the posterior wall of the abdomen. The fresh
glands are minced and extracted by methods
similar to those employed in the manufacture of
pepsin.
PANCREATIN
Morphological characteristics:
• Pancreatin is a cream-colored amorphous powder
with a faint, characteristic, but not offensive, odor. Its
greatest activity is in neutral or faintly alkaline
solution.
PANCREATIN
Uses:
• Pancreatin is a digestive aid and is also used in the
preparation of predigested foods for invalids.
• Enteric-coated granules of pancreatin have been
used to treat infants with celiac disease and related
pancreatic deficiencies.
Dose:
• The usual dose is 325 mg to I g as tablets, capsules,
or granules.
PANCRELIPASE
• Pancrelipase is essentially a more concentrated form of
pancreatin.
Uses:
• Employed as a digestive aid, pancrelipase increases the
intestinal absorption of fat, thus aiding in the control of
fats. It is available in the form of capsules, powder
packets, and tablets.
PANCRELIPASE
Dose:
• The usual dose range is 8000 to 24,000 USP units of
lipolytic activity prior to each meal or snack, to be
determined by the practitioner according to the needs of
the patient suffering from pancreatic insufficiency.
TRYPSIN
• Trypsin is a proteolytic enzyme that is
considerably more active than pepsin,
converting proteoses and peptones
into polypeptides and amino acids. It
acts best in an alkaline medium of
about pH 8 and may thus be
distinguished from pepsin, which acts
only in acid media.
COLLECTION METHOD
• Crystallized trypsin is a proteolytic enzyme crystallized
from an extract of the pancreas gland of the ox, Bos
taurus Linn (Family: Bovidae).
• When assayed, it contains not less than 2500 USP
trypsin units in each mg.
• Crystallized trypsin is stable in the dry state but rapidly
deteriorates in solution form. Thus, it should be stored
in tight containers away from excessive heat.
TRYPSIN
Characteristics:
It occurs as a white to yellowish white, odorless,
crystalline or amorphous powder.
Uses:
Crystallized trypsin has been employed orally, topically, or
by inhalation or local injection for debridement of necrotic
and pyogenic surface lesions.
TRYPSIN
Uses:
• Proof of efficacy of oral and parenteral administration
of proteolytic enzymes in such conditions is lacking.
• The current use of trypsin is primarily topical by
aerosol application for wound and ulcer cleansing.
CHYMOTRYPSIN
Chymotrypsin is a proteolytic enzyme
crystallized from an extract of the pancreas
gland of the ox, Bos taurus Linné (Family:
Bovidae). It contains not less than 1000 USP
chymotrypsin units in each mg.
Characteristics:
The enzyme occurs as a white to yellowish
white, odorless, crystalline or amorphous
powder.
CHYMOTRYPSIN
Uses:
People use chymotrypsin to make medicine. They
take chymotrypsin by mouth or as a shot to reduce
redness and swelling associated with pockets of
infection (abscesses), ulcers, surgery, or traumatic
injuries; and to help loosen phlegm in asthma,
bronchitis, lung diseases, and sinus infections.
STREPTOKINASE
• Streptokinase (SK) is a thrombolytic medication and enzyme. As a medication it is used to break
down clots in some cases of myocardial infarction (heart attack), pulmonary embolism, and arterial
thromboembolism. The type of heart attack it is used in is an ST elevation myocardial infarction
(STEMI).Streptokinase is a purified bacterial protein elaborated by group C p-hemolytic
streptococci.
• It is supplied as a lyophilized powder.
• The compound acts to convert plasminogen to
the proteolytic enzyme plasmin. Plasmin degrades
not only fibrin clots but also fibrinogen and other
plasma proteins.
STREPTOKINASE
Uses:
Use of streptokinase is indicated in the
treatment of pulmonary embolism, deep
vein thrombosis, arterial thrombosis and
embolism, arteriovenous cannula occlusion,
and coronary artery thrombosis.
Dose:
The route of administration, dosage, and
duration of treatment vary for each of the
above
conditions. Streptokinase
is
marketed in sterile vials containing 250,000
to 750,000 IU.
UROKINASE
– Urokinase is an enzyme isolated from human urine or
obtained from human kidney cells by tissue culture
techniques.
– Urokinase is a physiologic thrombolytic agent that is
produced in renal parenchymal cells. Unlike
streptokinase, urokinase directly cleaves plasminogen
to produce plasmin. When it is purified from human
urine, approximately 1500 L of urine is needed to yield
enough urokinase to treat a single patient.
• There are two forms; (soluble and cleaved)
• both have similar clinical effects, but they differ in molecular
weight. The product now available commercially derives
from tissue culture and is primarily the low molecularweight form. It is marketed as a sterile, lyophilized white
powder.
UROKINASE
The enzyme acts on the
endogenous fibrinolytic system,
converting plasminogen to the
enzyme
plasmin.
Plasmin
degrades fibrin clots as well as
fibrinogen and other plasma
proteins.
Uses:
Use of urokinase is indicated in
the treatment of pulmonary
embolism,
coronary
artery
thrombosis, and in restoring the
patency
of
intravenous
catheters.
UROKINASE
Uses:
• It appears to have a reduced probability of serious
allergic reactions, presumably owing to its human origin
but should be used with appropriate caution.
Doses:
• The usual dosage regimen is a priming dose followed by
administration of 4,400 units per kg of body weight per
hour for 12 hours by intravenous infusion.
EREPSIN
Erepsin is a mixture of proteolytic enzyme also found in the intestinal
juices. It converts proteoses and peptones into amino acids.
It is produced and secreted by the intestinal glands in the ileum and
the pancreas, but it is also found widely in other cells. It regulates
arterial blood pressure. It degrades food proteins into peptides.
RENIN
Renin, enzyme secreted by the kidney (and
also, possibly, by the placenta) that is part of a
physiological system that regulates blood
pressure. In the blood, renin acts on a protein
known as angiotensinogen, resulting in the
release of angiotensin I
Renin, known also as chymosin, is a
proteolytic enzyme related to pepsin that
synthesized by chief cells in the stomach.
It curdles the soluble casein of milk, a process
of considerable importance in the very young
animals.
PAPAIN
Papain is a mixture of
active proteolytic enzymes
found in the unripe fruit of
the papaya tree. It is a meat
tenderizer.
• Papain is the dried and
purified latex of the fruit
of Carica papaya Linné
(Family: Caricaceae).
PAPAIN
Cultivation:
• The papaya tree is indigenous to tropical
America and is cultivated in Sri Lanka,
Tanzania, Hawaii, and Florida. It attains a
height of about 5 to 6 meters.
• The fruit grows to a length of about 30 cm
and a weight of 5 kg.
• The epicarp adheres to the orange-colored,
fleshy sarcocarp, which surrounds the central
cavity. This cavity contains a mass of nearly
black seeds.
PAPAIN
Collection:
• The full-grown but unripe fruit is subjected to shallow incisions
on the 4 sides.
• The latex flows freely for a few seconds but soon coagulates.
After collection, the coagulated lumps are shredded and dried
by the sun or by the use of artificial heat, the latter method
yielding the better grade of crude papain.
• (Methods of collection and extraction Papain is obtained by
cutting the skin of the unripe - but almost mature - papaya
before collecting and drying the latex which flows from the
cuts. The fruit should be tapped some time during the morning
(a period of high humidity).
PAPAIN
Collection:
Incisions and collections are made at weekly intervals as
long as the fruit exudes the latex. The crude papain is
purified by dissolving in water and precipitating with
alcohol. Papain has been referred to as "vegetable pepsin"
because it contains enzymes somewhat similar to pepsin;
however, unlike pepsin, papain acts in acid, neutral, or
alkaline media.
PAPAIN
Uses:
• Papain can digest about 35 times its own weight of
lean meat. For this reason, it is used to tenderize
meats.
• The best grade of papain digests 300 times its own
weight of egg albumin.
• Papain is used as a digestant for proteins because it
has an action much like that of pepsin.
PAPAIN
Uses:
• It is employed to relieve the symptoms of
episiotomy (surgical incision of the vulva for
obstetric purposes).
• Another use of the enzyme is as an ingredient in
cleansing solutions for soft contact lenses, in the
meat packing industry, papain is used extensively
for tenderizing beef.
• Bromelains, bromelain, or bromelin is a
mixture of protein-digesting and milkclotting enzymes obtained from the juice of
the pineapple plant, Ananas cotnosus (Linné)
Merr. (Family: Bromeliaceae).
• Although this enzyme can appear in the juice
of the fruit, it can also occur in the stem of
the plant.
BROMELAINS
Uses:
• It differs from papain because
it is obtained from both the
ripe and unripe fruits.
Bromelain is used as
adjunctive therapy to reduce
inflammation and edema and
to accelerate tissue repair.
BROMELAINS
Uses:
• Its effectiveness in such conditions is apparently owing to
depolymerization and permeability modifications that they
induce following oral administration.
• Bromelains are also employed in the production of protein
hydrolysates, in tenderizing meats, and in the leather industry.
OXIDIZING ENZYMES
• Peroxidases are widely distributed in plants. They
bring about the oxidation reactions that cause the
discoloration of bruised fruits. Thrombin converts
the fibrinogen of the circulating blood into the
insoluble fibrin of the blood clot.
• Zymase, although splitting monosaccharides, is
essentially an oxidizing enzyme because the
monosaccharide is split by oxidation.
SEQS?
• Classify enzymes ?
• Write the properties of enzymes?
• What is the function and reactions of following?
Pepsin
Lipase
Streptokinase
Urokinase
• What are the method of collection of bromalain, papain and malt?
• Write down the sources of pepsin and trypsin.
• What are the function of trypsin and Urokinase?
• Describe the combinations of bromelain?