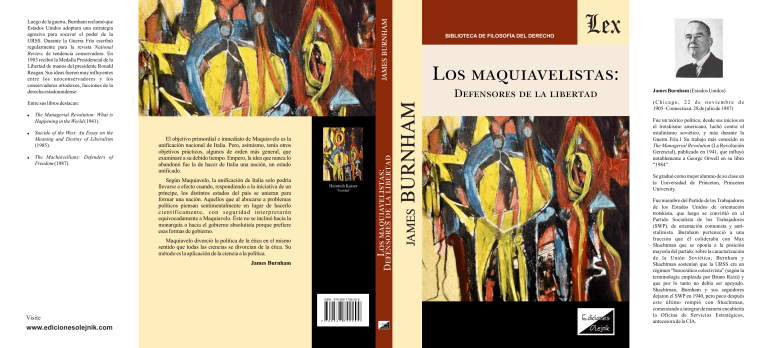 JAMES BURNHAM
Luego de la guerra, Burnham reclamó que
Estados Unidos adoptara una estrategia
agresiva para socavar el poder de la
URSS. Durante la Guerra Fría escribió
regularmente para la revista National
Review, de tendencia conservadora. En
1983 recibió la Medalla Presidencial de la
Libertad de manos del presidente Ronald
Reagan. Sus ideas fueron muy influyentes
entre los neoconservadores y los
conservadores ortodoxos, facciones de la
derecha estadounidense.
!
The Machiavellians: Defenders of
Freedom (1987).
El objetivo primordial e inmediato de Maquiavelo es la
unificación nacional de Italia. Pero, asimismo, tenía otros
objetivos prácticos, algunos de orden más general, que
examinaré a su debido tiempo. Empero, la idea que nunca lo
abandonó fue la de hacer de Italia una nación, un estado
unificado.
Según Maquiavelo, la unificación de Italia solo podría
llevarse a efecto cuando, respondiendo a la iniciativa de un
príncipe, los distintos estados del país se unieran para
formar una nación. Aquellos que al abocarse a problemas
políticos piensan sentimentalmente en lugar de hacerlo
científicamente, con seguridad interpretarán
equivocadamente a Maquiavelo. Éste no se inclinó hacia la
monarquía o hacia el gobierno absolutista porque prefiere
esas formas de gobierno.
Heinrich Kaiser
"Untitled"
Maquiavelo divorció la política de la ética en el mismo
sentido que todas las ciencias se divorcian de la ética. Su
método es la aplicación de la ciencia a la política.
James Burnham
ISBN 978-956-7799-29-9
Visite
www.edicionesolejnik.com
9 7 8 9 5 6 7 7 9 9 2 9 9
BURNHAM
Suicide of the West: An Essay on the
Meaning and Destiny of Liberalism
(1985).
Los maquiavelistas:
JAMES
!
Los maquiavelistas:
Defensores de la libertad
The Managerial Revolution: What is
Happening in the World (1941).
Lex
Defensores de la libertad
Entre sus libros destacan:
!
BIBLIOTECA DE FILOSOFÍA DEL DERECHO
James Burnham (Estados Unidos)
(Chicago, 22 de noviembre de
1905–Connecticut, 28 de julio de 1987)
Fue un teórico político, desde sus inicios en
el trotskismo americano, luchó contra el
estalinismo soviético, y más durante la
Guerra Fría.1 Su trabajo más conocido es
The Managerial Revolution (La Revolución
Gerencial), publicado en 1941, que influyó
notablemente a George Orwell en su libro
"1984".
Se graduó como mejor alumno de su clase en
la Universidad de Princeton, Princeton
University.
Fue miembro del Partido de los Trabajadores
de los Estados Unidos de orientación
trotskista, que luego se convirtió en el
Partido Socialista de los Trabajadores
(SWP), de orientación comunista y antistalinista. Burnham perteneció a una
fracción que él colideraba con Max
Shachtman que se oponía a la posición
mayoría del partido, sobre la caracterización
de la Unión Soviética; Burnham y
Shachtman sostenían que la URSS era un
régimen "burocrático colectivista" (según la
terminología empleada por Bruno Rizzi) y
que por lo tanto no debía ser apoyado.
Shachtman, Burnham y sus seguidores
dejaron el SWP en 1940, pero poco después
este último rompió con Shachtman,
comenzando a integrar de manera encubierta
la Oficina de Servicios Estratégicos,
antecesora de la CIA.