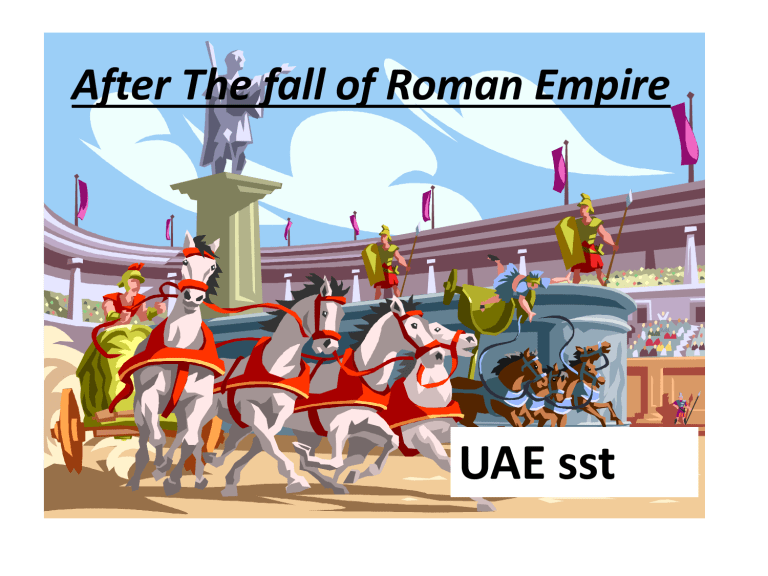 After The fall of Roman Empire
UAE sst
30 April 2021
The Roman Empire
Learning Objectives
Explains the causes of significant historical events and issues.
Vocabularies
•
•
•
•
•
•
•
•
•
Common Era
To benefit
Conquer
Destruction
Domestic
Barbarian
Fierce
To Storm
Bow
Starter: (Only 2 mints) lets begin
On a paper, how many words can you make,
using letters from the words - ROMAN EMPIRE
(e.g. man, pen etc.)
SHARING OUR IDEAS!
Make a spider diagram of what you already
know about Ancient Rome.
What I know about Ancient Rome?
Listen to the audio and fill in the
groups
• https://www.liveworksheets.com/mc674240bj
Watch a quick reality check!
https://www.youtube.com/watch?
The Fall of the Roman Empire - History of Rome
v=aTbZp-grIck
The Roman Empire
Map
Goths
Visigoths
Huns
Vandals
Suevi
Comprehension
Read the lesson which is uploaded
in GCR and complete the task
Let us quick re-search on given
below:
• Using information from text, chart out the
causes or the effects of each of the following
events. Pg No. 20
• Map activity: Write the names of the each
Kingdoms in the box in the correct place on
the map.
• Match the group of people with the correct
fact about each one
Time for home assignment
The Roman Empire
• Colour your
maps to
show how
large the
Roman
Empire
was.
• Complete
the missing
words
exercise.
• Use you
Planners to
find out
what we
call these
countries
today.
Images of the Empire - homework activity.