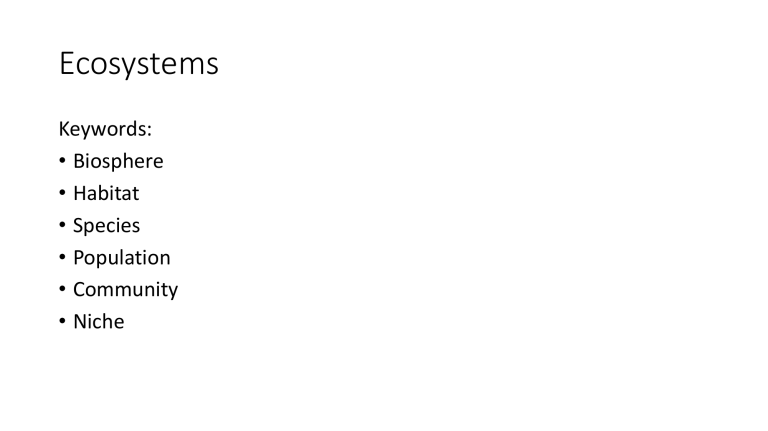 Ecosystems
Keywords:
• Biosphere
• Habitat
• Species
• Population
• Community
• Niche
Biosphere
• The part of the earth and its atmosphere that is inhabited by living
organisms.
Habitat
• A place with a set of conditions that allow an organism to live.
Species
• A group of organisms that are closely related and can interbreed to
produce fertile offspring.
Population
• A group of interbreeding individuals of the same species found in an
area.
Community
• The different populations sharing a habitat or ecosystem.
Ecosystem
• All of the abiotic and biotic components that enable an area to be
self-sustaining.
Niche
• The role of an organism in a habitat.
Abiotic factors
• The non-living components of an ecosystem.
• Solar energy input
• Climate
• Topography
• Oxygen concentration
• Edaphic factors (soil pH, mineral ions and geology)
• Pollution
• Catastrophes.
Biotic factors
• Competition for resources e.g. light, food, space, water and mates.
• Interspecific competition: between different species
• Intraspecific completion: within the same species.
• Grazing
These factors are all
• Predation
density dependent.
• Disease
• Parasitism
• Mutualism
Biotic factors continued
• Anthropogenic factors are those that that are caused by human
activity. E.g. deforestation, agriculture and construction.
Limiting Factors
• Any factor that restricts the size of a population e.g. biotic: availability
of food or abiotic: access to water
Carrying Capacity
• The maximum population size of a particular species that a given
ecosystem can sustain.