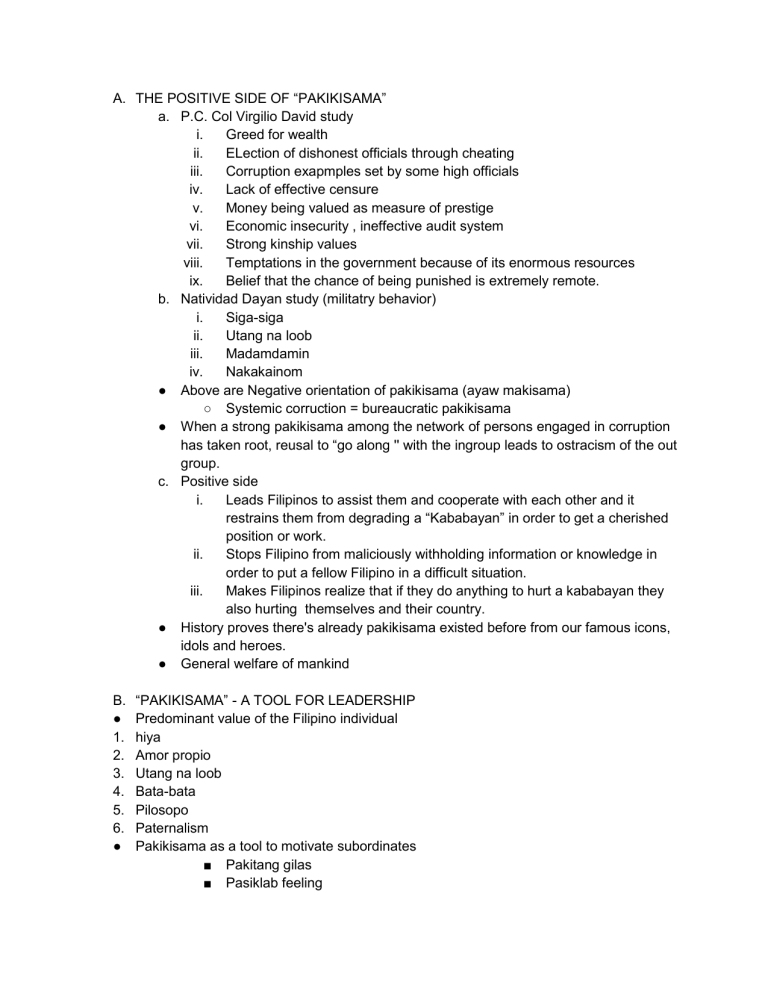 A. THE POSITIVE SIDE OF "PAKIKISAMA"
a. P.C. Col Virgilio David study
i.
Greed for wealth
ii.
ELection of dishonest officials through cheating
iii.
Corruption exapmples set by some high officials
iv.
Lack of effective censure
v.
Money being valued as measure of prestige
vi.
Economic insecurity , ineffective audit system
vii.
Strong kinship values
viii.
Temptations in the government because of its enormous resources
ix.
Belief that the chance of being punished is extremely remote.
b. Natividad Dayan study (militatry behavior)
i.
Siga-siga
ii.
Utang na loob
iii.
Madamdamin
iv.
Nakakainom
● Above are Negative orientation of pakikisama (ayaw makisama)
○ Systemic corruction = bureaucratic pakikisama
● When a strong pakikisama among the network of persons engaged in corruption
has taken root, reusal to "go along '' with the ingroup leads to ostracism of the out
group.
c. Positive side
i.
Leads Filipinos to assist them and cooperate with each other and it
restrains them from degrading a "Kababayan" in order to get a cherished
position or work.
ii.
Stops Filipino from maliciously withholding information or knowledge in
order to put a fellow Filipino in a difficult situation.
iii.
Makes Filipinos realize that if they do anything to hurt a kababayan they
also hurting themselves and their country.
● History proves there's already pakikisama existed before from our famous icons,
idols and heroes.
● General welfare of mankind
B.
●
1.
2.
3.
4.
5.
6.
●
"PAKIKISAMA" - A TOOL FOR LEADERSHIP
Predominant value of the Filipino individual
hiya
Amor propio
Utang na loob
Bata-bata
Pilosopo
Paternalism
Pakikisama as a tool to motivate subordinates
■ Pakitang gilas
■ Pasiklab feeling
■
■
■
Kailangan maganda sa pandinig ni boss para bumilib; boss favorite
Sipsip
Backer ang boss; being related to the boss by blood and any relations
that can maintain a special place in company
■ Boss can be angelic. Sometimes
■ Boss is aware of people's mediocrity
■ Boss agrees to be a sponsor some events
■ Boss tries to his/her best to relate to his subordinate
■ Bow na lang ng bow
■ Joining outside gathering enhance informal group
■ Tayo-tayo arrangement also know as mapagpapel when someone need
to leave the office or emergency
■ Choosing a group that can easily to get along to avoid odd and
uncomfortable
■ Pakisuyo; utos; Janitors, messenger, and drivers are most sensitive
person in the organization
● Pakikisama for leadership
○ The story of Engineers with his/her group get along in a night out
■ Lesson: a person of higher authority drinking or partying with your coworker or ordinary worker nakikisama will surely get their sympathy o and
loyalty. Also prove that he/she was worth being a leader of the group.
● CLOSING STATEMENT : Leader should know when, where and how to use pakikisama.
Otherwise, the benefits that could be derived fromthis values would be offset by its
apparent weaknesses.
C. THE POSITIVE SIDE OF "BARKADA"
● Security that will protect each other from aggressors.
● Barkada is the Laboratory that cultivates & transforms him/her from shy, timid and
bashful.
● Nirvana - can find himself/herself, be himself/herself w/o pretension and alienation
● Barkada is the mecca
● BARKADA VALUES AND SPIRITS
1. Dignidad or karangalan
2. Virtue of galang or respect
3. Sharing of 1's talent, resources, and property
4. Supporting each others
● In barkada clearly there is no rebel that will destroy the group its all commongood
● Barkada as positive factors is both belief and commitment.
○ Belief - of what a group of people is and what it can be
○ Commitment - "pangako" trying to protect the image of barkada by always doing
the best.
● CLOSING STATEMENT: Barkada has very Filipino values which it is already among us
even before the spaniards. However , today we must expand the values of barkada
including all Filipinos who are willing to join us, work with us and develop brotherhood
with us for the betterment and development of our society.