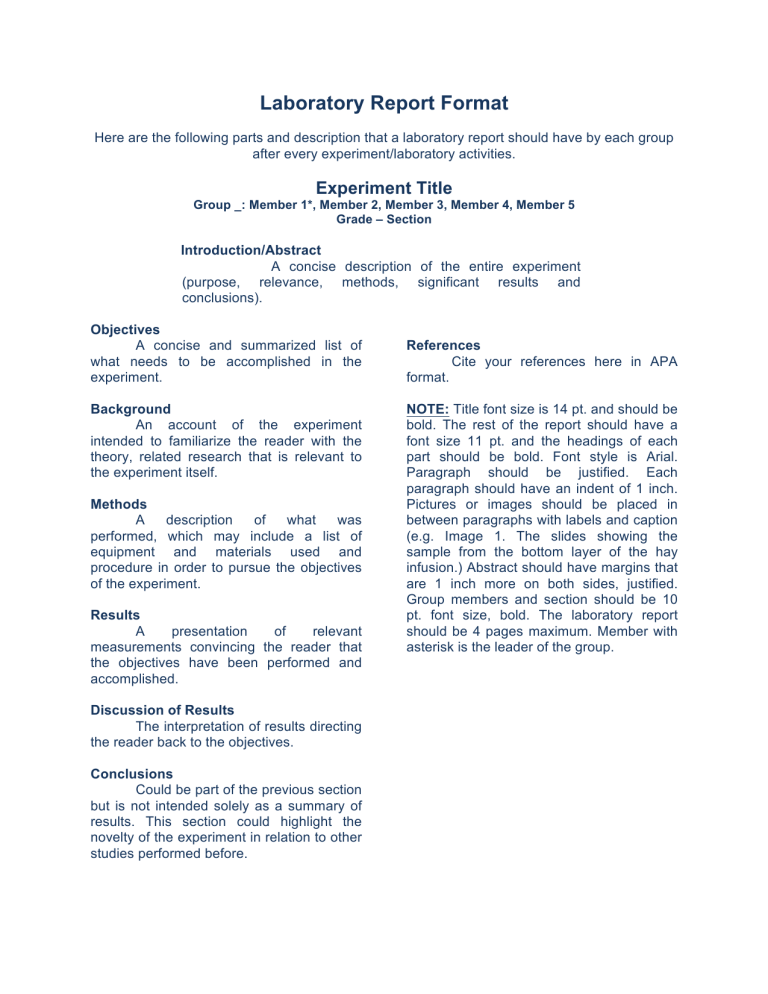 Laboratory Report Format
Here are the following parts and description that a laboratory report should have by each group
after every experiment/laboratory activities.
Experiment Title
Group _: Member 1*, Member 2, Member 3, Member 4, Member 5
Grade – Section
Introduction/Abstract
A concise description of the entire experiment
(purpose, relevance, methods, significant results and
conclusions).
Objectives
A concise and summarized list of
what needs to be accomplished in the
experiment.
Background
An account of the experiment
intended to familiarize the reader with the
theory, related research that is relevant to
the experiment itself.
Methods
A
description
of
what
was
performed, which may include a list of
equipment and materials used and
procedure in order to pursue the objectives
of the experiment.
Results
A
presentation
of
relevant
measurements convincing the reader that
the objectives have been performed and
accomplished.
Discussion of Results
The interpretation of results directing
the reader back to the objectives.
Conclusions
Could be part of the previous section
but is not intended solely as a summary of
results. This section could highlight the
novelty of the experiment in relation to other
studies performed before.
References
Cite your references here in APA
format.
NOTE: Title font size is 14 pt. and should be
bold. The rest of the report should have a
font size 11 pt. and the headings of each
part should be bold. Font style is Arial.
Paragraph should be justified. Each
paragraph should have an indent of 1 inch.
Pictures or images should be placed in
between paragraphs with labels and caption
(e.g. Image 1. The slides showing the
sample from the bottom layer of the hay
infusion.) Abstract should have margins that
are 1 inch more on both sides, justified.
Group members and section should be 10
pt. font size, bold. The laboratory report
should be 4 pages maximum. Member with
asterisk is the leader of the group.