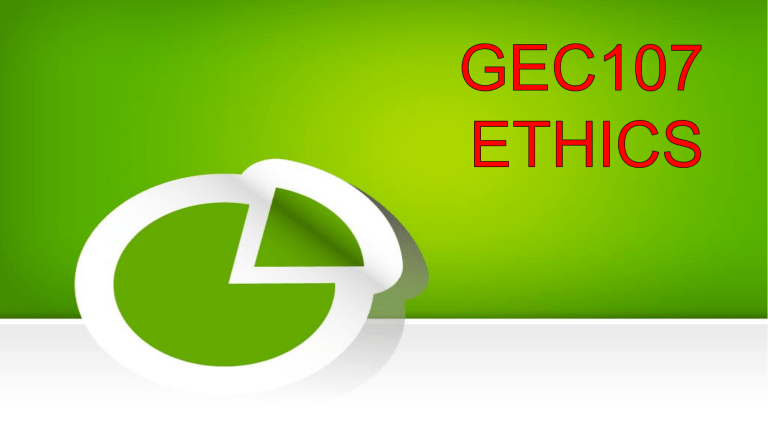 • Chapter Exercises
• 2 Major Exams
• Ethical Theories
35%
50%
15%
Are these the same questions?
If not, how are they different?
Let's have a problem:
Assume that you found
10K.
Now, back to the two questions, are they the
same or not?
This problem is known by David Hume
as
IS / OUGHT PROBLEM
I
Is
the same with
?
asks what we would really do
asks about a fact or facts
asks what is the right thing to do
This is the
David Hume said that
OUGHT or RIGHT
ETHICS / MORAL
cannot be derived from
FACTS / IS
PSYCHOLOGY TELLS
WHAT HAPPENED
EXPLAIN THIS:
ACTION
VALUATION
ETHICAL
THEORIES
NORMATIVE ETHICS IS
PRESCRIPTIVE,
NOT DESCRIPTIVE.
IF A STATEMENT IS PRESCRIPTIVE, MOST
LIKELY, IT IS NORMATIVE ETHICS
CERTAIN GRAVITY /
SERIOUSNESS
HUMAN WELL-BEING or
HUMAN LIFE
ON LELOY CLAUDIO'S VIDEO:
send a text to my number stating
your answer to two questions:
1. What is his opinion as expressed in the video?
The answer is One sentence only
2. What is his reason? or What supports his opinion?
LEVELS OF DILEMMA
1. INDIVIDUAL
2. ORGANIZATIONAL
3. STRUCTURAL
ON LEVELS OF ETHICAL DILEMMA:
1. INDIVIDUAL - FIRST LEVEL
- SMALL NUMBER OF PEOPLE AFFECTED
- SINO ILILIGTAS MO - MOTHER OR LOVER
SECOND LEVEL OF ETHICAL DILEMMA
2.ORGANIZATIONAL - SECOND LEVEL
- INSTITUTION / ORGANIZATIONAL
- PATIENT A (COMA / LOW % TO SURVIVE)
VS 4 PATIENTS
- WHO DICTATES WHO SURVIVE
THIRD LEVEL OF ETHICAL DILEMMA
3. STRUCTURAL - THIRD LEVEL
- AFFECTS NETWORK
- AFFECTS COMMUNITY / SOCIETY
- PROMISE TO IP VS PROMISE TO MINERS
THREE CONDITIONS
THAT SHOULD BE
PRESENT IN A
MORAL DILEMMA:
FIRST CONDITION:
1. THE PERSON OR THE AGENT OF
A MORAL ACTION IS OBLIGED TO
MAKE A DECISION ABOUT
WHICH COURSE OF ACTION IS BEST.
SECOND CONDITION:
2. THERE MUST BE DIFFERENT
COURSES OF ACTION TO
CHOOSE FROM.
THIRD CONDITION:
3. NO MATTER WHAT COURSE OF
ACTION IS TAKEN, SOME MORAL
PRINCIPLES ARE ALWAYS
COMPROMISED.
THIS MEANS THERE IS NO PERFECT SOLUTION TO THE
PROBLEM
TYPES OF MORAL /
ETHICAL DILEMMAS
FIRST TYPE:
1. EPISTEMIC AND
ONTOLOGICAL DILEMMAS;
2ND TYPE:
2. SELF-IMPOSED AND WORLD-IMPOSED
DILEMMAS;
3RD TYPE:
3. OBLIGATION DILEMMAS AND
PROHIBITION DILEMMAS;
4TH TYPE:
4. SINGLE AGENT AND
MULTI-PERSON
DILEMMAS.
NON-MORAL STANDARDS &
MORAL STANDARDS
WHY THE NEED TO DISTINGUISH
MORAL STANDARDS FROM
NON-MORAL ONES?
REASON:
SOCIETIES HAVE DIFFERENT
MORAL BELIEFS AND THESE ARE
DEEPLY INFLUENCED
BY CULTURE AND CONTEXT.
SOME HAVE MORAL
IMPLICATIONS
VALUES
SOME DON'T HAVE ANY
DIFFERENT CULTURES HAVE
DIFFERENT MORAL STANDARDS.
What is a matter of taste in one culture
may be of moral significance in another.
The
here is one culture
may impose its own cultural
standards on others which
may result in clash in cultural
values and beliefs.
When these happens, violence
and crime may ensue such as
religious violence and
ethnic cleansing
HOW CAN WE ADDRESS
THESE CULTURAL
CONUMDRUM?
CULTURAL CONUMDRUM MEANS
PROBLEM THAT
DIVIDE PEOPLE.
IT SAYS THAT BETTER UNDERSTANDING
ON THE DIFFERENCE BETWEEN
MORAL STANDARDS AND
NON-MORAL STANDARDS
MAY HELP US IDENTIFY FUNDAMENTAL
VALUES TO GUIDE OUR ACTIONS.
THE POINT IS THAT
IF SUCH STANDARDS ARE NON-MORAL,
THEN WE DON'T HAVE RIGHT TO IMPOSE
THEM ON OTHERS.
IF SUCH STANDARDS ARE MORAL ONES,
SUCH AS NOT KILLING OR HARMING
INNOCENT PEOPLE.
THEN WE MAY HAVE THE RIGHT TO FORCE
OTHERS TO ACT ACCORDINGLY.
THIS MAY BE ABLE TO FIND COMMON
MORAL GROUND LIKE AGREEING NOT
TO LIE, STEAL, CHEAT, KILL, HARM OR
DECEIVED OTHERS
MORAL STANDARDS are NORMS that
INDIVIDUALS or GROUPS have about the
kinds of actions believed to be morally right
or wrong, as well as VALUES placed on what we
believed to be morally good or morally bad.
MORAL STANDARDS generally
promote "THE GOOD," that is, the
WELFARE and WELL-BEING of
HUMANS as well as ANIMALS and
the ENVIRONMENT.
MORAL STANDARDS
PRECRIBE WHAT ONE
OUGHT TO DO IN TERMS OF
RIGHTS AND OBLIGATIONS.
NORMS + VALUES
= MORAL STANDARDS
norms are general rules about our
actions or behaviours like obligation
to fulfill promises, or killing innocent
people is absolutely wrong
values are enduring beliefs or statement
of what is good or desirable, like
helping the poor is good,
cheating in exam is bad.
CHARACTERISTICS OF MORAL STANDARDS:
1. MORAL STANDARDS DEAL WITH MATTERS
THAT WE THINK CAN SERIOUSLY INJURE
OR BENEFIT HUMANS, ANIMALS AND
THE ENVIRONMENT;
such as child abuse, rape, or murder
CHARACTERISTICS OF
MORAL STANDARDS:
2. moral standards are not
established or changed by
the decisions of authoritative
individuals or bodies;
Indeed, moral standards rest on the
adequacy of the reasons that are taken
to support and justify them, for sure,
we don't need a law to back up our moral
conviction that killing innocent people
is absolutely wrong.
CHARACTERISTICS OF MORAL
STANDARDS:
3. MORAL STANDARDS ARE OVER-RIDING,
THAT IS, THEY TAKE PRECEDENCE
OVER OTHER STANDARDS AND
CONSIDERATIONS,
ESPECIALLY OF SELF-INTEREST;
CHARACTERISTICS OF MORAL
STANDARDS:
4. MORAL STANDARDS ARE BASED ON
IMPARTIAL CONSIDERATIONS;
HENCE MORAL STANDARDS ARE
FAIR AND JUST.
MORAL STANDARDS ARE
UNIVERSAL
AND OBJECTIVE
CHARACTERISTICS OF MORAL
STANDARDS:
5. MORAL STANDARDS ARE ASSOCIATED
WITH SPECIAL EMOTIONS AND
VOCABULARY.
CHARACTERISTICS
OF
NON-MORAL
STANDARDS
Non-moral standards refer to standards
by which we judge what is bad or good,
right or wrong in a non-moral way.
Examples: 1. standards of etiquette, by
which we judge manners. Conventional
standards
Examples: 2. standards of law by which
we say something is legal
or illegal;
3. standards of aesthetics
by which judge art as good
or rubbish.
WE SHOULD NOT CONFUSE
MORALITY WITH ETIQUETTE,
LAW, AESTHETICS OR
EVEN WITH RELIGION.
Religious is not moral standard
Violating religious standard is
not violating moral standard
NON-MORAL STANDARDS ARE MATTERS
OF TASTE OR PREFERENCE,
HENCE, SCRUPULOUS OBSERVATION
OF THESE TYPES OF STANDARDS
DOES NOT MAKE ONE
A MORAL PERSON.
VIOLATIONS OF NON-MORAL
STANDARD DOES NOT POSE
ANY THREAT TO
HUMAN WELL-BEING.
AMORAL is neither right
nor wrong.
like a CRY OF A baby
at baliw
An AMORAL PERSON
does not enjoy FREEDOM
for he/she is in FEAR.
MORAL NORMS can be
expressed as:
-principles
-disposition
-character traits thru
a life in a person
FINALLY,
MORAL STANDARD SAYS
DO NOT HARM INNOCENT PEOPLE.
DON'T STEAL.
NON-MORAL STANDARD SAYS
DON'T TEXT WHILE DRIVING OR
DON'T TALK WHILE THE MOUTH IS FULL.