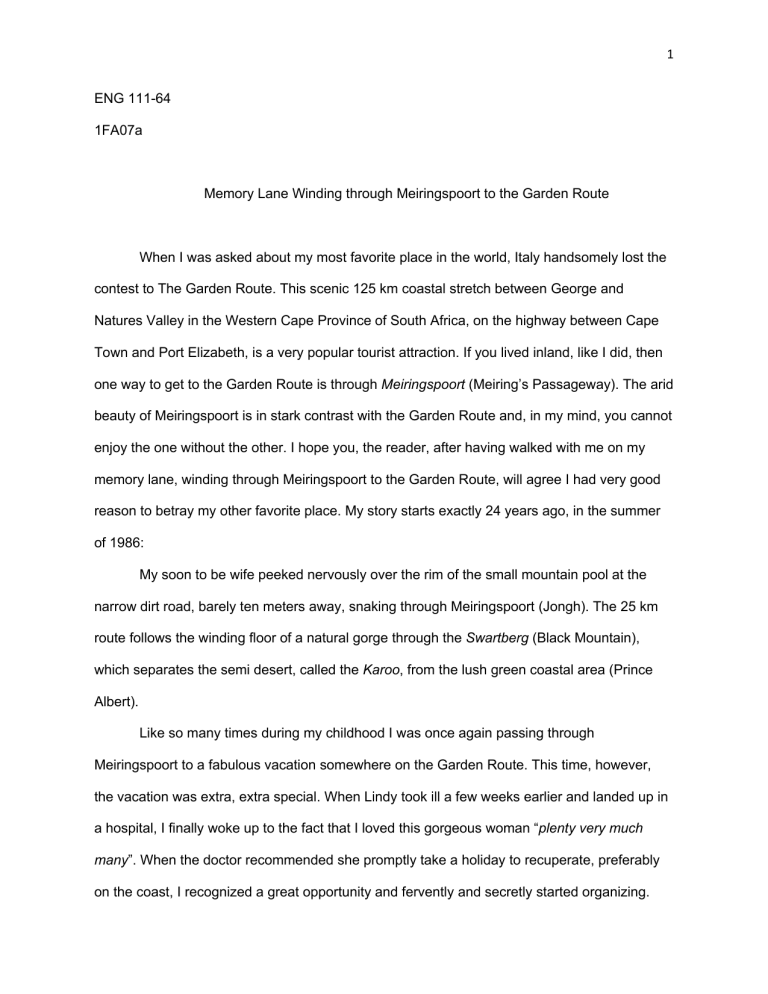 1
ENG 111-64
1FA07a
Memory Lane Winding through Meiringspoort to the Garden Route
When I was asked about my most favorite place in the world, Italy handsomely lost the
contest to The Garden Route. This scenic 125 km coastal stretch between George and
Natures Valley in the Western Cape Province of South Africa, on the highway between Cape
Town and Port Elizabeth, is a very popular tourist attraction. If you lived inland, like I did, then
one way to get to the Garden Route is through Meiringspoort (Meiring's Passageway). The arid
beauty of Meiringspoort is in stark contrast with the Garden Route and, in my mind, you cannot
enjoy the one without the other. I hope you, the reader, after having walked with me on my
memory lane, winding through Meiringspoort to the Garden Route, will agree I had very good
reason to betray my other favorite place. My story starts exactly 24 years ago, in the summer
of 1986:
My soon to be wife peeked nervously over the rim of the small mountain pool at the
narrow dirt road, barely ten meters away, snaking through Meiringspoort (Jongh). The 25 km
route follows the winding floor of a natural gorge through the Swartberg (Black Mountain),
which separates the semi desert, called the Karoo, from the lush green coastal area (Prince
Albert).
Like so many times during my childhood I was once again passing through
Meiringspoort to a fabulous vacation somewhere on the Garden Route. This time, however,
the vacation was extra, extra special. When Lindy took ill a few weeks earlier and landed up in
a hospital, I finally woke up to the fact that I loved this gorgeous woman "plenty very much
many". When the doctor recommended she promptly take a holiday to recuperate, preferably
on the coast, I recognized a great opportunity and fervently and secretly started organizing.
2
Returning from work a few days after her release, two dozen roses and a beautiful card
awaited her in her apartment. The card invited her to "Lindy's wedding with Johnny, in George,
followed by a four week honeymoon in nearby Plettenberg Bay." A stunned silence endured for
quite a while. I was not sure what paralyzed her most, the marriage proposal, or the prospect
of a long, tranquil vacation in the breath taking beauty of the Cape Province. Finally, not sure
whether I was actually in the vicinity, she softly called my name, and I appeared from behind
the fridge where I was hiding, and history was made.
"So why are we driving 1,200 km from Johannesburg to George?" she asked the next
day, after she had time to find her feet again. "Durban also has great beaches and it is only
half the distance." "Well," I replied, "you have never seen the Western Cape, and I also need to
show you where I had my first ever romantic kiss. Besides, my wedding present to you can be
purchased only down there." Amused I watched as she struggled with which question to ask
first; the identity of the unexpected gift, or the subject of my first kiss.
"Oh yeah, and who did you kiss?" I laughed at the predictability of females, and replied
that I want to get her a Stinkwood or Blackwood dining room set. "Oh, thanks so much honey
(hugs and lots of kisses). But who did you kiss?" I then told her the story. My Dad was
transferred to George when I was four or five. Soon after entering first grade the teacher one
day let us out the classroom's back door for a snack break on the lawn. As I reached the
bottom of the stairs the object of my appreciation was right behind me, and in my childish
innocence, I spontaneously gave the unsuspecting beauty a hug and a sloppy kiss. To my
astonishment she loudly burst out into tears and clutched her tomato sandwich in her fist so
tightly, it squeezed through her fingers. The sight of her tear streaked face and runny nose, her
ruined tomato sandwich and the subsequent admonishment by the teacher put me off girls for
a long, long time. "So, you see, I just have to return to that site to restore my crushed ego!"
After Lindy stopped laughing and teasing, I continued. "Actually, seriously now, my memories
of my childhood in that part of the country is very dear and precious to me, just like you are,
3
and I would like for you to meet it and make it your own sweet memory." "Oh! You big old
romantic!" she teased, and harassed my hormones with an appreciative kiss.
The next week we took the "long cut" from Johannesburg to George, via Oudtshoorn in
the Karoo and its arid ostrich farms, where we took a two day respite and a hilarious ostrich
ride. Actually, Lindy found it much more hilarious than I did because she managed to stay on
top of the bouncing ostrich. Enough said!
From Oudtshoorn we headed for George. Instead of taking the N12, I followed the
famous route of the imaginary Herrie, a retired circus elephant. His eccentric owner had the
crazy idea to go to the beach through Meiringspoort in an old double decked tramcar, pulled by
Herrie (McBride). The unusual procession caused havoc, chaos and problems with the law as
far as they travelled. In one event, where Herrie's owner had to defend himself in court after
having been arrested for destroying a road with his elephant and tram, he uttered that half the
lawyers present in the court room are idiots. The judge demanded an apology, and Herrie's
owner complied by saying that half the lawyers in the court room are not idiots. They never
made it to the beach because the tram got stuck at one of the hundreds of hairpin curves in
Meiringspoort. All Herrie's huffing and puffing could not dislodge the tram, to the annoyance of
other travelers who piled up on each side of the bulky road block with two tails (Langenhoven).
The story of Herrie was written in the 1920's by C.J. Langenhoven, who also wrote the original
national anthem of South Africa in 1918 (Wikipedia, Cornelius Jacobus Langenhoven).
Langenhoven's famous comment about Meiringspoort is: "In each bend you will find a drift and
at each drift a bend" (Guest House).
Due to the stretches of dirt road at the time, Meiringspoort carried very little traffic, and
that gave me an idea. "You do know that it is tradition for newly wed's to skinny dip in
Meiringspoort?" I said, unsuccessfully trying to keep a straight face, because there is no such
tradition. Fortunately, she was so intent on helping me brake for the next hairpin curve that she
did not look at me, else she would have caught on to my evil prank. "Since we aren't coming
4
back this way, I suggest we do it before our wedding" I continued, and as if by prior
arrangement, I spotted the ideal location as we came around the bend and pulled off, shielding
the pond with the car as best as I could. The shield was not exactly a big success, but before
she had too much time to take in this latest development, I shed my clothes and jumped into
the chilly mountain water. Having done mountain hiking before, I knew what to expect, and
managed to pretend that the water was pleasantly warm. Very reluctantly and dubiously she
followed suit. "You son of a seafaring cockroach!" she screamed upon hitting the water, "I'll get
you back for this! You just wait till your next shower!"
Once every ten minutes or so, a car would pass our pond, forcing us to duck below the
rim. "Johnny, don't you think we should get out now? Just now somebody else gets it in its
head to stop here, and then I will die on the spot!" "Well," I teased, "with this chilly mountain
water there's not much left of me to see, so I don't care. You just need to sit very still, and
they'll think you are a beautiful painting."
"Oh yeah, and what are you going to do when they try to take the beautiful painting
home?" she retorted. She had me, as always. I stole a few extra seconds to enjoy a little more
of the bright sunshine against my skin, the deep blue sky, the herby and fresh smelling
mountain air, and the music of the birds. When we were sure no cars were approaching, we
sneaked out, did a half-job of drying ourselves in the sun and then struggled our damp bodies
back into our clothes.
We continued our trip, slowly snaking between the soaring cliffs of spectacular rock
formations that lined the scenic route, decorated by wild geraniums. The geranium seeds were
exported to Europe in 1710 and subsequently were spread worldwide (Guest House). Next
time you see a geranium, realize you are looking at a part of Meiringspoort!
The winding road crosses the Groot Rivier (Great River) twenty five times over single
lane bridges, and where the dirt and concrete met, a nasty ditch awaited the suspension of the
bouncing vehicle. Each drift (crossing) has its own name and historical story. We stopped and
5
got out at Herrie se Klip, meaning Harry's Stone (Sophia). This spot in Meiringspoort was
Langenhoven's favorite writing place, away from the hustle in wealthy Oudtshoorn where he
lived. On one such visit he scratched Herrie's name into a large stone, and this piece of graffiti
was declared a national monument in 1971 (Guest House).
After a quick visit to the Skelm Waterval (Sneaky Waterfall), we exited Meiringspoort
and our next stop was the minister's house in George. I was lucky that the minister from my
teenage years, who remembered me well, happened to be stationed in George and therefore
we had at least one familiar face at our unconventional wedding, far from home, with no friends
or family present. Only the two of us, the minister, and a staff member as witness, attended the
ceremony on that last day of January, at the peak of summer. After our amazing four week
honeymoon in a beach cottage at Plettenberg Bay, we had two wedding receptions, one at
Lindy's family on the way back to Johannesburg, and the second with family and friends in
Johannesburg.
The four weeks gave us plenty of time for both honeymooning and exploring the
Garden Route with the dozens of villages, beaches and nature trails along it. A favorite was
the lagoon village of Knysna (nice-nah, Khoi for 'ferns') and the Knysna natural forest, home of
the unique species of wild elephants and indigenous trees like Stinkwood and Blackwood.
(Knysna) Maybe the excellent historic novel, Circles in a Forest, (Matthee) which we both read
and saw the movie, left a lasting impression on us two animal and nature lovers. The story
plays off in Knysna and the adjacent forest during the late 1800's and early 1900's. It is about
the fiercely independent families of woodcutters in the forest defending themselves, the rare
elephants and indigenous trees, against the exploitative greed of the timber merchants and the
ruthless plundering of the ivory hunters, which nearly extinguished our precious heritage
(Kalahari.Net). The 1970 estimate of eleven elephants in the Knysna forest dwindled to only
one known elderly female elephant at the time of our visit, and complete extinction was feared.
Fortunately, recent DNA research uncovered five additional females of this species, as well as
6
evidence of a calf, which indicates at least one bull survived, and hopefully is still alive
(Wildlife).
I took Lindy to several of the very small furniture factories in the area who specialize in
exotic Stinkwood and Blackwood handmade furniture, available nowhere else in the world. We
would have loved a Stinkwood dining room suite, but this scarce and strictly controlled wood is
outrageously expensive, and we settled for a $5,000 Blackwood dining room set, at about half
the price.
The spectacular Bloukrans (Blue Cliff) River Bridge on the Garden Route, a few
kilometers past Plettenberg Bay, was another favorite. At a dizzying 215m above the river, it is
the world's highest commercial bungee jumping location. Neither of us was brave enough for
the exhilarating plunge into the depths. (Adventure)
A few kilometers down from the bridge is Storms River Mouth, the starting point of the
challenging Otter Hiking Trail through unspoiled nature in the Tsitsikamma National Park.
(Footprint). Loaded with a backpack with enough food for five days, you cross endless steep
valleys, one moment walking on the beach and an hour or so later, standing 500ft up on the
apex, overlooking the ocean. You don't always know what to fear most; the exertion of
continuous braking for miles against uncontrolled descent down steep and slippery hiking
paths, the inevitable uphill struggle you know awaits you at the end, or the occasional lethal
puff adder sunning itself on the footpath. Rivers, including the scary Bloukrans River, are
crossed by tying your back pack in a waterproof trash bag and swimming across. Timing your
arrival at a river crossing during low tide is essential for a safe crossing. I did this trail twice
during my bachelor days, and on the first hike I was privileged to see the sea otters frolicking in
the shallow waves so close to me I felt I could touch them. The last day, crossing a flat plateau
to the village of Natures Valley, is an anticlimax after the previous days of exertion. The worst
part is the hitchhike back to your car at the Storms River Mouth. It is often the gullible foreign
7
tourist that takes pity on the dirty, unshaven and smelly hitchhiker that had been standing at
the roadside for hours.
I showed my new wife all these treasured memories, including a long hike to the first
waterfall on the Otter Trial, and before we knew it, the four weeks in paradise was over and we
had to return.
On the way back I told her more about my rich childhood experiences in that part of the
country. The route to the Garden Route via Oudtshoorn and Meiringspoort was the same route
my Dad often took to our beach destination during memorable summer holidays, after he
relocated the family back inland at the end of my first grade. The 1960's Ford Fairlane, towing
a large caravan (camper), was heavily loaded with food, luggage, Mom, Dad, six kids, the
nanny, and the miniature fox terriers Pennie and Tiekie (Nickel and Dime). How we all
managed to fit into that car and survive the two or three day trip, without killing each other, I
still do not know. I do remember my Dad threatening more than once to drop us off on the side
of the road, which invariable resulted in about five minutes of peace on the back seat. I also
remember my Dad opening his window every now and then to "air the car from the toxic
gasses coming from the back", although I seldom became aware of the offensive odors,
purported to smell suspiciously like the boiled eggs my Mom dished out during the last road
picnic. It must have been my siblings or those darn dogs, because surely, "it wasn't me!"
Normally we would break up the long trip by spending a day or two in greater
Oudtshoorn, but on this one occasion we camped out in Meiringspoort for the night. My Dad,
the perpetual teaser, started one of his camp fire stories that our kids could never get enough
off. He made sure that the very superstitious nanny was within earshot, and proceeded with a
long story, made up on the spot, about how the red stained cliffs of the gorge resulted from the
Tokoloshe who frequently slaughtered people (mostly kids, for added effect) at the top of the
cliffs, as peace offering to the gods. I learned that the "tock-kuh-loss-hee" is an ancient midget
assistant to a witch doctor and that the witch doctors "created" the dwarf by artificially stunning
8
the growth of a captured child, but there are many other legends in circulation (Vanhunks). The
legendary creature is feared intensely by most natives, so much so that they always place their
bed on a twelve inch stack of bricks, to prevent the evil dwarf from sneaking up on them while
they sleep. The eerie barking of wild baboons in the distance, disturbed by a predator, and
other mysterious animal sounds added spice to the goose bump story. We kids eventually
caught on to Dad's amused glances at the nanny, whose eyes were by then the size of
saucers, and Mom's signaling him to cool it. After dinner, the poor thing locked herself in the
car and refused to emerge until the morning light provided a sense of safety.
A peace offering of early morning coffee and rusks (dried cake) persuaded Nanny to
foolishly emerge, giggling nervously. We then proceeded to the Skelm Waterfall which falls into
a bottomless dark pool, as legend has it (Prince Albert). While Mom got breakfast ready in the
tiny camper kitchen, Dad told a captivating story of a beautiful mermaid (Sewell) that lives in
the pool, and the eternal good fortune that befalls you should you be so lucky to witness her.
That was a huge mistake, because we kids then insisted on staying another night so that we
can see the mermaid. Fortunately, Mom just then called us for breakfast and we promptly
forgot about the mermaid.
Many years later my Dad's story, which I thought was just one of his usual made up
stories, was confirmed when I read on the web that Meiringspoort had been damaged several
times in the past by flash floods through the gorge. The web site states:
"During the Meiringspoort floods of 1996 the 'legend of the mermaid' was revived.
So much damage was caused by water that not only houses were flooded, but
crocodiles, ostriches, cattle, trees and chunks of tarmac were washed down river.
As the story goes, during this turmoil, the Mermaid was washed out to sea. She was
caught in the net of fishermen and taken to the C P Nel Museum in Oudtshoorn to
recuperate. The local radio station announced that she was being held in a 'revival
tank' in the stone tower at the Museum. People phoned and came in droves from as
9
far afield as Zimbabwe and Namibia to see this unusual creature. But they were
disappointed; they could all see that she was a shop window mannequin dressed up
as a mermaid. The radio station insisted that there are mermaids in the area
because the Khoisan rock paintings (13 – 15000 years old) show creatures with
fishtails." (Guest House)
After a hearty English breakfast at the falls, compliments of Mom and Nanny, we
continued the nerve wrecking journey, towing the caravan through tight curves, with the car
frequently bottoming out on the potholed dirt road. We passed the time on the slow journey by
imagining horror stories of getting stuck like Harry and his tram, and being chased by the
Tokoloshe. The nanny was absolutely horrified at the prospect and eventually stuck her fingers
in her ears to block out our bloviating, much to our delight.
Eventually, we would make it through Meiringspoort and join the Garden Route. The
excitement started to build as we got closer and closer to beloved Buffelsbaai (Buffalo Bay),
situated between George and Knysna, for another care free, memorable summer holiday in
perfect weather. Several rock formations with caves and crevices we could investigate or climb
to the top to spot faraway ships, rock pools filled with interesting sea life, and a picture perfect
beach were all specially placed there by God to keep us kids occupied and give our parents a
well deserved rest.
After having witnessed and experienced every childhood treasure engraved in my
memory, Lindy concurred. My childhood was truly spent in paradise, and so was my wedding
and honeymoon. Sorry Italy, but your beauty just could not compete with sweet memories in
another beautiful setting.
10
Bibliography
Adventure Blog. Bungy Jumping at Bloukrans Bridge: Not for faint hearted... 23 January 2010 <
HYPERLINK "http://www.adventureblog.org/entry/bungy-jumping-at-bloukrans-bridge-not-for-fainthearted/" http://www.adventureblog.org/entry/bungy-jumping-at-bloukrans-bridge-not-for-fainthearted/ >.
Footprint, Hiking Club. The Otter Trail. 23 January 2010 < HYPERLINK
"http://www.footprint.co.za/otter.htm" http://www.footprint.co.za/otter.htm >.
Guest House, Die Gat. Attractions - Oudtshoorn & De Rust. 23 January 2010 < HYPERLINK
"http://www.diegat.co.za/oudtshoorn.php" http://www.diegat.co.za/oudtshoorn.php >.
Jongh, Tinus de. "Painting of Meiringspoort by Tinus de Jongh, father of renowned artist Gabriel de
Jongh." Tinus de Jongh Art Gallery. 22 January 2010 < HYPERLINK "http://www.tinusdejongh.co.za/T 7
Meiringspoort.jpg" http://www.tinusdejongh.co.za/T 7 Meiringspoort.jpg >.
Kalahari.Net. Circles in a Forest. 22 January 2010 < HYPERLINK "http://www.kalahari.net/books/Circles-in-a-forest/632/28373994.aspx" http://www.kalahari.net/books/-Circles-in-aforest/632/28373994.aspx >.
Knysna, Wikipedia. Knysna. 22 January 2010 < HYPERLINK "http://en.wikipedia.org/wiki/Knysna"
http://en.wikipedia.org/wiki/Knysna >.
Langenhoven, C.J. ""Sonde met die bure" ("Trouble with the Neighbors" )." Leserskring se
Langenhoven in Volkleur (Readers Circle's Langenhoven in Full Color). Tafelberg Publishers , 1983.
Matthee, Wikipedia. Daleen Matthee. 8 January 2010. 22 January 2010 < HYPERLINK
"http://en.wikipedia.org/wiki/Dalene_Matthee" http://en.wikipedia.org/wiki/Dalene_Matthee >.
McBride, Angus. "Action 17522798 for "Langenhoven in Volkleur"." 2 December 2009. bid or buy.co.za.
22 January 2010 < HYPERLINK
"http://www.bidorbuy.co.za/item/17522798/LANGENHOVEN_IN_VOLKLEUR_Boek_Red_Leon_Rousse
au_Publ_Leserskring.html"
http://www.bidorbuy.co.za/item/17522798/LANGENHOVEN_IN_VOLKLEUR_Boek_Red_Leon_Roussea
u_Publ_Leserskring.html >.
Prince Albert, Town of. Scenic Tours - Meiringspoort. 22 January 2010 < HYPERLINK
"http://www.patourism.co.za/meiringspoort.htm" http://www.patourism.co.za/meiringspoort.htm >.
Sewell. "Picture of the "mermaid" in Bottomless Pool at the Skelm Waterval." 16 November 2003. I
Love Cape Town Tours - Photo Gallery - Virginia and Erin Sewell (from Washington State USA). 22
January 2010 < HYPERLINK "http://www.ilovecapetown.com/tours/sewell/ASewell - F58
Meiringspoort.JPG" http://www.ilovecapetown.com/tours/sewell/ASewell - F58 Meiringspoort.JPG >.
11
Sophia. "Picture of Herrie se Klip." Picasa Web Albums. 22 January 2010 < HYPERLINK
"http://picasaweb.google.com/lh/photo/qucrBf9cLfcyEGywiB3Tuw"
http://picasaweb.google.com/lh/photo/qucrBf9cLfcyEGywiB3Tuw >.
Vanhunks. The Tokoloshe (Tokolosh, Tokoloshi, Thokolosi, Tikaloshe, ) Africa's Brownie. 23 January
2010 < HYPERLINK "http://www.vanhunks.com/tokoloshe1.html"
http://www.vanhunks.com/tokoloshe1.html >.
Wikipedia. Cornelius Jacobus Langenhoven. 27 December 2009. 22 January 2010 < HYPERLINK
"http://en.wikipedia.org/wiki/Cornelis_Jacobus_Langenhoven"
http://en.wikipedia.org/wiki/Cornelis_Jacobus_Langenhoven >.
Wildlife, Extra.com. Research finds more Knysna elephants than expected. 2008. 23 January 2010 <
HYPERLINK "http://www.wildlifeextra.com/go/news/knysna-elephants734.html" \l "cr"
http://www.wildlifeextra.com/go/news/knysna-elephants734.html - cr >.