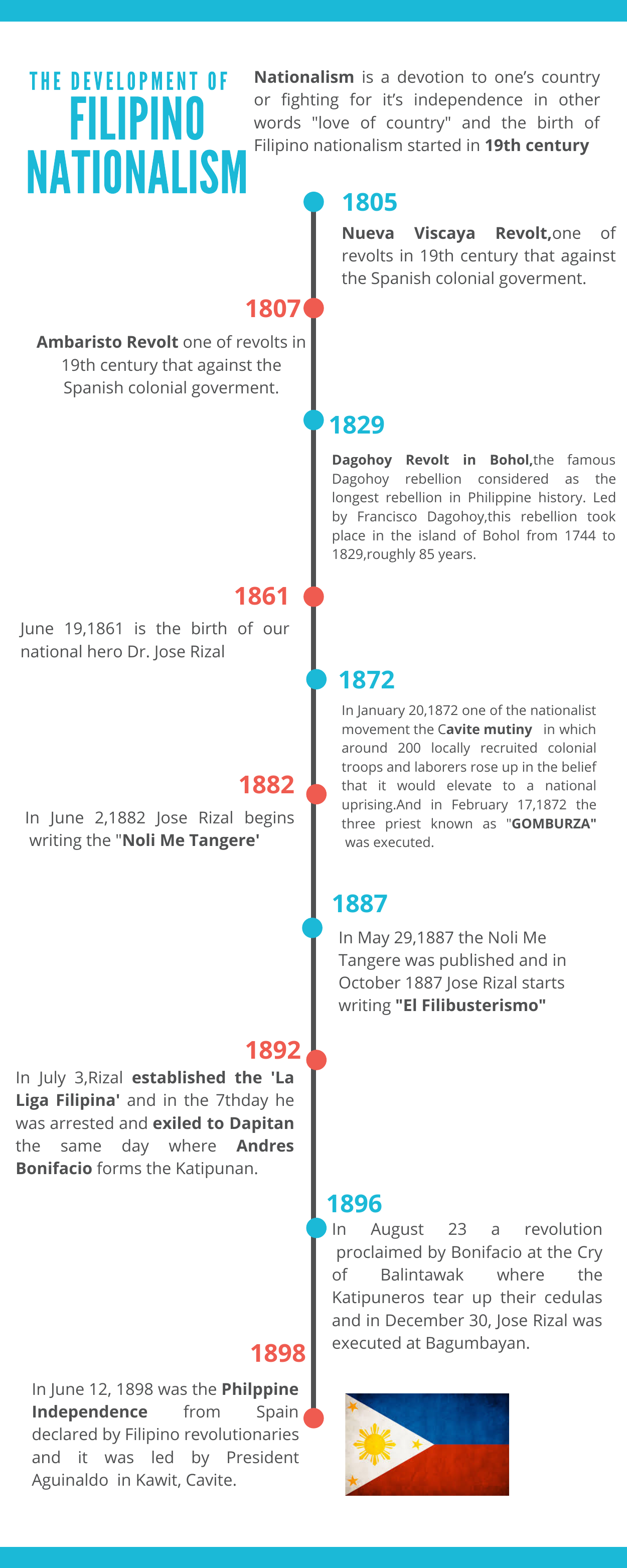 T H E
D E V E L O P M E N T
Nationalism is a devotion to one's country
or fighting for it's independence in other
words "love of country" and the birth of
Filipino nationalism started in 19th century
O F
FILIPINO
NATIONALISM
1805
Nueva Viscaya Revolt,one of
revolts in 19th century that against
the Spanish colonial goverment.
1807
Ambaristo Revolt one of revolts in
19th century that against the
Spanish colonial goverment.
1829
Dagohoy Revolt in Bohol,the famous
Dagohoy rebellion considered as the
longest rebellion in Philippine history. Led
by Francisco Dagohoy,this rebellion took
place in the island of Bohol from 1744 to
1829,roughly 85 years.
1861
June 19,1861 is the birth of our
national hero Dr. Jose Rizal
1882
In June 2,1882 Jose Rizal begins
writing the "Noli Me Tangere'
1872
In January 20,1872 one of the nationalist
movement the Cavite mutiny in which
around 200 locally recruited colonial
troops and laborers rose up in the belief
that it would elevate to a national
uprising.And in February 17,1872 the
three priest known as "GOMBURZA"
was executed.
1887
In May 29,1887 the Noli Me
Tangere was published and in
October 1887 Jose Rizal starts
writing "El Filibusterismo"
1892
In July 3,Rizal established the 'La
Liga Filipina' and in the 7thday he
was arrested and exiled to Dapitan
the same day where Andres
Bonifacio forms the Katipunan.
1896
1898
In June 12, 1898 was the Philppine
Independence
from
Spain
declared by Filipino revolutionaries
and it was led by President
Aguinaldo in Kawit, Cavite.
In August 23 a revolution
proclaimed by Bonifacio at the Cry
of
Balintawak
where
the
Katipuneros tear up their cedulas
and in December 30, Jose Rizal was
executed at Bagumbayan.