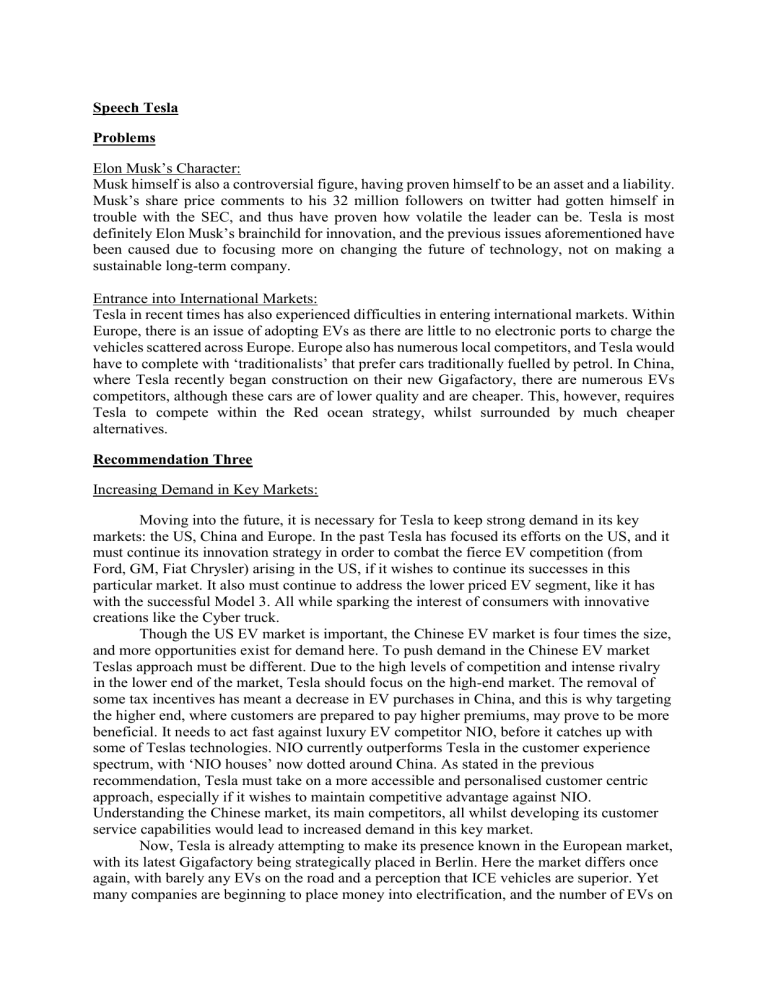 Speech Tesla
Problems
Elon Musk's Character:
Musk himself is also a controversial figure, having proven himself to be an asset and a liability.
Musk's share price comments to his 32 million followers on twitter had gotten himself in
trouble with the SEC, and thus have proven how volatile the leader can be. Tesla is most
definitely Elon Musk's brainchild for innovation, and the previous issues aforementioned have
been caused due to focusing more on changing the future of technology, not on making a
sustainable long-term company.
Entrance into International Markets:
Tesla in recent times has also experienced difficulties in entering international markets. Within
Europe, there is an issue of adopting EVs as there are little to no electronic ports to charge the
vehicles scattered across Europe. Europe also has numerous local competitors, and Tesla would
have to complete with 'traditionalists' that prefer cars traditionally fuelled by petrol. In China,
where Tesla recently began construction on their new Gigafactory, there are numerous EVs
competitors, although these cars are of lower quality and are cheaper. This, however, requires
Tesla to compete within the Red ocean strategy, whilst surrounded by much cheaper
alternatives.
Recommendation Three
Increasing Demand in Key Markets:
Moving into the future, it is necessary for Tesla to keep strong demand in its key
markets: the US, China and Europe. In the past Tesla has focused its efforts on the US, and it
must continue its innovation strategy in order to combat the fierce EV competition (from
Ford, GM, Fiat Chrysler) arising in the US, if it wishes to continue its successes in this
particular market. It also must continue to address the lower priced EV segment, like it has
with the successful Model 3. All while sparking the interest of consumers with innovative
creations like the Cyber truck.
Though the US EV market is important, the Chinese EV market is four times the size,
and more opportunities exist for demand here. To push demand in the Chinese EV market
Teslas approach must be different. Due to the high levels of competition and intense rivalry
in the lower end of the market, Tesla should focus on the high-end market. The removal of
some tax incentives has meant a decrease in EV purchases in China, and this is why targeting
the higher end, where customers are prepared to pay higher premiums, may prove to be more
beneficial. It needs to act fast against luxury EV competitor NIO, before it catches up with
some of Teslas technologies. NIO currently outperforms Tesla in the customer experience
spectrum, with 'NIO houses' now dotted around China. As stated in the previous
recommendation, Tesla must take on a more accessible and personalised customer centric
approach, especially if it wishes to maintain competitive advantage against NIO.
Understanding the Chinese market, its main competitors, all whilst developing its customer
service capabilities would lead to increased demand in this key market.
Now, Tesla is already attempting to make its presence known in the European market,
with its latest Gigafactory being strategically placed in Berlin. Here the market differs once
again, with barely any EVs on the road and a perception that ICE vehicles are superior. Yet
many companies are beginning to place money into electrification, and the number of EVs on
the road is looking to increase in Europe. Tesla must act as a first mover here, so it can gain
customer commitment, gain the market share and shape industry standards here. Creating a
strategic alliance with a company like VW (which is widely known in Europe) could prove
beneficial to Tesla, particularly in improving customer acceptance of their EVs. VW is also
bound to be a significant competitor in the European EV market in the future as it has
dedicated $30 billion by 2023 to produce fully connected EVs. If it cannot create an alliance
with VW it will have to go up against the automotive giant.
Implications: Increasing demand, especially in China and Europe will require
substantial capital. Developing its customer service and face-to-face operations will prove
complicated and expensive. In Europe, there are still difficulties to accurately estimate
returns as first movers in this market, as well as customer acceptance. Further, building the
necessary charging infrastructure is costly, yet necessary, due to the number of people
without private charging facilities in both China and Europe. Finally, the effects of Covid-19
must be considered as the economy in these markets continues to struggle, and this could
cause ongoing issues in demand.
Conclusion: Overall, relevant to each market, Tesla must continue its differentiated
business strategy in order to continue as market leader. Maintaining the uniqueness of its
products for a premium niche segment often at premium prices will eliminate the
competition, which still tends to resemble traditional vehicles, whilst maintaining continued
demand.