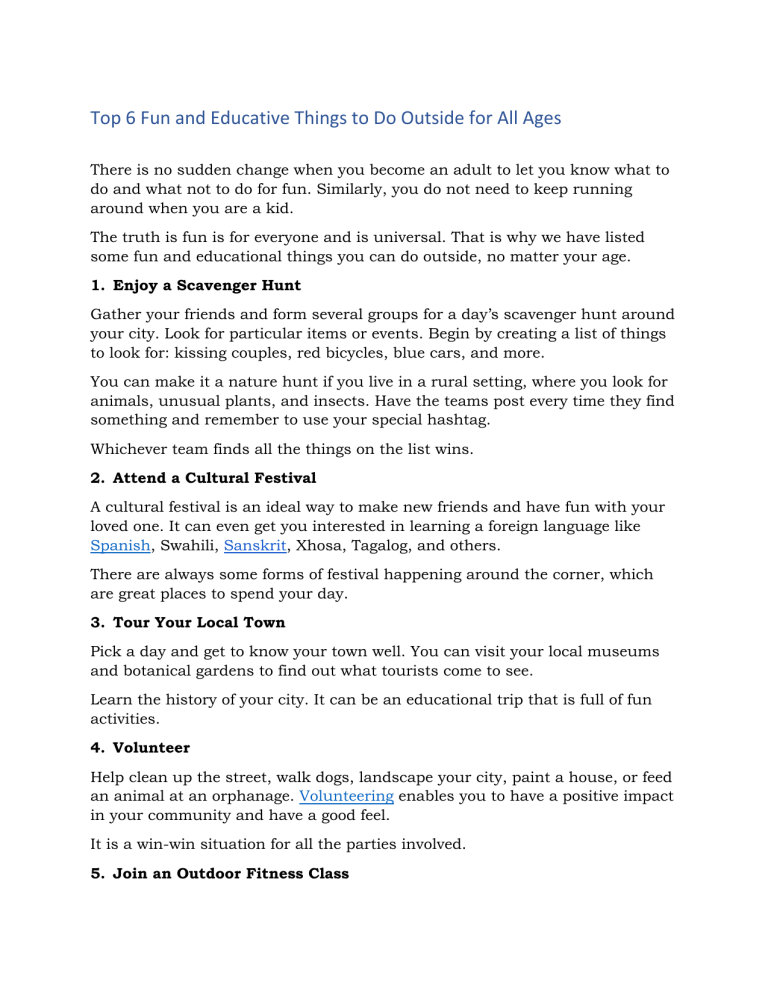 Top 6 Fun and Educative Things to Do Outside for All Ages
There is no sudden change when you become an adult to let you know what to
do and what not to do for fun. Similarly, you do not need to keep running
around when you are a kid.
The truth is fun is for everyone and is universal. That is why we have listed
some fun and educational things you can do outside, no matter your age.
1. Enjoy a Scavenger Hunt
Gather your friends and form several groups for a day's scavenger hunt around
your city. Look for particular items or events. Begin by creating a list of things
to look for: kissing couples, red bicycles, blue cars, and more.
You can make it a nature hunt if you live in a rural setting, where you look for
animals, unusual plants, and insects. Have the teams post every time they find
something and remember to use your special hashtag.
Whichever team finds all the things on the list wins.
2. Attend a Cultural Festival
A cultural festival is an ideal way to make new friends and have fun with your
loved one. It can even get you interested in learning a foreign language like
Spanish, Swahili, Sanskrit, Xhosa, Tagalog, and others.
There are always some forms of festival happening around the corner, which
are great places to spend your day.
3. Tour Your Local Town
Pick a day and get to know your town well. You can visit your local museums
and botanical gardens to find out what tourists come to see.
Learn the history of your city. It can be an educational trip that is full of fun
activities.
4. Volunteer
Help clean up the street, walk dogs, landscape your city, paint a house, or feed
an animal at an orphanage. Volunteering enables you to have a positive impact
in your community and have a good feel.
It is a win-win situation for all the parties involved.
5. Join an Outdoor Fitness Class
You can combine the benefits of having a fit body with the pleasure of being
outdoors. It may surprise you to find that there are dozens of cardio classes,
yoga, and dance classes in your neighborhood.
The best thing is all these classes accept people of all ages.
6. Have a Backyard BBQ
Skip the hotdogs and brats and fire up your grill for an evening BBQ. You can
build up the excitement by smoking some pork or brisket overnight.
Grab that lobster tail for a turf and surf evening. It feels good to eat some
smoked meat now and then. A BBQ can be a family affair or something you can
do with your best friends.
Conclusion
You now have an idea of the activities you can undertake to enjoy yourself no
matter your age. The above things are just some of the top ones.