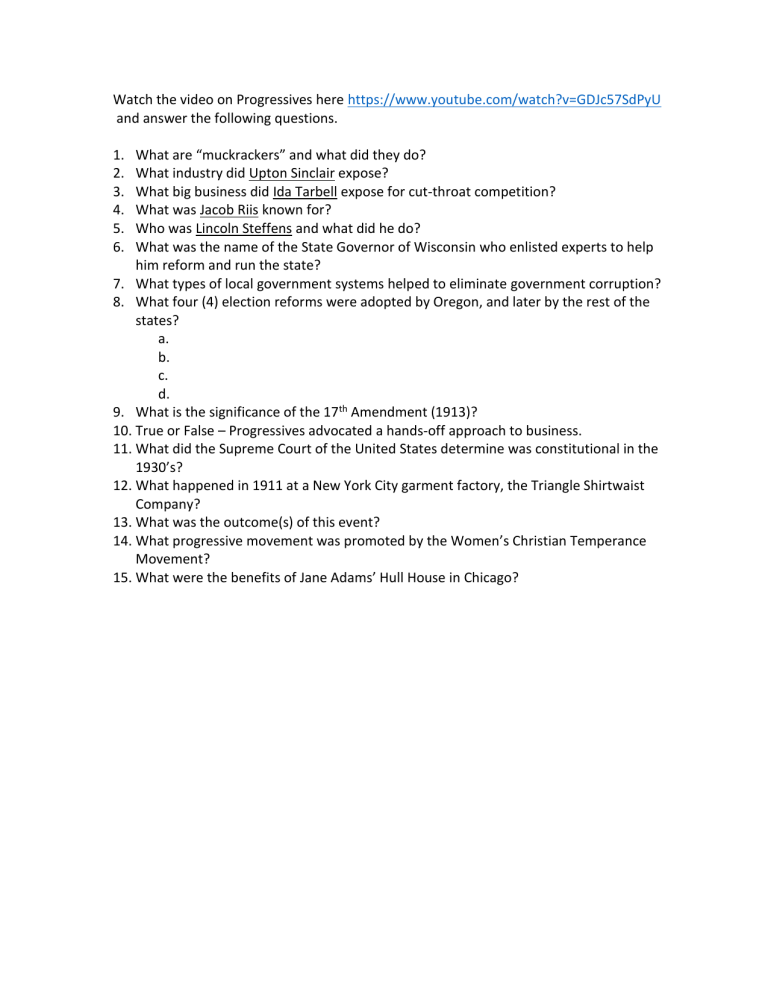 Watch the video on Progressives here https://www.youtube.com/watch?v=GDJc57SdPyU
and answer the following questions.
1.
2.
3.
4.
5.
6.
What are "muckrackers" and what did they do?
What industry did Upton Sinclair expose?
What big business did Ida Tarbell expose for cut-throat competition?
What was Jacob Riis known for?
Who was Lincoln Steffens and what did he do?
What was the name of the State Governor of Wisconsin who enlisted experts to help
him reform and run the state?
7. What types of local government systems helped to eliminate government corruption?
8. What four (4) election reforms were adopted by Oregon, and later by the rest of the
states?
a.
b.
c.
d.
9. What is the significance of the 17th Amendment (1913)?
10. True or False – Progressives advocated a hands-off approach to business.
11. What did the Supreme Court of the United States determine was constitutional in the
1930's?
12. What happened in 1911 at a New York City garment factory, the Triangle Shirtwaist
Company?
13. What was the outcome(s) of this event?
14. What progressive movement was promoted by the Women's Christian Temperance
Movement?
15. What were the benefits of Jane Adams' Hull House in Chicago?