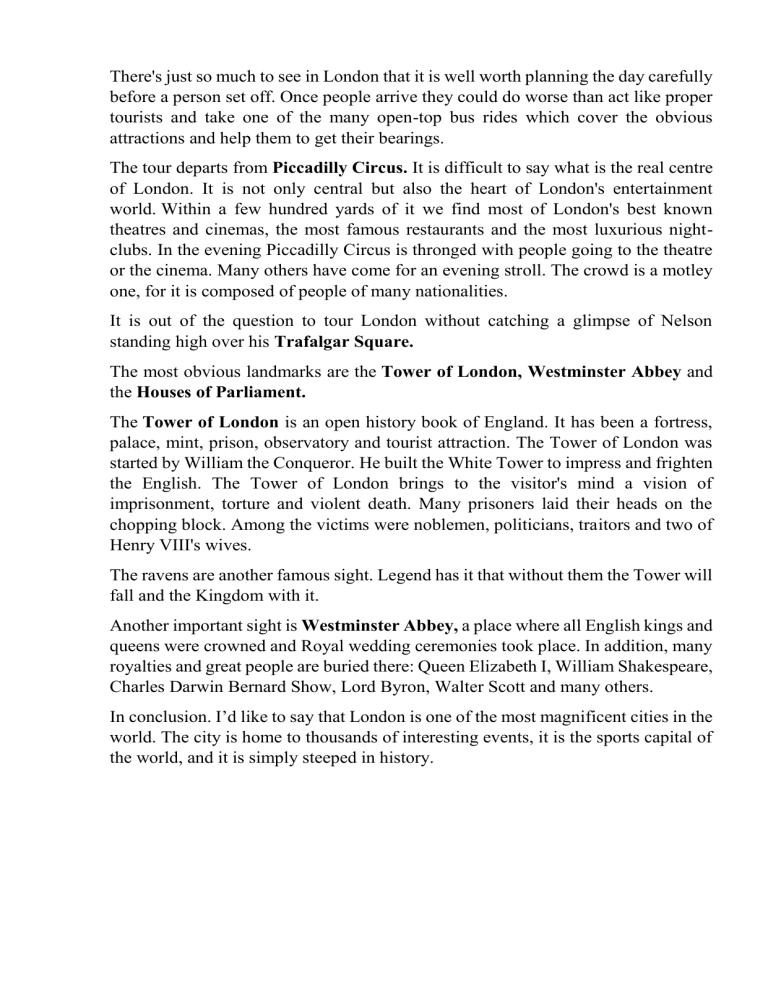 There's just so much to see in London that it is well worth planning the day carefully
before a person set off. Once people arrive they could do worse than act like proper
tourists and take one of the many open-top bus rides which cover the obvious
attractions and help them to get their bearings.
The tour departs from Piccadilly Circus. It is difficult to say what is the real centre
of London. It is not only central but also the heart of London's entertainment
world. Within a few hundred yards of it we find most of London's best known
theatres and cinemas, the most famous restaurants and the most luxurious nightclubs. In the evening Piccadilly Circus is thronged with people going to the theatre
or the cinema. Many others have come for an evening stroll. The crowd is a motley
one, for it is composed of people of many nationalities.
It is out of the question to tour London without catching a glimpse of Nelson
standing high over his Trafalgar Square.
The most obvious landmarks are the Tower of London, Westminster Abbey and
the Houses of Parliament.
The Tower of London is an open history book of England. It has been a fortress,
palace, mint, prison, observatory and tourist attraction. The Tower of London was
started by William the Conqueror. He built the White Tower to impress and frighten
the English. The Tower of London brings to the visitor's mind a vision of
imprisonment, torture and violent death. Many prisoners laid their heads on the
chopping block. Among the victims were noblemen, politicians, traitors and two of
Henry VIII's wives.
The ravens are another famous sight. Legend has it that without them the Tower will
fall and the Kingdom with it.
Another important sight is Westminster Abbey, a place where all English kings and
queens were crowned and Royal wedding ceremonies took place. In addition, many
royalties and great people are buried there: Queen Elizabeth I, William Shakespeare,
Charles Darwin Bernard Show, Lord Byron, Walter Scott and many others.
In conclusion. I'd like to say that London is one of the most magnificent cities in the
world. The city is home to thousands of interesting events, it is the sports capital of
the world, and it is simply steeped in history.