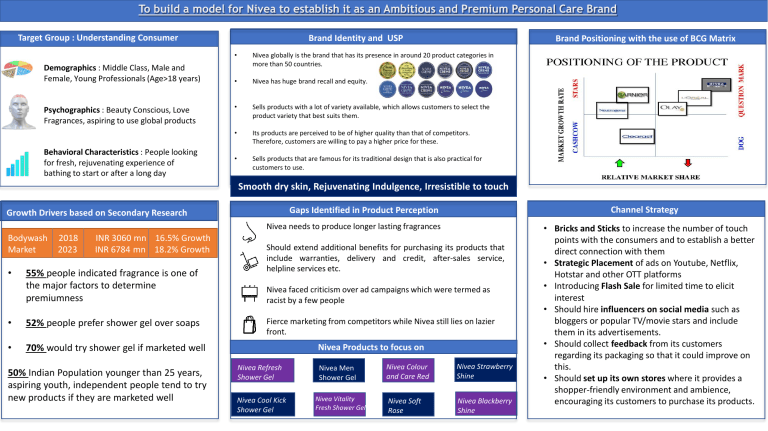 To build a model for Nivea to establish it as an Ambitious and Premium Personal Care Brand
Target Group : Understanding Consumer
Demographics : Middle Class, Male and
Female, Young Professionals (Age>18 years)
Psychographics : Beauty Conscious, Love
Fragrances, aspiring to use global products
Behavioral Characteristics : People looking
for fresh, rejuvenating experience of
bathing to start or after a long day
Brand Identity and USP
Brand Positioning with the use of BCG Matrix
•
Nivea globally is the brand that has its presence in around 20 product categories in
more than 50 countries.
•
Nivea has huge brand recall and equity.
•
Sells products with a lot of variety available, which allows customers to select the
product variety that best suits them.
•
Its products are perceived to be of higher quality than that of competitors.
Therefore, customers are willing to pay a higher price for these.
•
Sells products that are famous for its traditional design that is also practical for
customers to use.
Smooth dry skin, Rejuvenating Indulgence, Irresistible to touch
Channel Strategy
Gaps Identified in Product Perception
Growth Drivers based on Secondary Research
Nivea needs to produce longer lasting fragrances
Bodywash
Market
•
2018
2023
INR 3060 mn 16.5% Growth
INR 6784 mn 18.2% Growth
55% people indicated fragrance is one of
the major factors to determine
premiumness
•
52% people prefer shower gel over soaps
•
70% would try shower gel if marketed well
50% Indian Population younger than 25 years,
aspiring youth, independent people tend to try
new products if they are marketed well
Should extend additional benefits for purchasing its products that
include warranties, delivery and credit, after-sales service,
helpline services etc.
Nivea faced criticism over ad campaigns which were termed as
racist by a few people
Fierce marketing from competitors while Nivea still lies on lazier
front.
Nivea Products to focus on
Nivea Refresh
Shower Gel
Nivea Cool Kick
Shower Gel
Nivea Men
Shower Gel
Nivea Vitality
Fresh Shower Gel
Nivea Colour
and Care Red
Nivea Strawberry
Shine
Nivea Soft
Rose
Nivea Blackberry
Shine
• Bricks and Sticks to increase the number of touch
points with the consumers and to establish a better
direct connection with them
• Strategic Placement of ads on Youtube, Netflix,
Hotstar and other OTT platforms
• Introducing Flash Sale for limited time to elicit
interest
• Should hire influencers on social media such as
bloggers or popular TV/movie stars and include
them in its advertisements.
• Should collect feedback from its customers
regarding its packaging so that it could improve on
this.
• Should set up its own stores where it provides a
shopper-friendly environment and ambience,
encouraging its customers to purchase its products.