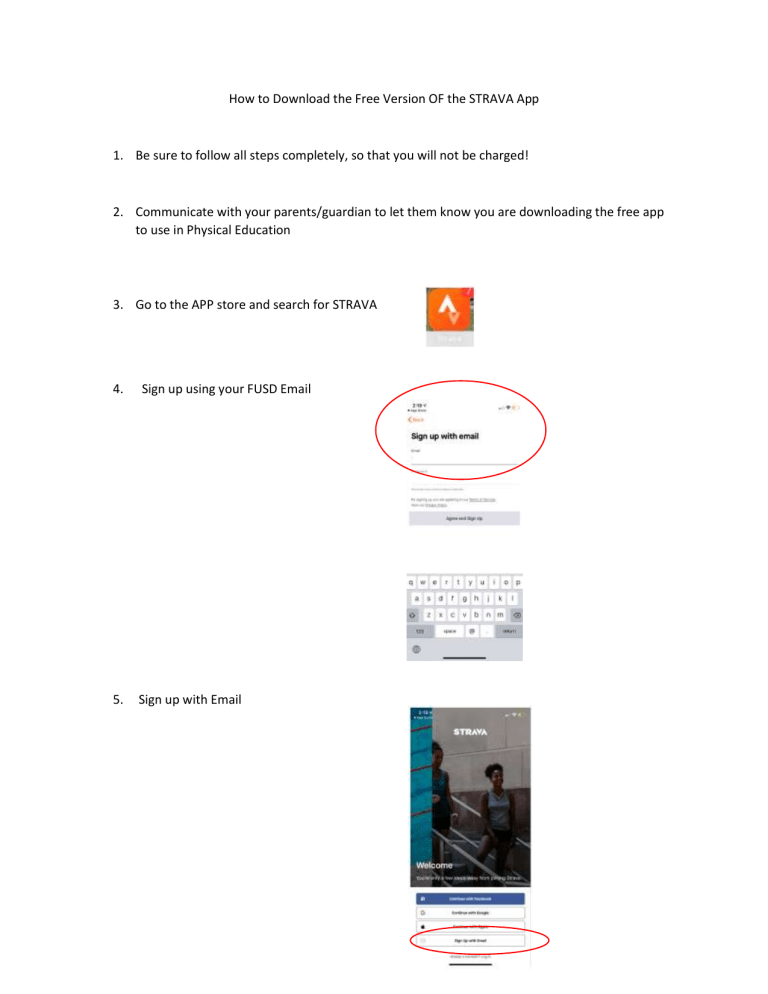 How to Download the Free Version OF the STRAVA App
1. Be sure to follow all steps completely, so that you will not be charged!
2. Communicate with your parents/guardian to let them know you are downloading the free app
to use in Physical Education
3. Go to the APP store and search for STRAVA
4.
Sign up using your FUSD Email
5.
Sign up with Email
6. Select Yes to allow STRAVA access to your
location
7. Be sure to select "ALLOW while Using App"
8.
Click skip
This will allow you to utilize the
"free" version of STRAVA. If you click
On any other option, you will be billed
9. Enter your FUSD Email and a Password,
Then click agree and sign up
10.
Answer the Questions and click continue
11. View the Community Standards
Then click "Let's Go"
12. Click on the icon above the START button
To view a list of activites
13. Click on the sport you will be participating in
14. Click Start when you are ready to begin
15. When you are finished, click finish.
16. You will want to save your activity
17. Check with your teacher to see how you are going to submit the activity. You will either screen
shot and upload the activity to your Virtual Log or submit through the club that your teacher has
assigned!
18. If you do not feel comfortable using this APP, please speak with your instructor about
alternative assignments!