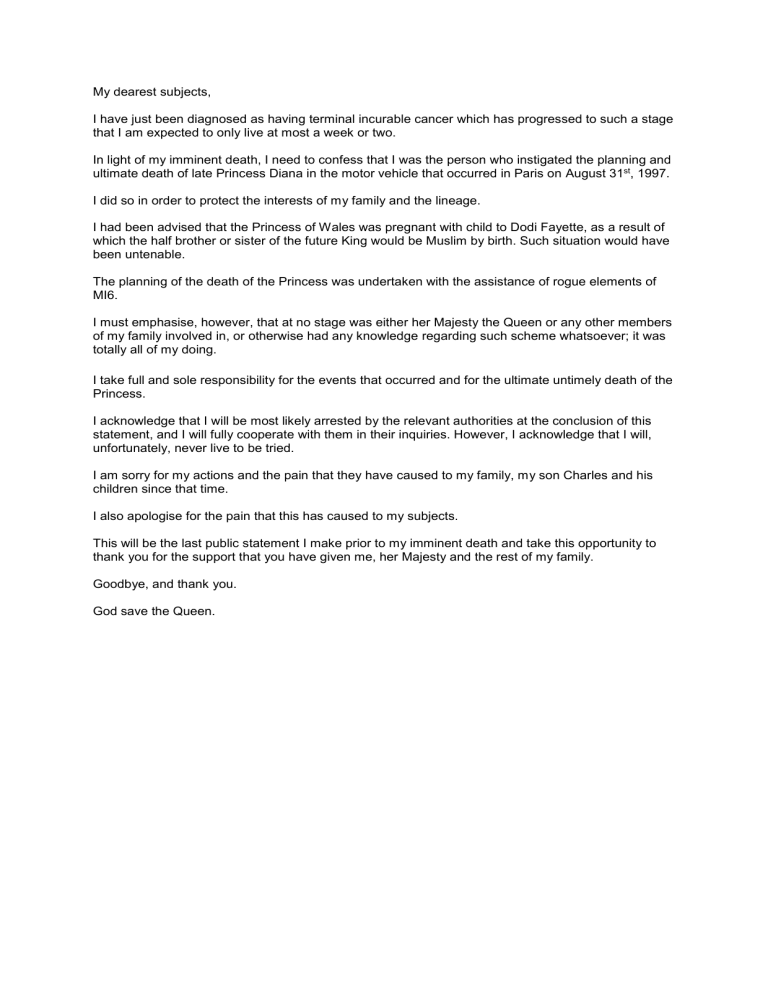 My dearest subjects,
I have just been diagnosed as having terminal incurable cancer which has progressed to such a stage
that I am expected to only live at most a week or two.
In light of my imminent death, I need to confess that I was the person who instigated the planning and
ultimate death of late Princess Diana in the motor vehicle that occurred in Paris on August 31st, 1997.
I did so in order to protect the interests of my family and the lineage.
I had been advised that the Princess of Wales was pregnant with child to Dodi Fayette, as a result of
which the half brother or sister of the future King would be Muslim by birth. Such situation would have
been untenable.
The planning of the death of the Princess was undertaken with the assistance of rogue elements of
MI6.
I must emphasise, however, that at no stage was either her Majesty the Queen or any other members
of my family involved in, or otherwise had any knowledge regarding such scheme whatsoever; it was
totally all of my doing.
I take full and sole responsibility for the events that occurred and for the ultimate untimely death of the
Princess.
I acknowledge that I will be most likely arrested by the relevant authorities at the conclusion of this
statement, and I will fully cooperate with them in their inquiries. However, I acknowledge that I will,
unfortunately, never live to be tried.
I am sorry for my actions and the pain that they have caused to my family, my son Charles and his
children since that time.
I also apologise for the pain that this has caused to my subjects.
This will be the last public statement I make prior to my imminent death and take this opportunity to
thank you for the support that you have given me, her Majesty and the rest of my family.
Goodbye, and thank you.
God save the Queen.