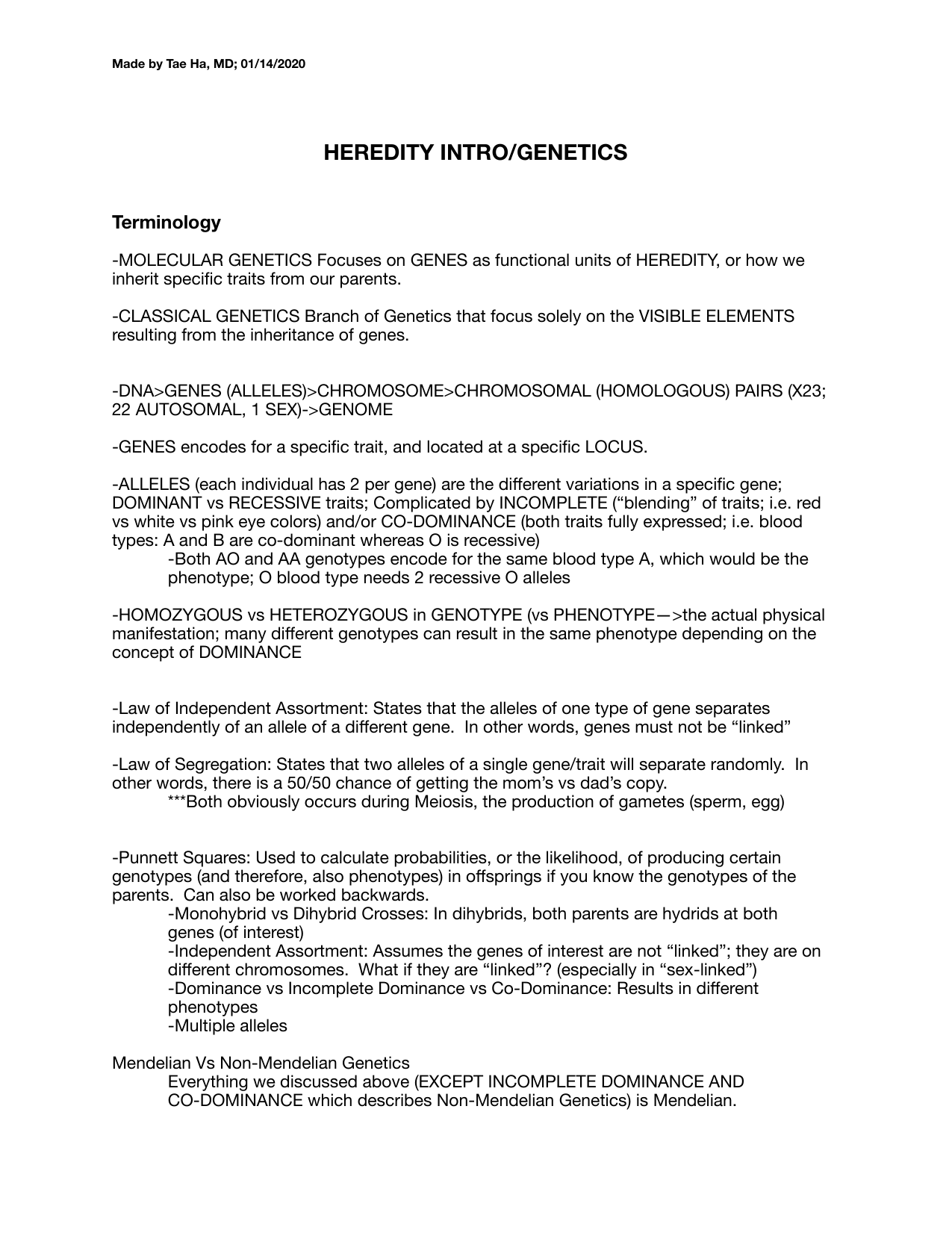 Made by Tae Ha, MD; 01/14/2020
HEREDITY INTRO/GENETICS
Terminology
-MOLECULAR GENETICS Focuses on GENES as functional units of HEREDITY, or how we
inherit specific traits from our parents.
-CLASSICAL GENETICS Branch of Genetics that focus solely on the VISIBLE ELEMENTS
resulting from the inheritance of genes.
-DNA>GENES (ALLELES)>CHROMOSOME>CHROMOSOMAL (HOMOLOGOUS) PAIRS (X23;
22 AUTOSOMAL, 1 SEX)->GENOME
-GENES encodes for a specific trait, and located at a specific LOCUS.
-ALLELES (each individual has 2 per gene) are the different variations in a specific gene;
DOMINANT vs RECESSIVE traits; Complicated by INCOMPLETE ("blending" of traits; i.e. red
vs white vs pink eye colors) and/or CO-DOMINANCE (both traits fully expressed; i.e. blood
types: A and B are co-dominant whereas O is recessive)
-Both AO and AA genotypes encode for the same blood type A, which would be the
phenotype; O blood type needs 2 recessive O alleles
-HOMOZYGOUS vs HETEROZYGOUS in GENOTYPE (vs PHENOTYPE—>the actual physical
manifestation; many different genotypes can result in the same phenotype depending on the
concept of DOMINANCE
-Law of Independent Assortment: States that the alleles of one type of gene separates
independently of an allele of a different gene. In other words, genes must not be "linked"
-Law of Segregation: States that two alleles of a single gene/trait will separate randomly. In
other words, there is a 50/50 chance of getting the mom's vs dad's copy.
***Both obviously occurs during Meiosis, the production of gametes (sperm, egg)
-Punnett Squares: Used to calculate probabilities, or the likelihood, of producing certain
genotypes (and therefore, also phenotypes) in offsprings if you know the genotypes of the
parents. Can also be worked backwards.
-Monohybrid vs Dihybrid Crosses: In dihybrids, both parents are hydrids at both
genes (of interest)
-Independent Assortment: Assumes the genes of interest are not "linked"; they are on
different chromosomes. What if they are "linked"? (especially in "sex-linked")
-Dominance vs Incomplete Dominance vs Co-Dominance: Results in different
phenotypes
-Multiple alleles
Mendelian Vs Non-Mendelian Genetics
Everything we discussed above (EXCEPT INCOMPLETE DOMINANCE AND
CO-DOMINANCE which describes Non-Mendelian Genetics) is Mendelian.