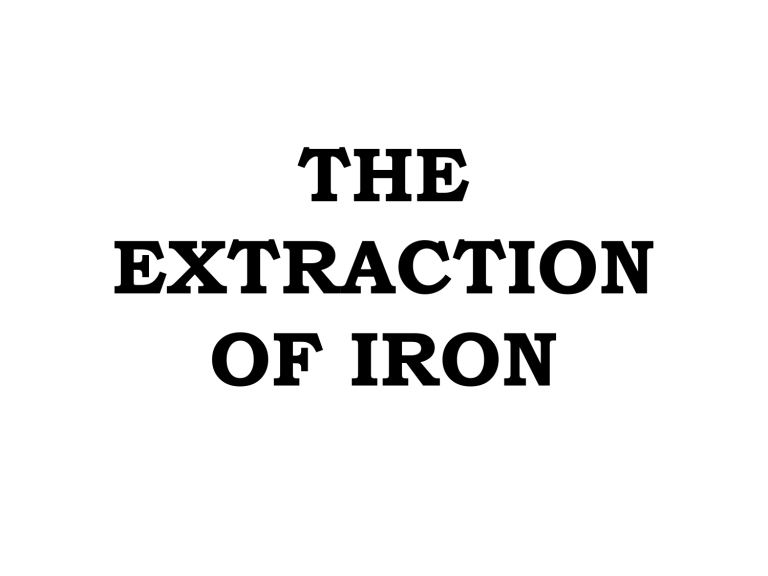 THE
EXTRACTION
OF IRON
• Three substances are needed to enable
to extraction of iron from its ore.
–Iron ore, haematite - often contains
sand with iron oxide, Fe2O3.
–Limestone (calcium carbonate).
–Coke - mainly carbon.
• The combined mixture is placed a
giant chimney called a blast furnace
• Hot air is blasted into the furnace
causing coke to burn rapidly and
o
raise the temperature to 2000 C.
– C + O2 → CO2
• The carbon dioxide then reacts with
hot carbon to form carbon
monoxide.
– CO2 + C → CO
• Carbon monoxide then reduces
iron(III) oxide to iron metal.
–3CO + Fe2O3 → 2Fe + 3CO2
• The molten iron is collected at the
bottom of the furnace.
• It is drained off periodically into
moulds and it allowed to cool.
• Limestone is calcium carbonate and
it is added to the blast furnace to
remove the impurities in the iron
ore.
• Calcium carbonate is decomposed
by heat in the furnace to give
calcium oxide and carbon dioxide.
– CaCO3 →
HEAT
CaO + CO2
• The main impurity is silica which is
silicon dioxide.
• Silicon dioxide is solid at the furnace
temperature and the furnace would
become blocked if it was not removed.
• Silicon dioxide reacts with calcium
oxide to form calcium silicate or slag
which is liquid.
– CaO + SiO2 → CaSiO3
• Slag flows to the bottom of the
furnace where it floats on the
liquid iron and is easily removed.
• The slag is allowed to cool until
becomes a solid and is used for
road construction.