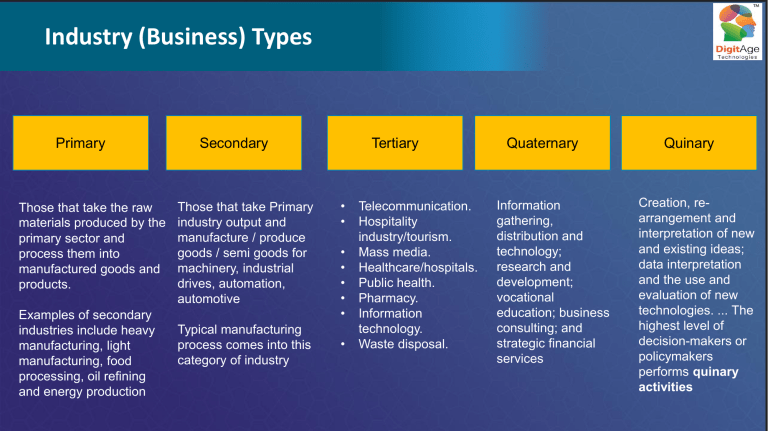 Industry (Business) Types
Primary
Those that take the raw
materials produced by the
primary sector and
process them into
manufactured goods and
products.
Examples of secondary
industries include heavy
manufacturing, light
manufacturing, food
processing, oil refining
and energy production
Secondary
Those that take Primary
industry output and
manufacture / produce
goods / semi goods for
machinery, industrial
drives, automation,
automotive
Typical manufacturing
process comes into this
category of industry
Tertiary
•
•
•
•
•
•
•
•
Telecommunication.
Hospitality
industry/tourism.
Mass media.
Healthcare/hospitals.
Public health.
Pharmacy.
Information
technology.
Waste disposal.
Quaternary
Information
gathering,
distribution and
technology;
research and
development;
vocational
education; business
consulting; and
strategic financial
services
Quinary
Creation, rearrangement and
interpretation of new
and existing ideas;
data interpretation
and the use and
evaluation of new
technologies. ... The
highest level of
decision-makers or
policymakers
performs quinary
activities
Business is all about integrating and maximizing resources
Material
Effort / Productivity
Money
Two thoughts, both are relevant across
Industry segments
Process, Risk, Value addition
1. Invest in people productivity (effort) and
maximize money
Maximize
2. Invest in money and maximize productivity
Measure
In the process, some one needs money
borrows (Investor) and and some one has
money lends (Invest).