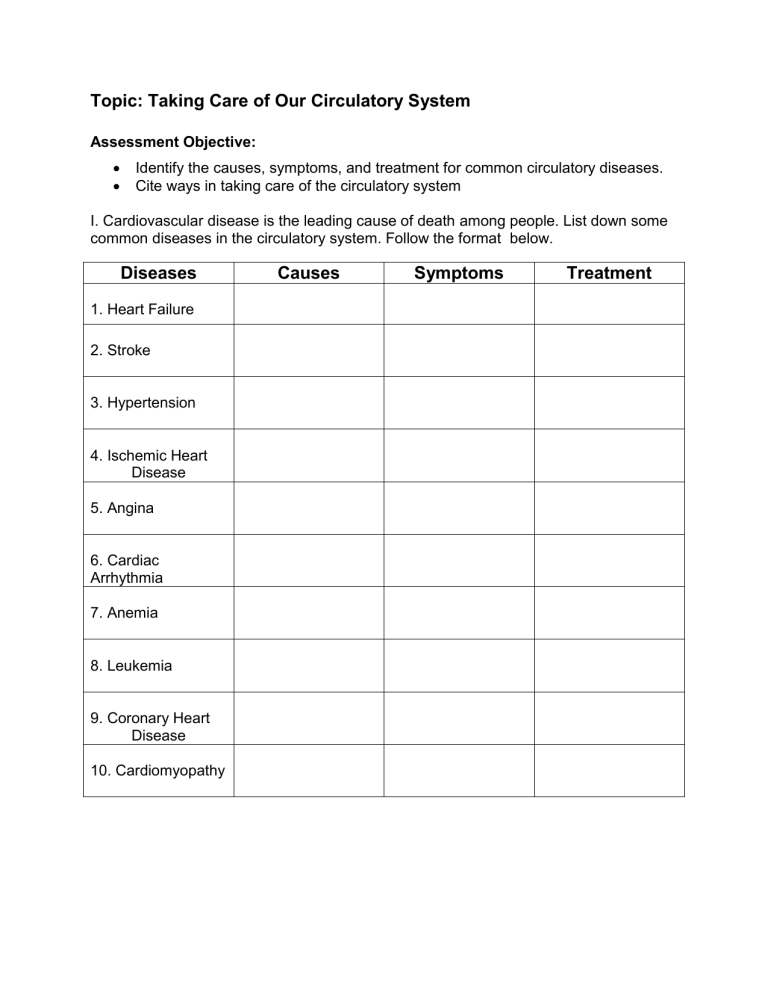 Topic: Taking Care of Our Circulatory System
Assessment Objective:


Identify the causes, symptoms, and treatment for common circulatory diseases.
Cite ways in taking care of the circulatory system
I. Cardiovascular disease is the leading cause of death among people. List down some
common diseases in the circulatory system. Follow the format below.
Diseases
1. Heart Failure
2. Stroke
3. Hypertension
4. Ischemic Heart
Disease
5. Angina
6. Cardiac
Arrhythmia
7. Anemia
8. Leukemia
9. Coronary Heart
Disease
10. Cardiomyopathy
Causes
Symptoms
Treatment
II. Bad genes, the food that we eat, and our daily lifestyle are some of the factors that
may cause problems in our circulatory system. Write at least 10 suggestions that
may help us to have a healthy circulatory system.
10
REFERENCES:
Rabago, L. M. (2014). Science and Technology 9. Quezon City: Vibal Publishing House, Inc.
Santos, G. N., Abistado, J. M., Valdoz, M. P., Aquino, M. D., & Bascara, M. A. (2014). RBS
Science and Technology Series Science Links 9 Teacher's Resource Manual. Manila: REX
Bookstore, Inc.