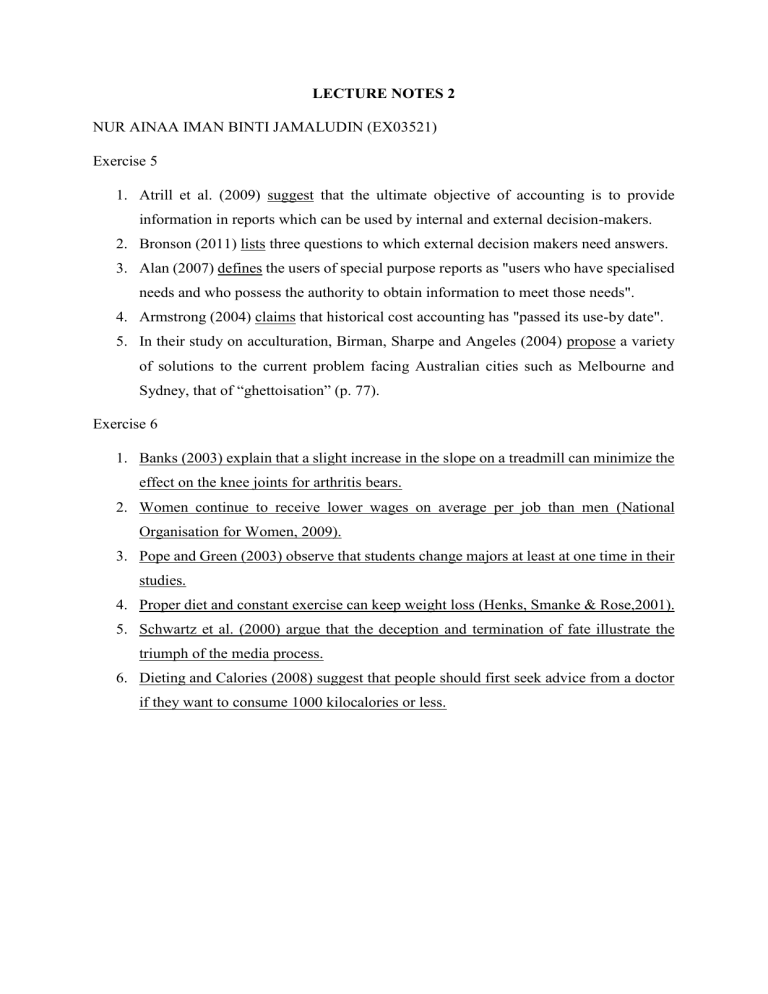 LECTURE NOTES 2
NUR AINAA IMAN BINTI JAMALUDIN (EX03521)
Exercise 5
1. Atrill et al. (2009) suggest that the ultimate objective of accounting is to provide
information in reports which can be used by internal and external decision-makers.
2. Bronson (2011) lists three questions to which external decision makers need answers.
3. Alan (2007) defines the users of special purpose reports as "users who have specialised
needs and who possess the authority to obtain information to meet those needs".
4. Armstrong (2004) claims that historical cost accounting has "passed its use-by date".
5. In their study on acculturation, Birman, Sharpe and Angeles (2004) propose a variety
of solutions to the current problem facing Australian cities such as Melbourne and
Sydney, that of "ghettoisation" (p. 77).
Exercise 6
1. Banks (2003) explain that a slight increase in the slope on a treadmill can minimize the
effect on the knee joints for arthritis bears.
2. Women continue to receive lower wages on average per job than men (National
Organisation for Women, 2009).
3. Pope and Green (2003) observe that students change majors at least at one time in their
studies.
4. Proper diet and constant exercise can keep weight loss (Henks, Smanke & Rose,2001).
5. Schwartz et al. (2000) argue that the deception and termination of fate illustrate the
triumph of the media process.
6. Dieting and Calories (2008) suggest that people should first seek advice from a doctor
if they want to consume 1000 kilocalories or less.