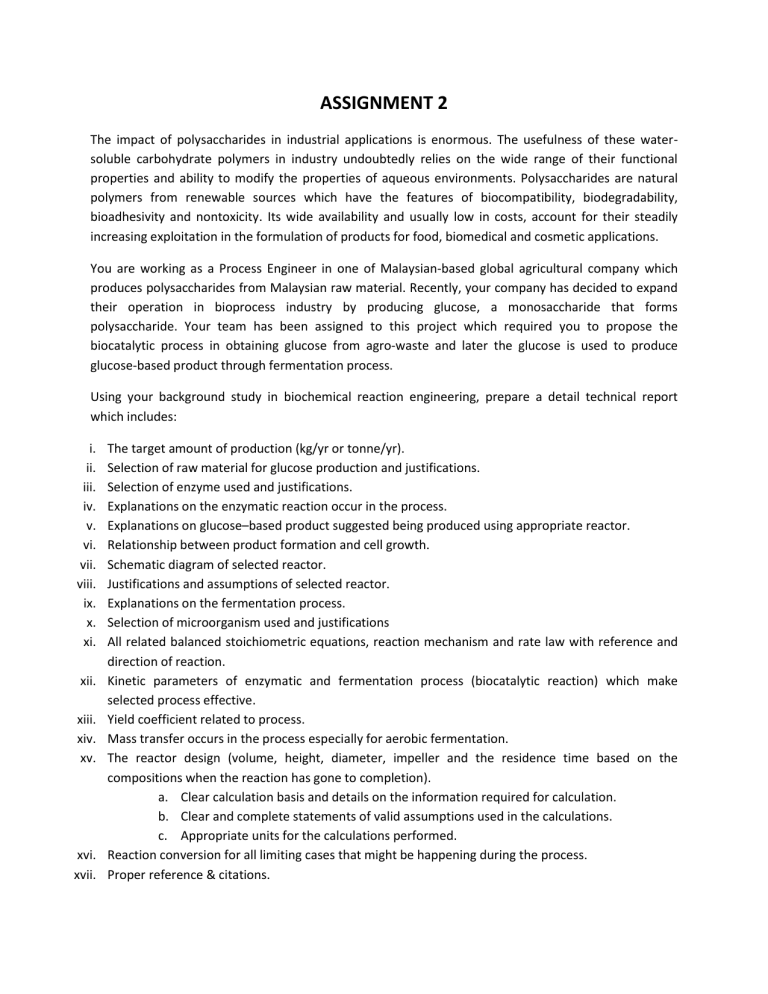 ASSIGNMENT 2
The impact of polysaccharides in industrial applications is enormous. The usefulness of these watersoluble carbohydrate polymers in industry undoubtedly relies on the wide range of their functional
properties and ability to modify the properties of aqueous environments. Polysaccharides are natural
polymers from renewable sources which have the features of biocompatibility, biodegradability,
bioadhesivity and nontoxicity. Its wide availability and usually low in costs, account for their steadily
increasing exploitation in the formulation of products for food, biomedical and cosmetic applications.
You are working as a Process Engineer in one of Malaysian-based global agricultural company which
produces polysaccharides from Malaysian raw material. Recently, your company has decided to expand
their operation in bioprocess industry by producing glucose, a monosaccharide that forms
polysaccharide. Your team has been assigned to this project which required you to propose the
biocatalytic process in obtaining glucose from agro-waste and later the glucose is used to produce
glucose-based product through fermentation process.
Using your background study in biochemical reaction engineering, prepare a detail technical report
which includes:
i.
ii.
iii.
iv.
v.
vi.
vii.
viii.
ix.
x.
xi.
xii.
xiii.
xiv.
xv.
xvi.
xvii.
The target amount of production (kg/yr or tonne/yr).
Selection of raw material for glucose production and justifications.
Selection of enzyme used and justifications.
Explanations on the enzymatic reaction occur in the process.
Explanations on glucose–based product suggested being produced using appropriate reactor.
Relationship between product formation and cell growth.
Schematic diagram of selected reactor.
Justifications and assumptions of selected reactor.
Explanations on the fermentation process.
Selection of microorganism used and justifications
All related balanced stoichiometric equations, reaction mechanism and rate law with reference and
direction of reaction.
Kinetic parameters of enzymatic and fermentation process (biocatalytic reaction) which make
selected process effective.
Yield coefficient related to process.
Mass transfer occurs in the process especially for aerobic fermentation.
The reactor design (volume, height, diameter, impeller and the residence time based on the
compositions when the reaction has gone to completion).
a. Clear calculation basis and details on the information required for calculation.
b. Clear and complete statements of valid assumptions used in the calculations.
c. Appropriate units for the calculations performed.
Reaction conversion for all limiting cases that might be happening during the process.
Proper reference & citations.
Hand over your proposal to the Operation Manager in a well-organized technical report. There will a
meeting on 10 July 2020. Therefore, you are given 7 working days to prepare this report starting from 1
July 2020 until 9 July 2020 (11.59 p.m). Failure to submit the report on time will affect your salary and
annual performance.
ALL THE BEST!