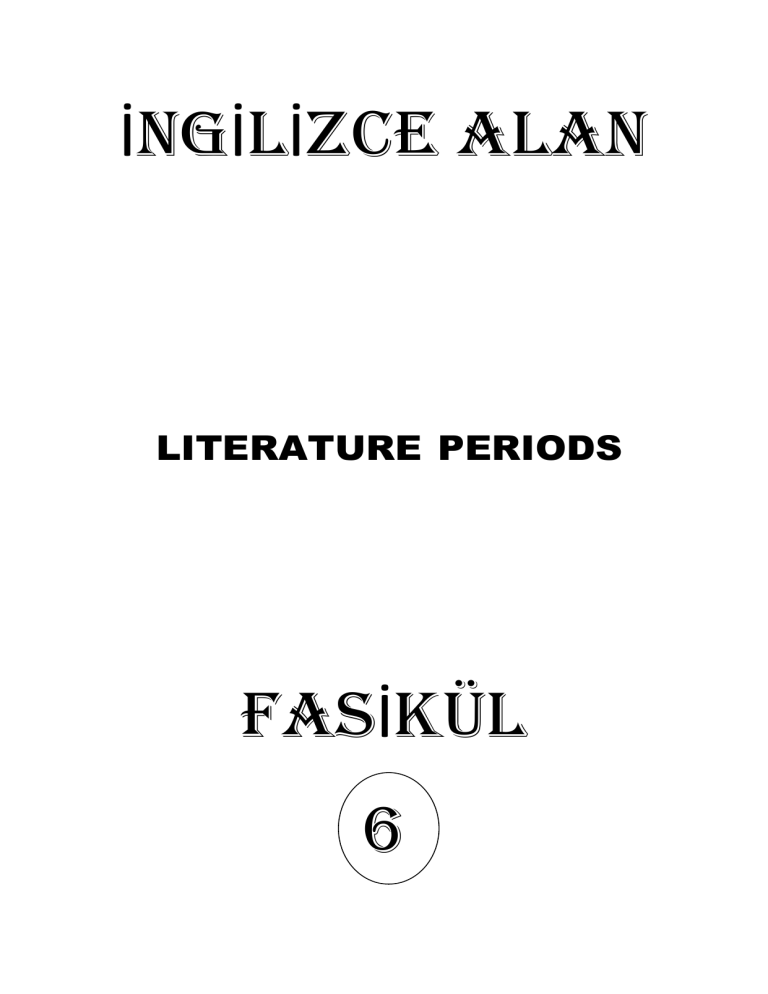 İNGİLİZCE ALAN
LITERATURE PERIODS
FASİKÜL
6
ENGLISH LITERATURE
1. ANGLO-SAXON PERIOD (OLD ENGLISH LANGUAGE and LITERATURE)
2. THE MEDIEVAL PERIOD
3. RENAISSANCE PERIOD
a) THE ELIZABETHAN AGE
b) THE JACOBEAN ERA
4. THE RESTORATION AGE
5. THE AUGUSTAN AGE
6. THE ROMANTIC PERIOD
7. THE VICTORIAN AGE
8. 20TH CENTURY LITERATURE
1. ANGLO-SAXON PERIOD (OLD ENGLISH LANGUAGE and LITERATURE)
Old English had been spoken from 450 to 1150. It had a complex grammar with a system of word endings to indicate words
relationships. The words of Old English were small and resistant to change unlike modern English and it had not yet been
influenced by French and Latin.
 The oldest surviving English text is Caedmon's Hymn of Creation
Old English Literature, it means mostly poetry(dominated by poetry). This period has 2 different styles of poetry (the heroic
Germanic poetry, the Christian-religious poetry).
Riddle
Elegiac Poems
Religious Poems
Heroic Poems
-were written in Latin
-Most of the poems are concerned with heroic
-represents sad
-is a joke or
by the monks or
battle feats whereas some are lyrical (about the
feelings about someone
puzzle in which
churchman.
history of Germanic tribes).
who has died or
you ask a
-focus on religious
the most famous heroic poem of this period is
something that no
question that is
events or figures such deliberately
BEOWULF.
longer exists.
as Jesus the Christ or very confusing
-It contains supernatural elements, historical facts
-tell of the sadness of
and hints of Christianity and Anglo-Saxon values.
exile or separation from saints' lives.
and has a
-the greatest Old English poem is BEOWULF.
one's lord or community. e.g. ecclesiastical
humorous or
history of English
-it is the first English epic.
e.g. the wanderer, the
clever answer.
people(VENERABLE
-author is unknown.
seafarer, deor's lament
BEDE)
Old English Prose consists of sermons and translations of religious works that were composed in Latin. The Anglo-Saxon
Chronicle is an example for prose genre.
CHARACTERISTICS OF OLD ENGLISH LITERATURE
 The lines do not rhyme. Anglo-Saxon poetry is like blank verse.
 The rhythm of a line depends on the number of beats or accented syllables. Each line has four beats.
 Each line has pause called caesura after the second beat.
 Alliteration is an important factor. Alliteration is the use of several words together that begin with the same sound or
letter in order to make a special effect.
 Kenning is an important characteristic. Kennings are elaborate and indirect ways of naming persons, places, things,
events.
2. THE MEDIEVAL PERIOD
In the 13th and 14th centuries, the most popular literary works for the anti-aristocratic audiences were medieval romances, in
which the heroic knights behaved.
Medieval Romances consisted of tales of chivalry (to which were added a love interest to please the ladies and all sorts of
wonders and marvels were commonly used such as giants, wizards, fairies.
CHARACTERISTICS OF MEDIEVAL ROMANCE
 usually idealizes chivalry
 idealizes the hero knight and his noble deeds – the knight's love for his lady
 imaginary and vague settings
 derives mystery and suspense from supernatural elements
 concealed or disguised identity
Drama in medieval age
-plays were presented in the church.
-the actors were priests.
-the plays were about religious events.
Mystery Plays
-based on Biblical stories Miracle Plays
-a story from the Bible or the life of a saint
Morality Plays
-were dramatized allegories of a representative Christian
life in the plot form of a quest for salvation, in which the
crucial events are temptations, sinning and the climatic
confrontation with death.(the best known morality play is
the 15th century EVERYMAN)
e.g. the castle of perseverance, mankind
Middle English
Lyrics and Ballads
-Lyrics are short
melodic poems and
they express
intense personal
emotion.
-Ballads are poems
that tell stories
that have folk
origin.
-Both of them
were written to be
sung.
Middle
English
period was
represented
by a major
authorGEOFFREY
CHAUCER

Chaucer and his works
-known as the father of
English literature
-the greatest English
poet of the mediaeval
times
-his masterpiece
CANTERBURY TALES is a
collection tales told by
pilgrims. These tales are
not written in prose but
in poetry.
-he uses irony very
effectively.
3. RENAISSANCE LITERATURE
New forms are used such as sonnet. Classical comedy and tragedy characteristics affected the English drama. Grate writers
such as Shakespeare combined classical conventions of both comedy and tragedy with their owns, as result they developed their
own rules and patterns.
Poetry in Renaissance
Prose in Renaissance
SIR THOMAS MORE: Utopia, tells of an ideal state
SIR THOMAS WYATT and
SIR PHILIP SIDNEY: the Countess of Pembroke's Arcadia(pastoral prose romance),
HENRY HOWARD wrote lyric
Pilgrim's Progress
poetry.
SIR WALTER RALEIGH: A Report of the Truth of the Fight about the Isles of Acores
They used Italian poetry style
(historical)
sonnet.
a) THE ELIZABETHAN AGE
Edmund Spenser
His poetry
continues in the
allegorical verse
tradition of the
Middle age.
THE FAERIE
QUEENE
John Milton and his works
His writings combine the
restless intellectual spirit of
the earlier period with the
later emphasis on religion and
politics.
AREOPAGITICA, OF
EDUCATION, PARADISE
LOST
Drama in Renaissance
-divided into 2 sections pre-Shakespearean and Shakespearean
drama.
Pre-Shakespearean Drama
Miracle and morality plays are continued to be performed.
Academic Drama-were performed in schools by sts
Court Drama-were performed at court on festival days
Interludes-although they were didactic, they were more comic and
realistic and the heroes more individualized.
 SHAKESPEARE as a POET
Shakespeare is a playwright and poet of the Elizabethan Age. During 1590s, he wrote sonnets that were published as a
sequence in 1609 and are considered his finest work except for dramas. He wrote 154 sonnets. Shakespearean rhyme scheme is
different from traditional Italian sonnet rhyme. Hİs rhyme scheme is abab – cdcd – efef- gg.
List of Shakespeare's Plays
Tragedies
Comedies
Histories
Antony and Cleopatra
*Hamlet
The problem
The Romances
The Romantic Comedies
Coriolanus
*Macbeth
comedies
-Cymbeline
-The taming of the shrew
Julius Caesar
*Othello
-Troilus and Cressida
-The winter's
-Love's labour's lost
King John
*King Lear
-All's well that ends
tale
-A midsummer night's dream
Richard II
-Romeo and
-The tempest(his well
-Much ado about nothing
Richard
III
Juliet
-Measure for measure
last play)
-The merchant of Venice
Pericles
-Fall of
-As you like it
Henry IV(part1, 2)
princes
-Twelfth night
Henry V
-Comedy of errors
Henry VI(part1,2,3)
-Merry wives of Windsor
Henry VIII
-Two gentleman of Verona
EXPOSITION 
Things go wrong
in some way
The General Structure of Drama
COMPLICATION

RESOLUTION
disorder and confusion,
problems are resolved, order reestablished
life is turned upside down
and things end happily
The Clear Structural Pattern of Drama
EXPOSITION  DRAMATIC INCITEMENT  COMPLICATION  CRISIS  RESOLUTION
The Pattern of Shakespeare's Plays
Chaos ensues.
Climax.
Introduction Problem(s) emerge and/or
More chaos and
confusion occurs. Chain of
to
confusion.
Chain of events
In a tragedy, leading to the
events started. 
characters
More events leading
continues. 
death of one or more
to: 
characters. Reestablishment
of order.
The General Pattern of the Romance Plays (Shakespeare's)
PROSPERITY  DESTRUCTION  RECREATION
Shakespeare's History Plays cover the reigns of earlier English kings and deal with the nature of kingship and the qualities of
good king.
Shakespeare's Comedies and Romances include masque fantasies, romantic comedy, farces and problem comedies.
CHARACTERISTICS of SHAKESPEAREAN COMEDY
 Fine and artistic blend of romance and realism. Related to real life.
 Romantic
 Settings are imaginative
 It is a comedy of love which ends with marriage. Wooing distinguishes it from classical comedy. It ends with the
celebrations of many marriages
 The use of dramatic device of disguise is common
 Humor is the soul of it. Full of song and music.
 Comic and tragic elements are combined.
 Role of fortune is important. All the difficulties and complications are unexpectedly removed by the power of fortune.
SAHAKESPEARE'S TRAGEDIES
Middle Tragedies
Early Tragedies
The Four Great
Later
Differ in style and tone
Tragedies
Tragedies
Similar in depicting a world full of inscrutable
- Titus Andronicus
-Hamlet
- Antony and
and interesting evil, presented objectively, not
- Romeo and Juliet
-Othello
Cleopatra
subjectively
- Julius Caesar
-King Lear
- Othello – Macbeth - King Lear
- Hamlet
-Macbeth
CHARACTERISTICS of SHAKESPEAREAN TRAGEDY
 The story of a person, the hero or the protagonist. His fate affects the fate of a whole nation or empire.
 The hero is an exceptional person. The tragic heroes are exceptional beings (there is a marked one-sidedness, a
predisposition in one particular direction or an obsessiveness of thought or action TRAGIC FLAW)
 Fate or destiny places the protagonist in difficult situations with which he is incapable of dealing.
 Some abnormal conditions of mind (hallucinations) affect human deeds (in Hamlet and Macbeth).
 The supernatural agency plays a vital role.
 Conflict is an important element.
 It is cathartic.
 It is true to life.
 It is not depressing. Man's destiny is determined by his own character. He is an architect of his own fate.
 It ends with the restoration of the power of the good.
OTHER ELIZABETHAN PLAYWRIGHTS
MARLOWE, who made blank verse an instrument of eloquence and grandeur in his tragedies.  TAMBURLAINE
BEN JOHNSON, the master of classical satiric comedy.
THOMAS HEYWOOD
b) THE JACOBEAN ERA
The Cavalier Poets-tribe of Ben
Their lyrics r characterized by
symmetry of form, sensuousness
and playful tone.
Ignored the sonnet form, instead
short lines, idiomatic diction, and
urbane wit.
John Donne And Metaphysical Poetry
-synthesized passion and intellect to
show feeling and learning.
-religion and romantic love
-the most distinctive features of this
are wit and metaphysical
concepts(unusual simile and metaphors)
-his religious poems are full of
paradoxes and ambiguities.
-philosophy, astronomy, geography
Andrew Marvell
-metaphysical poet
-he wrote prose
satires criticizing
the monarchy and
Catholicism.
-To His Coy
Mistress-his most
famous poem- is
carpe diem poem.
Philosophy in Literature
Philosophy was a type of
literature.
-Francis Bacon is the
most famous
philosophical writer.
-he is the creator of
Empiricism.
4. THE RESTORATION AGE (age of DRYDEN)
Literary Characteristics of
Restoration age
-breaking off ties with Renaissance
literature.
-Neo-classicism imitating the great
authors of antiquity as a matter of
aesthetic principle.
-writer, poets, playwrights turned to
the ancient writers for guidance.
-correctness and appropriateness were
valued
-creativity and freedom were
underestimated.
-rules became more important than
what was said how it was said in a
literary work.
Poetry of Restoration Age
-formal, intellectual,
realistic
-its form is more important
than its subject matter.
John DRYDEN
-he was the first of the
new.(ALL FOR LOVE)
-he wrote heroic plays and
tragedies, literary
criticism, satiric poetry
and occasional poems
written to commemorate
important event.
e.g. Absalom and
Achitophel,
Medal, Mac Flecknoe
Restoration Comedy
-a new type of
playcomedy of manners
-these comedies expressed
a reaction to Puritanism
and the sexual repression
it had attempted to
enforce.
-fashionable intrigues, sex,
marriage and adultery were
with cynicism, worldly wit
and a sense of the comedy
of life.
Heroic Play
-aim was to celebrate
love and valour.
Restoration Tragedies
-more realistic in style,
more naturally poetic in
the blank verse meter
and more integrated in
plot as they followed
the dramatic unities of
time, place and action.
5. THE AUGUSTAN AGE (the Age of Pope)
The evolution of prose style during the 18th century.
Alexander Pope
Henry Fielding
Richardson and
Daniel Defoe and
Jonathan Swift
Joseph Addison –
-he wrote
a new direction
the Birth of Novel
and Satire
-He is the
Richard Steele
SHAMELA as a
to Novel
-18th century, novel
-satirethe
representative
-prose began to
reaction to
-Defoe's novels
literary art of
poet of the
excel poetry in
emerged as a form
Richardson's
lacked plot.
diminishing a
Augustan Age
quantity and
with tight structure
Pamela.
-The first novel
-he used heroic
quality in the early subject by making
and interplay
-SHAMELA
to be guided
it ridiculous and
couplet rather
18th century.
between individuals
satirizes
throughout by a
than liberating
-THE SPECTATOR evoking toward it
and their
sentimental and
single motif
attitudes of
poetic forms.
-THE TATTLER
relationships in
virtue-valued
(love) was
amusement,
-Pope's literary
society.
PAMELA written nature of Pamela.
contempt, scorn,
criticismAN
-Defoe wrote the
-Fielding's books
by Samuel
indignation.
ESSAY ON
first English Novel,
show a dislike of
Richardson.
-Swift is the
CRITICISM
Robinson Crusoe.
foremost prose
-Pope's
-Defoe's method was -He wrote all his high society.
-Satire dominates
works in
satirist of English
philosophical poem
journalistic, his
most of his works.
epistolary form.
literature.
ESSAY ON
narratives are
-Epistolary novel e.g. TOM JONES,
-GULLIVER'S
MAN
fictional
JOSEPH
the narrative
TRAVELS is his
-Pope's satire
autobiographies.
ANDREWS
is conveyed by
most universal
THE RAPE OF
-Robinson Crusoe is
an exchange of
satire.
THE LOCK (is an
a fictional
epic, comic poem)
autobiographic novel letters (writing
to the moment).
that includes
didactic purposes.
-Moll Flanders
(Defoe's novel) is a
fictional picaresque
novel including
didactic purposes.
The First novel in the history of the World is DON QUIXOTE written by CERVANTES and was not written in English.
DRAMA OF THE AUGUSTAN AGE
The early 18th century drama was sentimental. The plays were called "WEEPING COMEDY". The plays of this period included
both laughter and sadness.
6. THE ROMANTIC PERIOD
 The senseless, soulless, formal and rule-maniac nature of the Augustan Age is one of the reasons triggered the Romanticism.
 Romanticism: favoring the indefinite and the boundless. It may be regarded as the triumph of the values of imaginative
spontaneity, visionary originality, wonder and emotional self-expression over the classical standards of balance, order,
restraint, proportion and objectivity. The literary form in which desires and dreams prevail over everyday realities.
 References to nature and natural objects, intimate self-revelation of the poet and direct expression of emotions are usually
regarded as the general features of this period.
 Romantics took the nationalistic direction followed by Romantic poets and composers in other countries, who rediscovered
and revalued great writers of the past such as Shakespeare and Milton who had been ignored during the Augustan Age.
 Romanticism is a movement that unleashed individualism and privileged the particular experience over the general rule. It is
usually taken to represent a second renaissance of literature in Britain, especially in lyric and narrative poetry, which displaced
the Augustan cultivation of satiric and didactic modes.
 In addition to novel and short-story, the Romantic Period was the great age of literary criticism and theory ( in the writings
of HAZLITT and COLERIDGE, in the major essays by WORDSWORTH and SHELLEY) (LORD BYRON)
Percy Bysshe Shelly John Keats
Samuel Taylor
William Wordsworth and his
William Blake
-Platonic idealism
Coleridge
revolutionary theory of poetry
-he was a mystic,
-He wrote personal
provides the
-He was an
-His theories changed the face
other-worldly
sonnets in some of
intellectual
innovative poet,
of poetry.
poet.
which he used narrative
background for many in Spenserian stanzas
writing strange
-A poet can heighten sensitivity
-He broke neoof his poems.
poems of the
through words, yet he should
classicism with his
with unusually delicate
-Themes of his
supernatural as
not elevate himself above his
simple but
and sensuous imagery.
poems are beauty,
well as personal
readers and should also "speak
psychological
-He used all his senses
the passions, nature, in his concrete imagery.
meditations called
lyrics of innocence as man speaking to men".
political liberty,
-He advocated poetry written in "conversation
and experience
He has the ability to
creativity,
poems".
the language really used by
-He continued in
lose his identity in
imagination.
-His poems were
simple rural people and dared to
the Romantic vein
contemplating the
e.g. Ozymandias,
quiet, descriptive
use subject matter that was
with his complex
external world. Beauty
Ode to the west
and personal.
common and considered
long poems,
overcomes every other
wind, To a skylark,
-Realistic imagery
unpoetical.
"prophetic works".
consideration in his
Music, When soft
of rural life
-His beliefpoetry is the
poetry.
voices die, The
e.g. BIOGRAPHIA
spontaneous overflow of
cloud, The masque of
LITERIA
powerful feelings that are
anarchy
recollected in tranquility.
e.g. LYRICAL BALLADS
PROSE in the ROMANTIC PERIOD
 Although poetry was the most important literary medium of the Romantic Period, an innovation in prose was significant. The
innovation was the personal essay. DEQUINNCEY, HAZLITT, LAMB abandoned the tradition of the formal essay for this more
impressionistic, less structured essay that disclosed more of the personality of the writer.
NOVEL in the ROMANTIC PERIOD
 There are four general categories of the Romantic Period novel.
History novels
The novel
The novel of manners
Gothic novel
of purpose
-It concerns the manners and customs of a specific social -SIR WALTER SCOTT wrote
e.g. DRACULA,
class.
FRANKENSTEIN
historical novels. The historical
-JANE AUSTIN was one of the greatest novelists of the period of his novels varied from
period.
Anglo-Saxon period to the late
e.g. Pride and Prejudice, Mansfield Park, Sense and
18th century.
Sensibility, Emma
-MARIA EDGEWORTH
7. THE VICTORIAN AGE
 Literature of this age tends to come closer to daily life which reflects its practical problems and interests.
 It is considered as an age of doubt due to the influence of science. Scientific changes contributed to the emergence of
science fiction novel (THE ISLAND OF DR. MONREAU, TIME MACHINE, DR. JEKYLLAND MR. HYDE, THE WAR OF THE
WORLDS).
 Though he age is characterized as practical and materialistic, most of the writers exalt a purely ideal life (IDEALISM). The
great ideals like truth, justice, love, brotherhood are emphasized by poets, essayists, novelists.
 The concept of the "white man's burden" was exalted in the works of colonial writers such as RUDYARD KIPLING. Many
literary works from this time period reflected feelings of national pride and imperialism (PATRIOTISM).
VICTORIAN PROSE
 Writers such as THOMAS CARLYLE, JOHN STUART MILL, and JOHN HENRY NEWMAN had one aim: to lead their readers
to superior viewpoints and improve their taste in art and literature. The notion of "art for art's sake" was abandoned in
Victorian literature.
 Victorian essayists were concerned with a criticism of society's morals, priorities and tastes. Carlyle emphasized the overall
decline of his age. Mill's more restrained autobiography and essays are classically liberal in philosophy whereas NEWMAN was
opposed to religious liberalism.
 Prose was more popular than poetry among Victorians. Essays were read by the middle class.
 There were three major critics in the period; MATTHEW ARNOLD, JOHN RUSKIN, WALTER PATER.
VICTORIAN NOVEL
 The Victorian's supreme literary achievement was the novel with no distinction being made between popular fiction and
literature.
CHARACTERISTICS OF THE VICTORIAN NOVEL
 Good characters are rewarded, bad ones punished.
 The adjustment of the individual to society is the major human problem resented, with a general acceptance of the
values of the middleclass.
 The major characters were recognizable Victorian types. The poor were usually treated patronizingly, the rich scorned
and envied.
 Human nature is considered basically good, the heroes and heroines are persons of virtue, even though sometimes weak.
Main types of the Victorian novel
Social Romances
Gothic Fiction
Historical
Social Novel
Bildungsroman novel
Wuthering Heights Cranford by
novels
David Copperfield by Vanity Fair by William Makepeace
by Emily Bronte
A Tale of Two
Thackeray and Mary Barton by Elizabeth
Elizabeth Gaskell
Charles Dickens and
Cities by
Gaskell
Barry Lyndon by
Charles
-criticizes defective points of the
William Makepeace
Dickens
Victorian Period, especially problems of
Thackeray
the working class.
The First Modern Novelists:
Charles Dickens
Thomas Hardy
-Oliver Twist and Pickwick
-with humor and folklore he often
George Elliot (Mary Ann Evans)
Papers(social criticism and
reveals his love, the natural world
-She is the earliest English novelist
humor)
with a massive intellect. She believed in detail and with strong symbols.
-Hard Times and Great
in discarding the old concepts of God, -his view of life is darkly cynical
Expectations(darker,
faith and immortality for a religion of and the novels generally end
indicting Victorian society in humanity. Realistic and naturalistic
tragically.
elements are common in her works.
general
e.g. Far from the Madding Crowd,
William Makepeace
The Mayor of Casterbridge, Tess
Anthony Trollope
Thackeray
of The D'Urbervilles
-his principal conflict in all his novels
-He wrote popular novels
e.g. The Trumpet Major and The
is the struggle to retain the old way
that contrasted human
Well-Beloved (romancesof life against forces within and
pretentions and human
fantasies)
outside the middle class.
weaknesses.
Novelists opposed to Victorianism: Samuel Butler (EREWHON), Lewis Carroll (ALICE'S ADVENTURES in WONDERLAND),
George Meredith.
The novels of
Brontes (3
sisters)
-Charlotte
BronteJane Eyre
and Villette
-Emily
BronteWuthering
Heights
-Anne
BronteAgnes
Gray (social
romances)
VICTORIAN DRAMA
OSCAR WILDE is the greatest playwright of the Victorian Age. He was the spokes for the Aesthetic Movement (art for art's
sake) with his brilliant wit and conscious posing. His best plays were comedies of manners that were closer to Restoration
comedies than to other Victorian plays. E.g. LADY WINDERMERE'S FAN, THE IMPORTANCE OF BEİNG EARNEST
VICTORIAN POETRY
 Most of the important poetry followed closely the style and content of the Romantic predecessors. The three major
Victorian poets Tennyson, Arnold, Browning came to grips with the religious anxiety and social change of the period.
Rossetti and Morris
Matthew Arnold
Elizabeth Browning
Alfred Lord Tennyson
-his poems show
-she wrote some of her works in Romantic
-the oracle of the
-Pre-Raphaelite
loneliness and a
style, yet AURORA LEIGH (her masterpiece)
Victorian Age
Brotherhood form:
desperate search
was written in "novel verse" style and contains
-the most popular poet
dedicated to carrying on a
for life's meaning
witty comments on the positions of women in
of the age
romantic revolt against
and purpose.
Victorian society.
-he was the un failing
academic painting and a
-he was the least
-AURORA LEIGH is an epic novel written in
voice of orthodox
return to the clarity,
popular of all three.
morality, a talented and blank verse and it consists of 9 books.
brightness and fidelity to
Robert Browning
romantic lyricist,
nature of the painting
-he wrote dramatic monologues, showing "action
dreamer and mystic.
before Raphael.
in character" rather than "character in action".
8. 20TH CENTURY LITERATURE
 Modern Literature: 20th century writers have been torn between expressing the era's new discoveries and insights and
expressing dissatisfaction with western civilization. Modern writers felt increasingly alienated from the public, and there was a
recurrence of ironic, esoteric and fiercely antagonistic works throughout the period.
20TH CENTURY FICTION
 Social Criticism in the Modern Novel: Some novelist condemned the class system. They satirized the materialistic
acquisitiveness of all classes in their works and deplored the terrible conditions of poverty. These novels appealed to middleclass readers.
George Herbart Wells is the foremost example of such novelists. He was the one of the most prolific English writers. He
embroidered social criticism elaborately into his science fiction as well as his novels of lower-middle class life. His bourgeois
novels are autobiographical and include comic and realistic elements. He also wrote scientific romances. THE TIME MACHINE
is social allegory with a society divided into classes. He wrote a feminist novel ANN VERONICA.
Joseph Conrad began writing novels with a cosmopolitan world view. His works are regarded as boldly experimental in form. He
avoided dealing with the conventional problems of other contemporary novel. His themes were universal. He wrote of honor,
guilt and moral ambiguity and alienation (e.g. LORD JIM). He scrutinized western politics and society and dealt with themes of
corruption and human loneliness as well as terrorism and anarchy (e.g. UNDER THE WESTERN EYES, THE SECRET AGENT). He
criticizes imperial states and their adverse effect on colonial states in his work especially in THE HEART OF DARKNESS.
James Joyce is a remarkable combination of realism and symbolism. Intense mythological and religious symbols, especially
Christian symbols, are quite common in his works. DUBLINERS, PORTRAIT OF AN ARTIST AS A YOUNG MAN, ULYSSES.
Virginia Woolf experimented with fiction that ignored plot and discarded conventional characterization. She attempted to
explore the inner complexities of experience and probe the intricacies of personal relationships. She used stream of
consciousness in most of her works (JACOP'S ROOM, MRS. DALLOWAY, and THE WAVES) as well as allegory (ORLANDO).
David Herbert Lawrence wrote autobiographical novels such as THE WHITE PEACOCK and SONS AND LOVERS, both of
which include poetical elements. He also wrote novels of emotional adjustment (THE RAINBOW, WOMEN IN LOVE) and
prophetic mysticism (THE PLUMED SERPENT, LADY CHATTERLEY'S LOVER) along with short stories.
Aldous Huxley was the wittiest commentator on foibles 20the century society. His most famous work A BRAVE NEW WORLD
combines satiric and dystopic elements and science fiction.
George Orwell/Eric Arthur Blair wrote several lightly regarded novels dealing with his frustrations in a world full of "man's
domination over man" (BURMESE DAYS, KEEP THE ASPIDISTRA FLYING, THE ROAD TO WIGAN PIER).
ANIMAL FARM, one of his major works, is a satire in fable form about Russian communism.
1984 is a dystopic novel of a future totalitarian state and one man's hopeless struggle against it.
He also wrote essay dealing with social problems (POLITICS AND ENGLISH LANGUAHE).
E. M. Forster satirized English travelers abroad and criticized the snobbery of the self-consciously cultured. A ROOM WITH
A VIEW is a comedy of manners, mildly satirizes some self-satisfied English tourists. His masterpiece is A PASSAGE TO
INDIA.
Graham Greene's novels depict a struggle for grace that frees men from bondage of sin especially in THE POWER AND THE
GLORY. His political novel THE QUIET AMERICAN involves spy fiction characteristics and criticizes American policy and
America's co-called effort to bring democracy in Vietnam which caused catastrophic result to Vietnam.
J. R. R. Tolkien became internationally appreciated as the author of books of fiction based on a mythology of his own language
and legends, which confronts its characters with many of the same problems of our modern era faces (THE HOBBIT).
THE LORD OF THE RINGS, his masterpiece, is a sequel and is mix of history, saga and poetry as well as philosophy, adventure
and sentiment. Though deriving from the traditional English novel, it is more like Nordic myth.
Saki's (Hector Hugh Munro) stories of bizarre humor, tinged with the macabre, satirized upper class conventionality and
stupidity. His wit is mostly reminiscent of Wilde. A favorite device is to use animals (wolves, tigers, bulls) as agents of revenge
upon humans.
Katherine Mansfield is the first short story writer in English to show the influence of Anton Chekhov. She was interested in
external world and moments of illumination when one learns something about life or selfhood. She contributed to the short
story genre by using stream of consciousness technique to follow the wanderings of the human mind.
20TH CENTURY POETRY
Thomas Hardy considered as a 19th century novelist and 20th century poet. Hardy greatly affected the course of 20th century
poetry especially with his dark themes of human alienation. In plainly stated lyrics and biting satires, Hardy conveyed both a
pessimistic view of the world and the belief that it could be made better. (HAP, THE DARKLINH THRUSH, THE
CONVERGENCE OF THE TWAIN are the most famous poems all of which reflects his pessimism.
Rupert C. Brook romanticized World War I, whereas A. E. Housman reflected his pessimism in his works. Wilfred Owen
expressed the prevailing post-war English sentiment; bitterness about slaughter, patriotism without sentimentality and courage
in a pointless, cruel world.
William Butler Yeats. His poetry falls into 3 distinctive periods. First, the aesthetic period refers to Yeats early poetry. He
influenced by the Pre-Raphaelites and the French Symbolists, and his main purpose were the creation and revelation of beauty.
The second one is the mask period. Yeats began writing terser, simpler poems about the realities of the Irish problems in this
period. The last period is the prophetic poetry. In his later years Yeats had a remarkable burst of creative energy that
resulted in his best poetry, which was complex yet realistic and humorous.
T.S. Eliot was the dominant proponent of "modernist" poetry, which he defined in THE SACRED WOOD. In his first period, he
produced poems that indicted modern culture and that combined the contemporary scene with subtle allusions from antiquity,
and employed ironic satire (THE LOVE SONG OF ALFRED PRUFROCK, THE WASTE LAND). In his second period, he declared
himself an Anglo-Catholic in religion, a classist in literature and a realist in politics (MURDER IN THE CATHAEDRAL, FOUR
QUARTETS).
Dylan Thomas reacted against the classicism of Auden with turbulent and surrealistic imagery. His poetry appealed to the
literati because of his surrealistic imagery, but a wide range of readers loved his wild intensity and the excitement generated
by his eloquence and energy.
W. H. Auden was one of the New Signature Poets. A group of important English poets in the 1930s were referred to as "New
Signatures poets". A prototype of left-wing intellectual, Auden wrote poems satirizing the middle-class failure to create an
ideal communist state.
Philip Larkin was the best known poets of the group "The Movement". A group of young poets influenced by Eliot and Auden.
Their poetry was characterized by a conversational style, allusions to everyday trivia, disillusionment with a seemingly mad
world and extensive self-scrutiny. Unlike The New Signature poets, they had no interest in politics. THE LESS DECEIVED is
the major example of the movement verse. In some of his works (THE WHITSUN WEDDINGS) Larkin satirized the
pointlessness of urban and suburban life.
20TH CENTURY DRAMA
 Drama in the modern era moves from the realism and naturalism to the theatre of the absurd and the experiment drama of
the contemporary stage. Social and political criticism is a major preoccupation throughout the period.
George Bernard Shaw advocated replacing light, artificial dramas with plays depicting social and moral problems in the mode of
Henrik Ibsen. As a free thinker, Shaw supported women's rights, equality of income, abolition of private property and a change
in the voting system. In his plays he sought to provoke his audiences intellectually by making them laugh. His early dramas
followed Ibsen in presenting social criticism in well-made plays but relied on Shaw's distinctive wit. (MRS. WARREN'S
PROFESSION, ARMS AND THE MAN, CANDIDA, MAN AND SUPERMAN, MAJOR BARBARA, PYGMALION)
John Synge (playwright) wrote on of the 20th century's great tragedies as well as one of its great comedies. In his best plays
Synge reflects the gullibility, superstition and brutality as well as innate charm of the Irish peasantry. His language enriched
with rhythms and diction of peasant speech.
Sean O'Casey was rated by some critics as second only to Shaw among 20th century playwrights. His plays tied strongly to the
life and language of the Irish poor, bring together the tragic and comic.
THEATRE OF THE ABSURD
 it uses banal repetitions and fantasy.  there is not logical discussion on the stage.  the language used on the stage does
not produce clear meanings.  characters are no longer concrete individuals. They are representative characters.  the action
on the stage does not develop through logical story. The action on the stage provides for us the cycles found in universal
situations like seasons, birth, death, hunger.  the dynamics of a play is created through a static situation.  the inner world
of the characters (dreams, fantasies) are represented on the stage. Like a clown show.  Absurdist drama shows that it is
impossible to catch the truth, absolute truth.
Samuel Beckett (absurdist) wrote his remarkable dramas in French (WAITING FOR GODOT) then translated them into
English himself. As the leading proponent of the "Theatre of Absurd".
WAITING FOR GODOT was first staged in French in 1935. WAITING FOR GODOT is a harsh criticism of brutality of
human beings (due to the WWI and II). Beckett powerfully and symbolically portrays the human nature condition as on
ignorance, delusion and paralysis, enlightened rarely by flashes of hope and human sympathy.
Harold Pinter is known for his "Pinteresque" style of dialogue which realistically reproduces the nuances of conversational
speech, with its pauses, silences and difficulties in communication. His frequent themes include jealously, mental aberrations
and erotic fantasies.
Tom Stoppard has a biting wit and a strong sense of theatrical possibilities and great inventiveness in the structure of plays.
His dramas pose ethical problems and realistically do not always offer a solution.