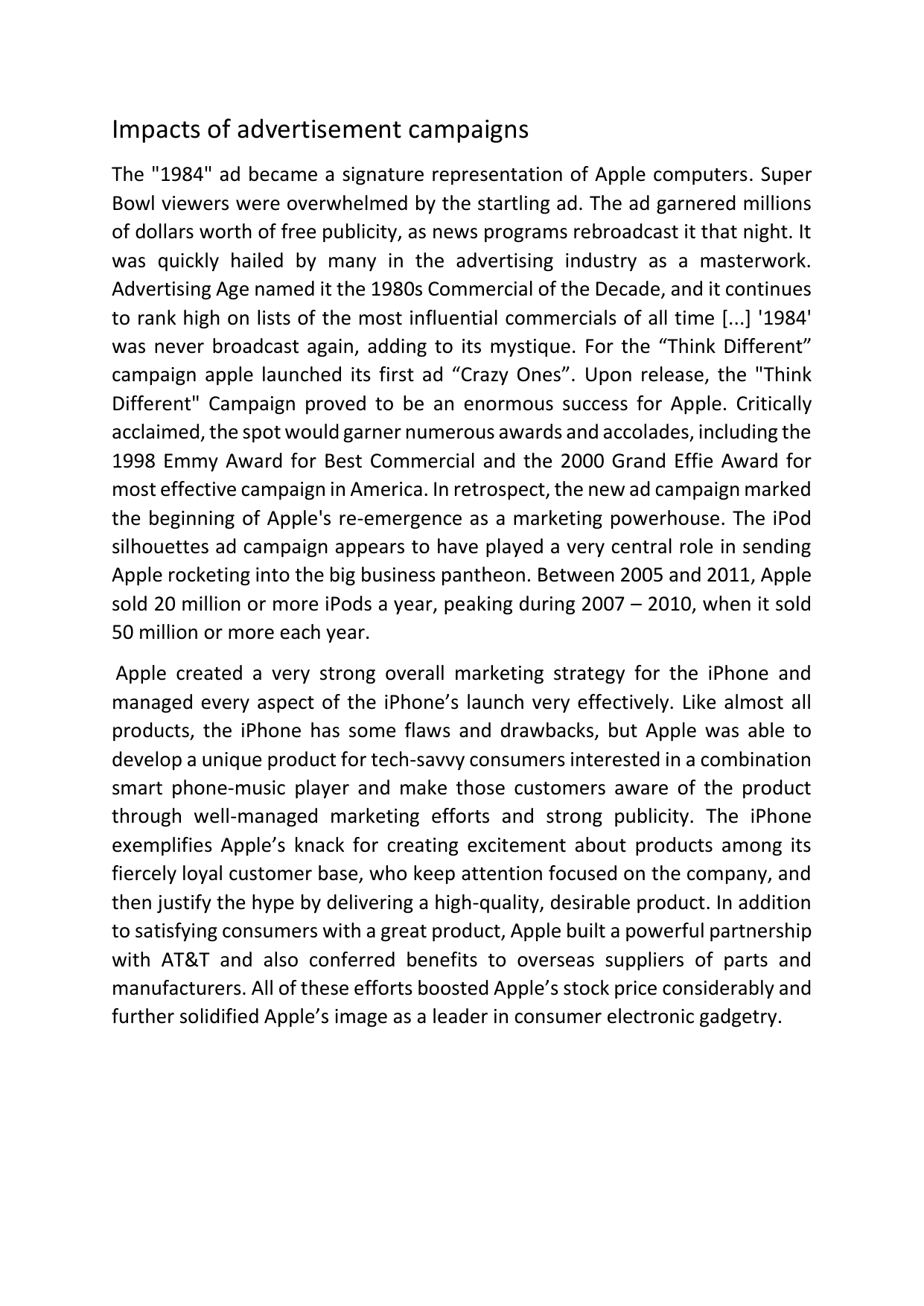 Impacts of advertisement campaigns
The "1984" ad became a signature representation of Apple computers. Super
Bowl viewers were overwhelmed by the startling ad. The ad garnered millions
of dollars worth of free publicity, as news programs rebroadcast it that night. It
was quickly hailed by many in the advertising industry as a masterwork.
Advertising Age named it the 1980s Commercial of the Decade, and it continues
to rank high on lists of the most influential commercials of all time [...] '1984'
was never broadcast again, adding to its mystique. For the "Think Different"
campaign apple launched its first ad "Crazy Ones". Upon release, the "Think
Different" Campaign proved to be an enormous success for Apple. Critically
acclaimed, the spot would garner numerous awards and accolades, including the
1998 Emmy Award for Best Commercial and the 2000 Grand Effie Award for
most effective campaign in America. In retrospect, the new ad campaign marked
the beginning of Apple's re-emergence as a marketing powerhouse. The iPod
silhouettes ad campaign appears to have played a very central role in sending
Apple rocketing into the big business pantheon. Between 2005 and 2011, Apple
sold 20 million or more iPods a year, peaking during 2007 – 2010, when it sold
50 million or more each year.
Apple created a very strong overall marketing strategy for the iPhone and
managed every aspect of the iPhone's launch very effectively. Like almost all
products, the iPhone has some flaws and drawbacks, but Apple was able to
develop a unique product for tech-savvy consumers interested in a combination
smart phone-music player and make those customers aware of the product
through well-managed marketing efforts and strong publicity. The iPhone
exemplifies Apple's knack for creating excitement about products among its
fiercely loyal customer base, who keep attention focused on the company, and
then justify the hype by delivering a high-quality, desirable product. In addition
to satisfying consumers with a great product, Apple built a powerful partnership
with AT&T and also conferred benefits to overseas suppliers of parts and
manufacturers. All of these efforts boosted Apple's stock price considerably and
further solidified Apple's image as a leader in consumer electronic gadgetry.