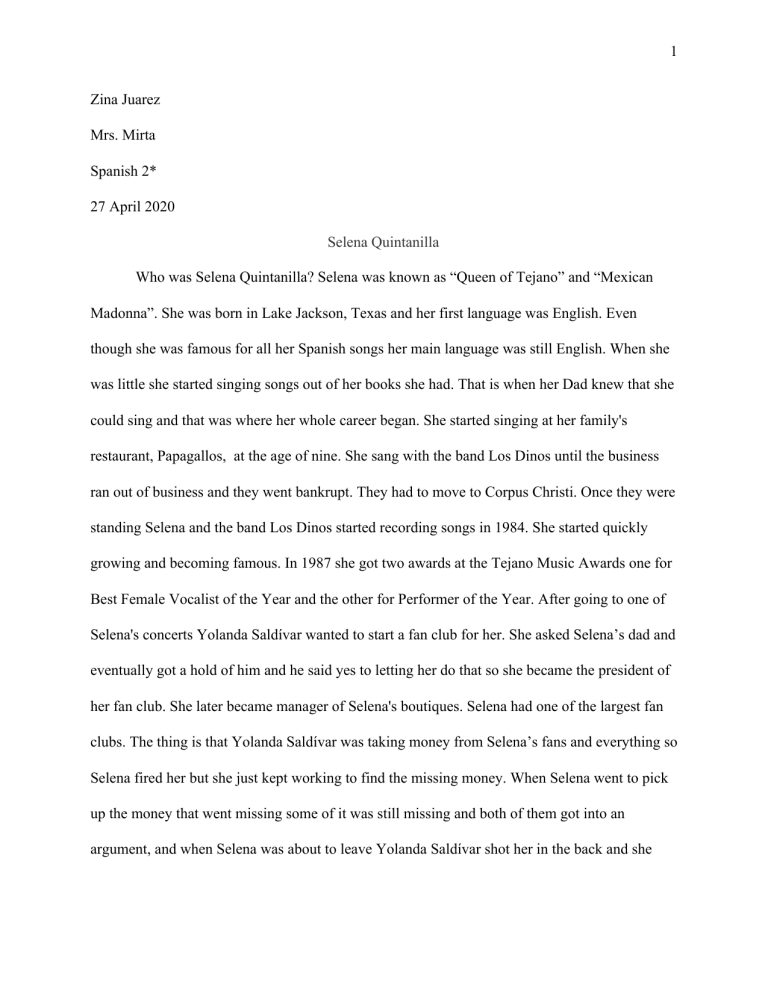 1
Zina Juarez
Mrs. Mirta
Spanish 2*
27 April 2020
Selena Quintanilla
Who was Selena Quintanilla? Selena was known as "Queen of Tejano" and "Mexican
Madonna". She was born in Lake Jackson, Texas and her first language was English. Even
though she was famous for all her Spanish songs her main language was still English. When she
was little she started singing songs out of her books she had. That is when her Dad knew that she
could sing and that was where her whole career began. She started singing at her family's
restaurant, Papagallos, at the age of nine. She sang with the band Los Dinos until the business
ran out of business and they went bankrupt. They had to move to Corpus Christi. Once they were
standing Selena and the band Los Dinos started recording songs in 1984. She started quickly
growing and becoming famous. In 1987 she got two awards at the Tejano Music Awards one for
Best Female Vocalist of the Year and the other for Performer of the Year. After going to one of
Selena's concerts Yolanda Saldívar wanted to start a fan club for her. She asked Selena's dad and
eventually got a hold of him and he said yes to letting her do that so she became the president of
her fan club. She later became manager of Selena's boutiques. Selena had one of the largest fan
clubs. The thing is that Yolanda Saldívar was taking money from Selena's fans and everything so
Selena fired her but she just kept working to find the missing money. When Selena went to pick
up the money that went missing some of it was still missing and both of them got into an
argument, and when Selena was about to leave Yolanda Saldívar shot her in the back and she
2
didn't make it she was rushed to the hospital and died on March 1, 1995. She was working on
some new music including her new English album. This album became her biggest album but
she wasn't able to experience it in real life. The album got lots of awards and had a lot of copies
sold during the first week. She was such an inspiration to so many people and that is what made
her. Yes, her music was amazing, but she cared about her fans so much she even died for them.
Selena's family are still keeping her legacy and they made a foundation after her helping kids in
crises. My personal opinion about Selena is that I believe she was a good person and I really like
her because she was super caring.