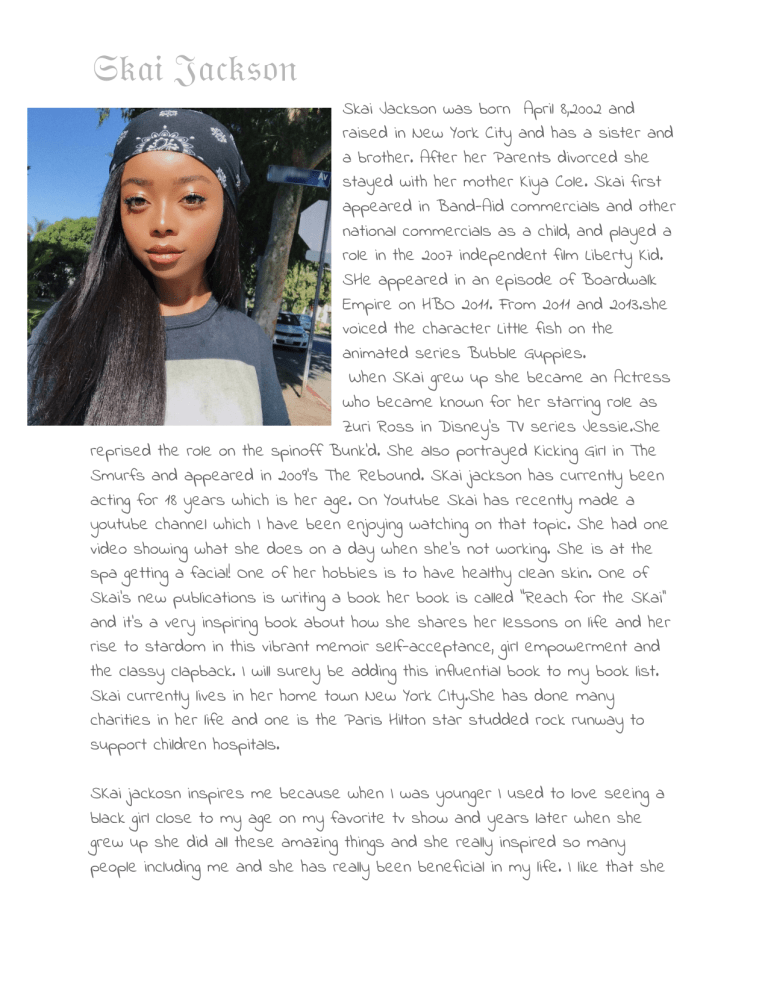 𝔖𝔨𝔞𝔦 𝔍𝔞𝔠𝔨𝔰𝔬𝔫
Skai Jackson was born April 8,2002 and
raised in New York City and has a sister and
a brother. After her Parents divorced she
stayed with her mother Kiya Cole. Skai first
appeared in Band-Aid commercials and other
national commercials as a child, and played a
role in the 2007 independent film Liberty Kid.
SHe appeared in an episode of Boardwalk
Empire on HBO 2011. From 2011 and 2013.she
voiced the character Little fish on the
animated series Bubble Guppies.
When SKai grew up she became an Actress
who became known for her starring role as
Zuri Ross in Disney's TV series Jessie.She
reprised the role on the spinoff Bunk'd. She also portrayed Kicking Girl in The
Smurfs and appeared in 2009's The Rebound. SKai jackson has currently been
acting for 18 years which is her age. On Youtube Skai has recently made a
youtube channel which I have been enjoying watching on that topic. She had one
video showing what she does on a day when she's not working. She is at the
spa getting a facial! One of her hobbies is to have healthy clean skin. One of
Skai's new publications is writing a book her book is called "Reach for the SKai''
and it's a very inspiring book about how she shares her lessons on life and her
rise to stardom in this vibrant memoir self-acceptance, girl empowerment and
the classy clapback. I will surely be adding this influential book to my book list.
Skai currently lives in her home town New York CIty.She has done many
charities in her life and one is the Paris Hilton star studded rock runway to
support children hospitals.
SKai jackosn inspires me because when I was younger I used to love seeing a
black girl close to my age on my favorite tv show and years later when she
grew up she did all these amazing things and she really inspired so many
people including me and she has really been beneficial in my life. I like that she
𝔖𝔨𝔞𝔦 𝔍𝔞𝔠𝔨𝔰𝔬𝔫
promotes girl empowerment and wrote and book about how boys and girls as
well can better themselves and helping them to achieve their goals and careers
because she as well had to overcome obstacles in her life which she is
overcoming one quite recently which is has been handling very well in a very
mature way for such a young age so obviously she will be fine in this situation.
That is all I have so write about my favorite American female actress and I will
continue to root for her and hope she thrives well in her continuing life and
career.