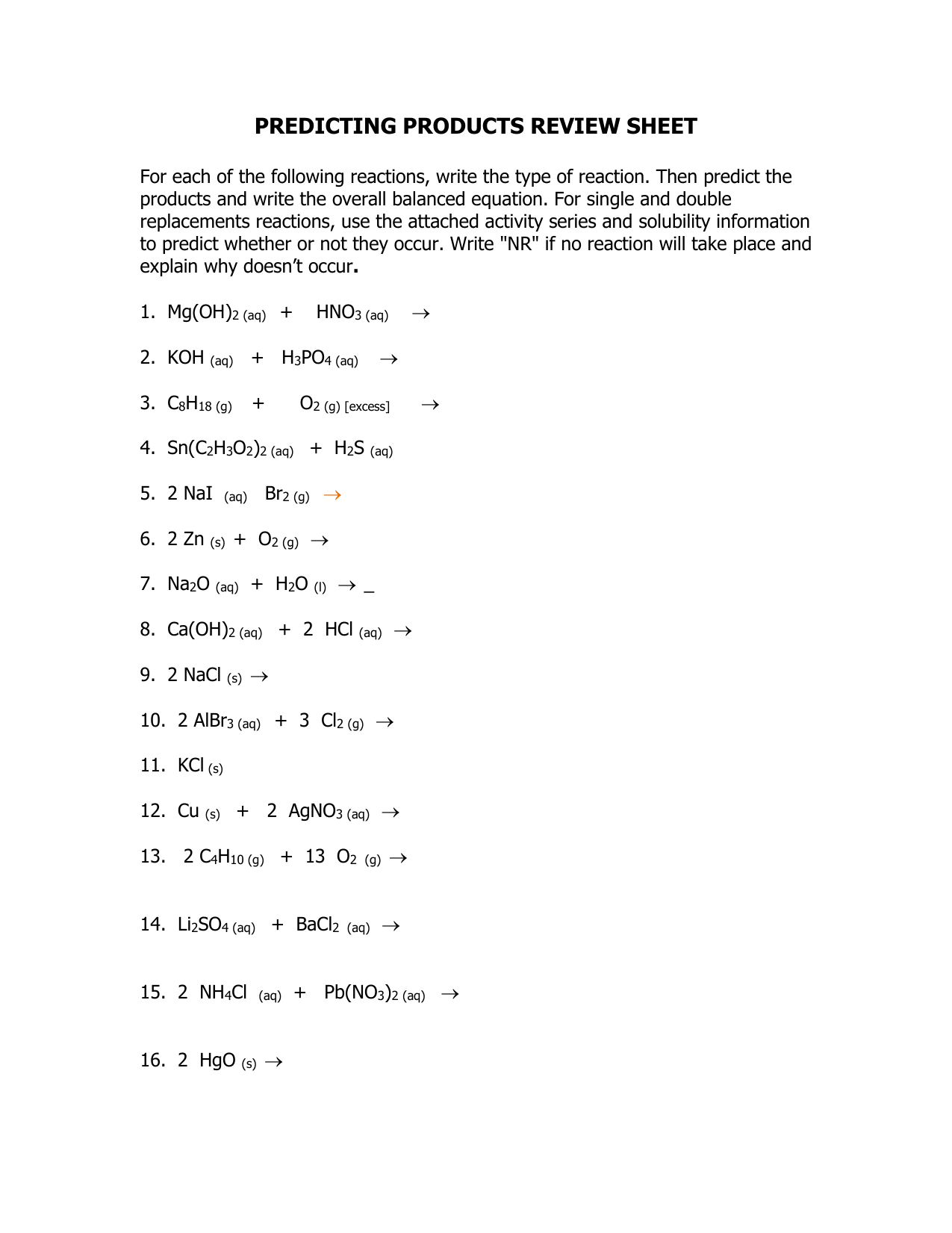 PREDICTING PRODUCTS REVIEW SHEET
For each of the following reactions, write the type of reaction. Then predict the
products and write the overall balanced equation. For single and double
replacements reactions, use the attached activity series and solubility information
to predict whether or not they occur. Write "NR" if no reaction will take place and
explain why doesn't occur.
1. Mg(OH)2 (aq) +
2. KOH

+ H3PO4 (aq)
(aq)
3. C8H18 (g)
+
6. 2 Zn
7. Na2O
+ O2 (g) 
+ H2O
(aq)
(l)
 _
8. Ca(OH)2 (aq) + 2 HCl
9. 2 NaCl
(aq)
Br2 (g) 
(aq)
(s)

O2 (g) [excess]
4. Sn(C2H3O2)2 (aq) + H2S
5. 2 NaI

HNO3 (aq)
(s)
(aq)


10. 2 AlBr3 (aq) + 3 Cl2 (g) 
11. KCl (s)
12. Cu
(s)
+ 2 AgNO3 (aq) 
13. 2 C4H10 (g) + 13 O2
14. Li2SO4 (aq) + BaCl2
15. 2 NH4Cl
16. 2 HgO
(s)
(aq)

(g)
(aq)


+ Pb(NO3)2 (aq) 
17. F2 (g) + 2 KCl

(aq)
18. H2O (aq) 
19. Na2SO3 (g) + H2O
20. I2 (g) + MgCl2
(l)
(aq)


21. Write the letter equation (A, B, C, D) for a double displacement.
22. Write the letter equation (A, B, C) for a single displacement for a cation
exchange and an anion exchange.
23. What combines with oxygen to indicate a combustion reaction?
24. In order for a single replacement reaction to occur, what has to be true?
25. In order for a double replacement reaction to occur, what has to be true?
Why?
26. What are four things that you can observe which would indicate a chemical
reaction is taking place?
27. What is meant by the team coefficient in a chemical reaction?
28. Why do chemical reactions have to be balanced?
29. Write the symbol for each of the following
30.
31.
32.
33.
a. Solid
b. Liquid
c. Gas
d. Aqueous
What does it mean to be aqueous?
What is a catalyst?
What is the activity series of elements?
Write a balanced reaction between a group 2 metal and a group 15 non
metal. Name all the reactants and products.
34. What is the sum of the coefficients when the equation is balanced with the smallest
whole numbers?
__BaCl2 (aq) + __Fe2(SO4)3 (aq) → __FeCl3 (aq) + __BaSO4 (s)
A. 4
B. 6
C. 8
D. 9
35. Which equation shows conservation of atoms?
A.
H2 + O2  H2O
B.
H2 + O2  2 H2O
C.
2 H2 + O2 2 H2O
D.
2 H2 + 2 O2 2 H2O
36. Which substance can be broken down by a chemical change?
A.
antimony
B.
carbon dioxide
C.
carbon
D.
sulfur
37. Element X reacts with iron to form two different compounds with the formulas FeX
and Fe2X3. To which group on the Periodic Table does element X belong?
A.
Group 8
B.
Group 13
C.
Group 2
D.
Group 16
38. In balancing a chemical equation, which of the following are you allowed to do?
a.
b.
c.
d.
change subscripts
change superscripts
add coefficients
add new substances
39. What number should be written in front of Na to balance the equation:
Na + MgCl2  NaCl + Mg
a.
b.
c.
d.
1
3
2
4
40
is HCl?
a.
b.
c.
d.
2(aq)
+ H2(g), what state of matter
solid
liquid
gas
dissolved in water (aqueous)
41. Endothermic reactions are reactions that:
a. Absorb heat
b. Release heat
c. Do not involve heat
d. Take place instantaneously
42.
Write and balance the following equation:
strontium metal reacts with water to form strontium hydroxide and hydrogen gas.
43.
Why do we balance charges to write chemical formulas for ionic compounds?