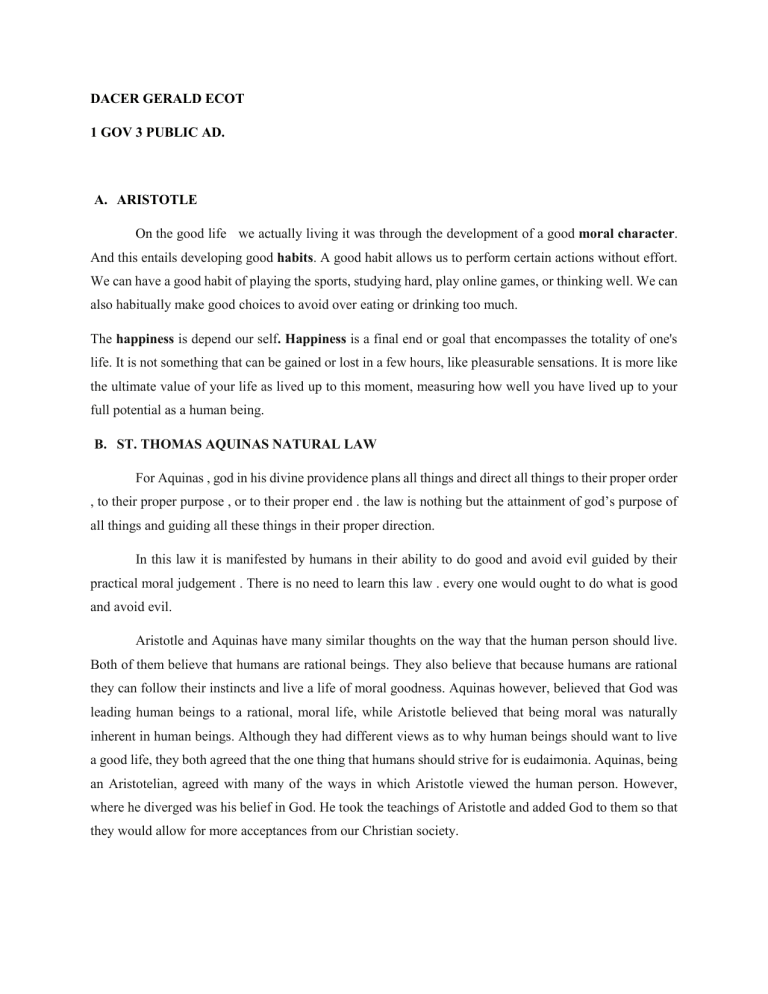 DACER GERALD ECOT
1 GOV 3 PUBLIC AD.
A. ARISTOTLE
On the good life we actually living it was through the development of a good moral character.
And this entails developing good habits. A good habit allows us to perform certain actions without effort.
We can have a good habit of playing the sports, studying hard, play online games, or thinking well. We can
also habitually make good choices to avoid over eating or drinking too much.
The happiness is depend our self. Happiness is a final end or goal that encompasses the totality of one's
life. It is not something that can be gained or lost in a few hours, like pleasurable sensations. It is more like
the ultimate value of your life as lived up to this moment, measuring how well you have lived up to your
full potential as a human being.
B. ST. THOMAS AQUINAS NATURAL LAW
For Aquinas , god in his divine providence plans all things and direct all things to their proper order
, to their proper purpose , or to their proper end . the law is nothing but the attainment of god's purpose of
all things and guiding all these things in their proper direction.
In this law it is manifested by humans in their ability to do good and avoid evil guided by their
practical moral judgement . There is no need to learn this law . every one would ought to do what is good
and avoid evil.
Aristotle and Aquinas have many similar thoughts on the way that the human person should live.
Both of them believe that humans are rational beings. They also believe that because humans are rational
they can follow their instincts and live a life of moral goodness. Aquinas however, believed that God was
leading human beings to a rational, moral life, while Aristotle believed that being moral was naturally
inherent in human beings. Although they had different views as to why human beings should want to live
a good life, they both agreed that the one thing that humans should strive for is eudaimonia. Aquinas, being
an Aristotelian, agreed with many of the ways in which Aristotle viewed the human person. However,
where he diverged was his belief in God. He took the teachings of Aristotle and added God to them so that
they would allow for more acceptances from our Christian society.